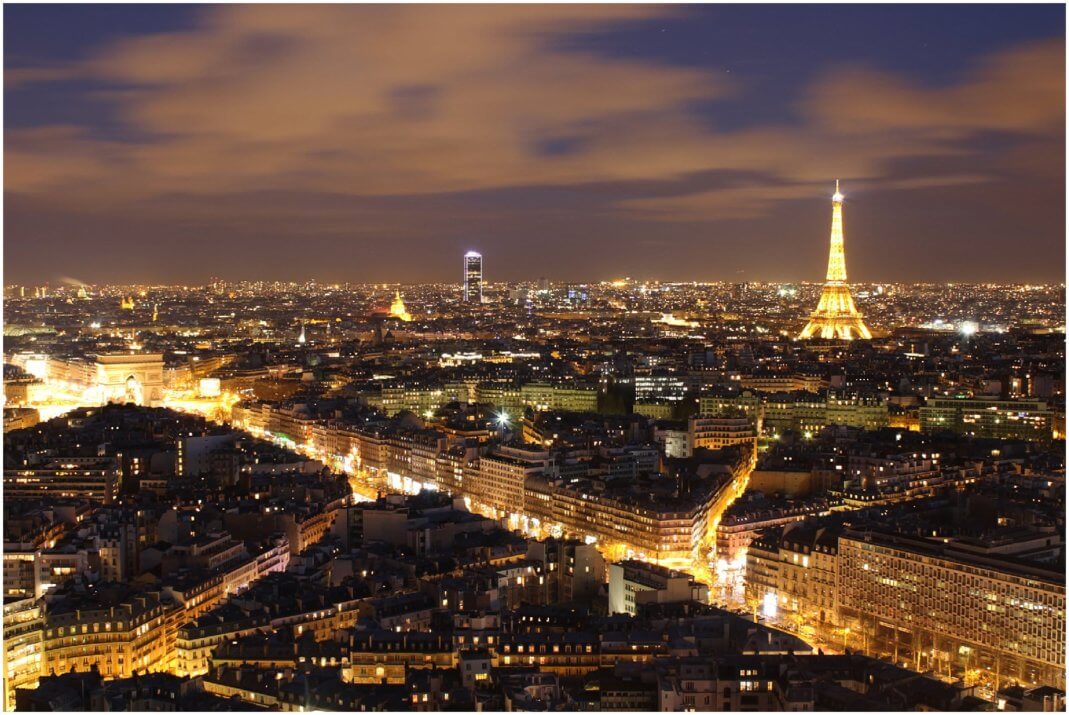 Bonjour,
Neste mês eu tive a oportunidade de conhecer um ótimo hotel em Paris, o Hotel Hyatt Regency Paris Étoile. Um excelente hotel 4 estrelas que tem vistas espetaculares de Paris e seus mais belos monumentos, como a Torre Eiffel, Sacré Coeur e Arco do Triunfo.
Ele tem uma excelente localização, próximo do metro, lojas, restaurantes, shoppings e do Arco do Triunfo. O lobby do hotel é muito espaçoso, e é logo ali que fica o restaurante Mayo, que foi uma maravilhosa descoberta durante a nossa estadia também. Eu irei contar para vocês um pouco mais sobre este restaurante no decorrer deste artigo. =)
O quarto tem uma decoração moderna e muito aconchegante, com uma vista maravilhosa para Paris! O banheiro é todo equipado e foi muito bem arquitetado com vários espelhos e ótima iluminação.
---
FRANÇAIS
Bonjour,
Ce mois-ci, j'ai eu l'occasion de séjourner dans un super hôtel à Paris, l'hôtel Hyatt Regency Paris Étoile. Un excellent hôtel 4 étoiles avec une vue spectaculaire sur Paris et ses plus beaux monuments tels que la Tour Eiffel, le Sacré Cœur et l'Arc de Triomphe.
L'hôtel est très bien situé, à proximité du métro, des restaurants, des magasins et de l'Arc de Triomphe. Le hall de l'hôtel est très spacieux et c'est là que se trouve le restaurant Mayo, une découverte merveilleuse lors de notre séjour. Je vais vous en dire un peu plus à-propos ce restaurant au cours de cet article. 🙂
La chambre a un décor moderne et très confortable, avec une vue magnifique sur Paris ! La salle de bain est entièrement équipée et était joliment aménagée avec plusieurs miroirs et un excellent éclairage.
---
ENGLISH
Bonjour,
This month I had the opportunity to stay at a great hotel in Paris, the Hotel Hyatt Regency Paris Étoile. An excellent 4 star hotel that has spectacular views of Paris and its most beautiful monuments such as the Eiffel Tower, Sacré Coeur and Arc de Triomphe.
The hotel has a great location, close to the metro, stores, restaurants, shoppings and the Arc de Triomphe. The lobby of the hotel is very spacious, and it is right there that stands the restaurant Mayo, which was a wonderful discovery during our stay as well. I will tell you a little more about this restaurant in this article. =)
The room has a modern decor and it is very cozy, with a wonderful view of Paris! The bathroom is fully equipped and was nicely laid out with several mirrors and great lighting.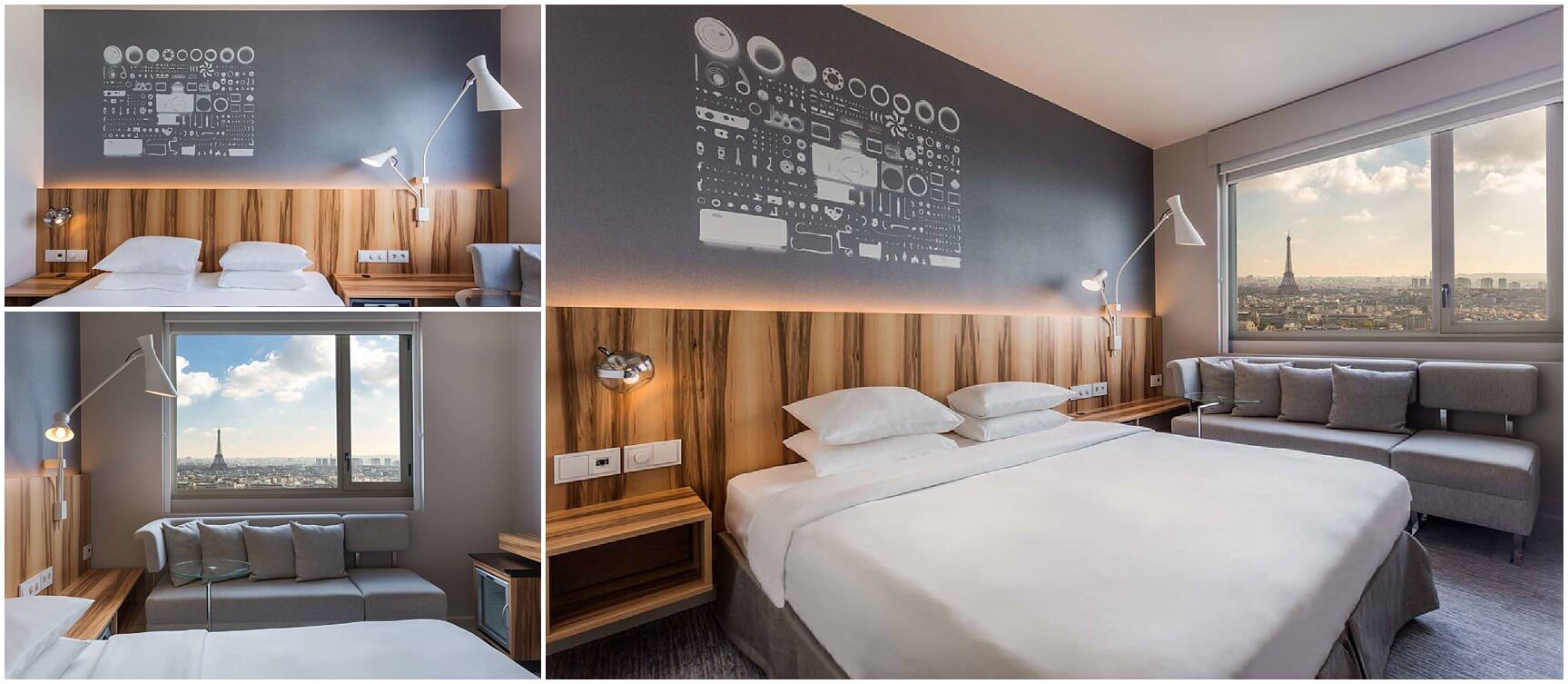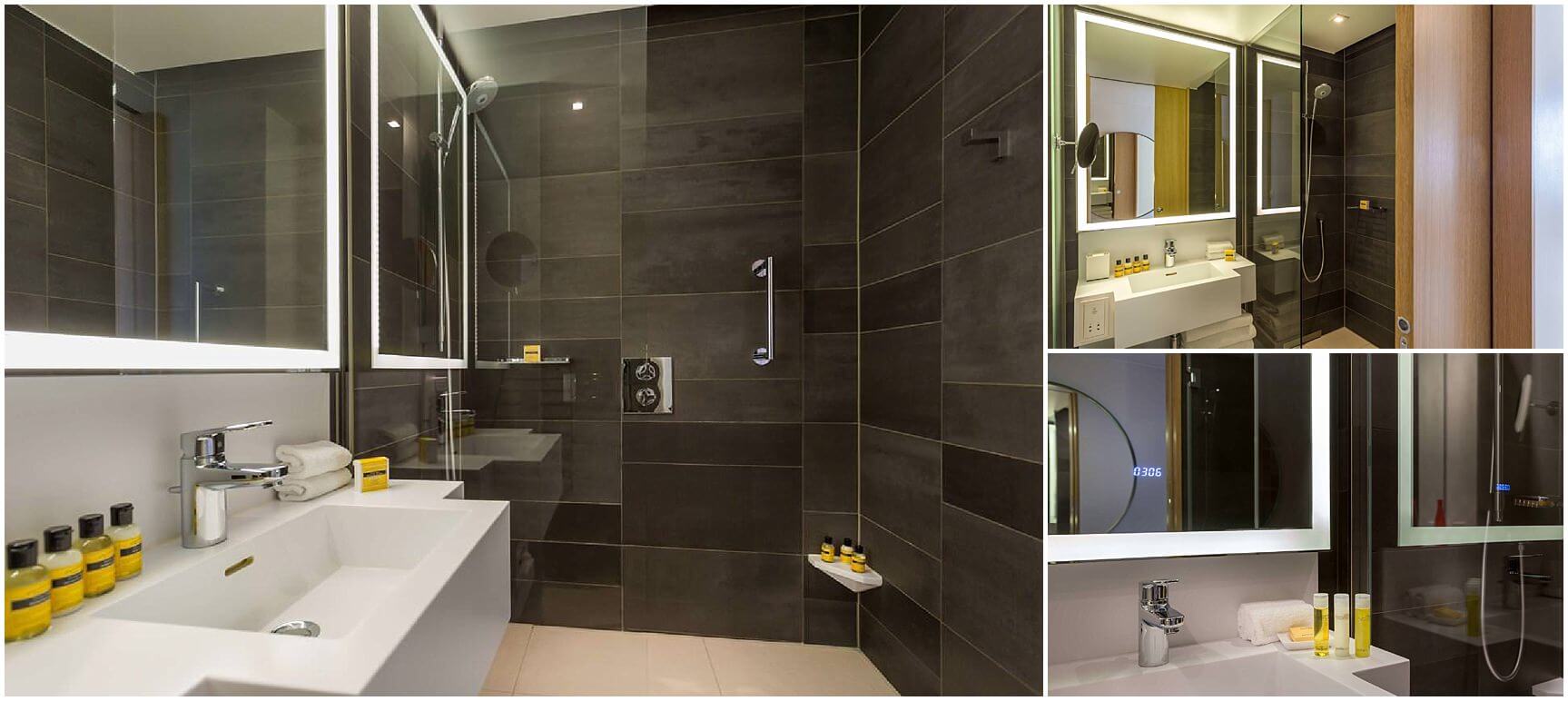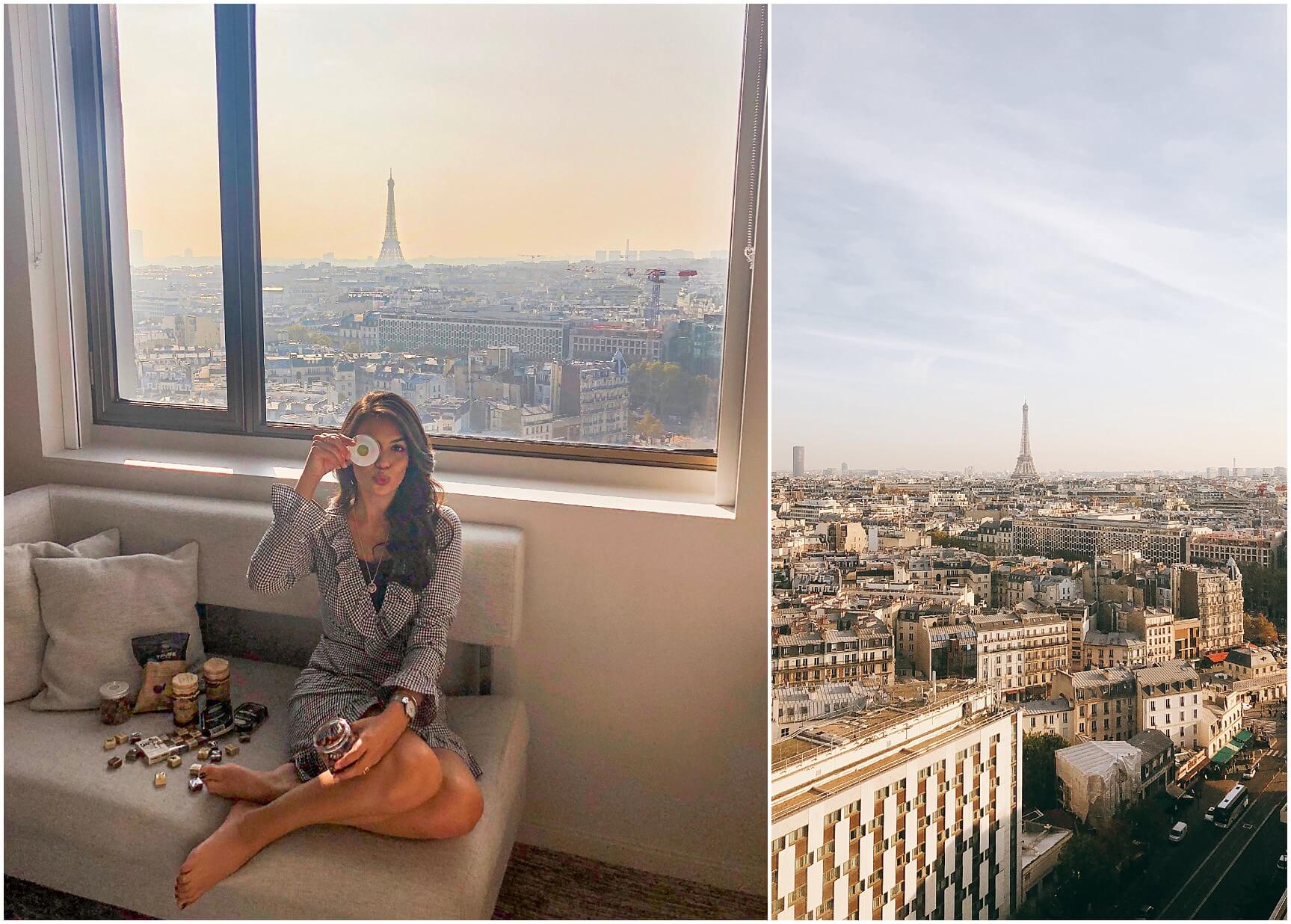 PORTUGUÊS
O café da manhã é completo e super caprichado!  Muitas opções de iogurtes, frutas, pães, sucos, cereais, geleias, queijos e ainda, várias receitas com ovos que são preparadas da forma como desejarmos.
Falando em comida, vou aproveitar para contar sobre o restaurante Mayo, que fica no lobby do hotel e é aberto para o almoço e jantar das 11h as 23h. Mayo oferece um menu que dá lugar de destaque aos produtores locais. A idéia do restaurante é fazer pratos que possam ser compartilhados.
A comida é simplesmente impecável! Muito saborosa e com uma linda apresentação. Destaque para a couve-flor grelhada com molho branco que parece coisa de outro mundo de tão gostosa! O ambiente é super "cool", com uma decoração alegre que deixa o ambiente super aconchegante. O cardapio é variado e tem otimos preços!
No 34° andar do hotel, ainda tem o incrível bar panorâmico Windo, que é uma ótima pedida para tomar um drink depois de um maravilhoso jantar no Mayo.
Então, se vocês estão procurando um ótimo hotel para sua hospedagem em Paris, o Hyatt Regency Paris Étoile é o lugar perfeito!
---
FRANÇAIS
Le petit déjeuner est complet et super soigné ! Beaucoup de choix de yaourts, fruits, pains, jus, céréales, gelées, fromages, diverses recettes avec des œufs qui sont préparés comme vous le souhaitez.
En parlant de nourriture, je profite de l'occasion pour vous parler du restaurant Mayo, situé dans le hall de l'hôtel et ouvert pour le déjeuner et le dîner de 11h à 23h. Le Mayo propose une carte qui donne priorité aux producteurs locaux. L'idée du restaurant est de faire des plats qui peuvent être partagés.
La nourriture est tout simplement impeccable! Très savoureux et avec une belle présentation. Je dois souligner le chou-fleur grillé avec sauce blanche qui était le meilleur que j'ai jamais mangé de ma vie ! L'atmosphère est super cool, avec une décoration stylé qui a laissé l'atmosphère super confortable. Le menu est varié et a de très bons prix.
Situé au 34ème étage de l'hôtel, il y a le magnifique bar panoramique Windo, qui est un endroit idéal pour prendre un verre après un merveilleux dîner au Mayo.
Donc, si vous cherchez un super hôtel à Paris, sans aucun doute l'hôtel Hyatt Regency Paris Étoile est l'endroit idéal!
---
ENGLISH
The breakfast is complete and super well prepared! Lots of choices of yogurts, fruits, breads, juices, cereals, jellies, cheeses, various recipes with eggs that are prepared the way you wish.
Speaking of food, I'll take the opportunity to tell you about the Mayo restaurant, which is located at the hotel lobby and is open for lunch and dinner from 11am to 11pm. The restaurant Mayo offers a menu that gives priority to local producers. The idea of the restaurant is to make dishes that can be shared.
The food is just impeccable! Very tasty and with a beautiful presentation. I must point out the grilled cauliflower with white sauce that was the best I have ever eaten in my life! The atmosphere is super cool, with a stylish decor that has left the atmosphere super comfortable. The menu is varied and has very good prices.
On the 34th floor of the hotel, there is still the incredible Windo panoramic bar, which is a great place to have a drink after a wonderful dinner in the restaurant Mayo.
So if you are looking for a great hotel in Paris, the Hyatt Regency Paris Étoile is the perfect place!