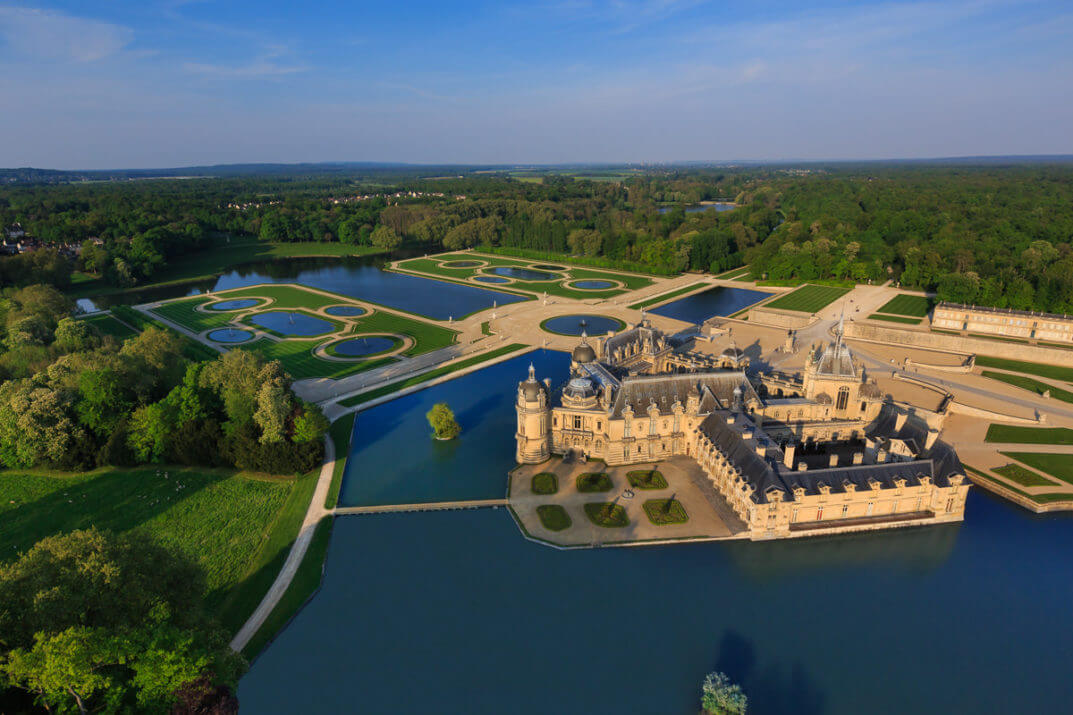 Bonjour,
Esta semana eu estive pela primeira vez em Chantilly, uma cidade que fica a 55km de Paris. Apesar de pequena, a cidade possui o maravilhoso e famoso Castelo de Chantilly e uma excelente estrutura turística!
O acesso é muito fácil! Para chegar de carro o trajeto dura em torno de 1 hora e a estrada mesmo não tendo pedagio é ótima! Para ir de transporte publico existem duas opções, pegar o RER linha D à partir da estação parisiense "Châtelet Les Halles", ou o trem da SNFC que sai de hora em hora a partir da Gare du Nord em Paris.
Nesta ocasião, nós ficamos hospedado no Hotel Auberge du Jeu de Paume, que é um maravilhoso hotel 5 estrelas que fica localizado a poucos passos do Castelo de Chantilly.
Chegando no hotel, eu simplesmente me encantei! A decoração é muito bem feita o que faz com que o ambiente do hotel se torne muito aconchegante. O serviço do hotel em geral tem uma excelência impecável, digno de hotéis 5 estrelas e Palaces!
Logo que cheguei, fui recebida com um excelente serviço de recepção, que rapidamente fez o meu check-in e me levou para o quarto. Ao entrar no quarto, simplesmente me deparei com uma vista maravilhosa para o jardim do Castelo de Chantilly
O hotel soube utilizar muito bem esta incrível vista, fazendo um quarto muito amplo e com uma charmosa sacada, que deixou o ambiente ainda mais aconchegante! O quarto é decorado com "toile de Jouy", móveis antigos e cores suaves e é todo equipado com um sistema de luz e som muito moderno, e com uma das camas mais macias que já dormi. O banheiro também não fica para trás, sendo muito bem decorado, com uma banheira espaçosa e uma ótima ducha.
---
FRANÇAIS
Bonjour,
Cette semaine je suis allée pour la première fois à Chantilly, une ville située à 55 km de Paris. En dépit d'être une petite ville, il a une excellente structure touristique et c'est dans cette ville que se trouve le merveilleux et célèbre Château de Chantilly!
L'accès est très facile! Pour y arriver en voiture, le trajet dure environ 1 heure et la route est très bonne! Pour y aller avec les transports en commun, deux options s'offrent à vous: prendre la ligne D du RER depuis la gare parisienne "Châtelet Les Halles" ou le train SNFC qui part toutes les heures de la Gare du Nord à Paris.
A cette occasion, nous avons séjourné à l'Hôtel Auberge du Jeu de Paume qui est un merveilleux hôtel 5 étoiles situé à quelques pas du Château de Chantilly.
En arrivant à l'hôtel, j'étais simplement enchanté! Le décor est très bien fait, ce qui rend l'ambiance de l'hôtel très confortable. Le service de l'hôtel en général a une excellence impeccable, digne des hôtels 5 étoiles et des Palaces!
Dès mon arrivée, j'ai été accueilli avec un excellent service de réception, qui a rapidement fait mon check-in et m'a emmené dans la chambre. En entrant dans la chambre, je suis simplement tombé sur une vue magnifique sur le jardin du Château de Chantilly.
L'hôtel a pu très bien utiliser cette vue incroyable, en faisant une très grande chambre avec un terrasse charmante, ce qui a rendu l'atmosphère encore plus confortable! 
La chambre est décorées de toiles de Jouy, de mobilier ancien et parées de couleurs tendres et équipée d'un système de son et de lumière très moderne et d'un des lits les plus doux dans lesquels j'ai jamais dormi.  La salle de bain n'est pas loin derrière, étant très bien décorée, avec une baignoire spacieuse et une bonne douche.
---
ENGLISH
Bonjour,
This week I went for the first time in Chantilly, a city that is 55km from Paris. Despite being a small town, it has an excellent tourist structure and it is in this city that is the wonderful and famous Château de Chantilly!
Access is very easy! To get there by car, the journey takes about 1 hour and the road is very good! To get there by public transport, there are two options: take the RER line D from the Paris train station "Châtelet Les Halles" or the SNFC train that departs every hour from Gare du Nord to Paris.
On this occasion, we stayed at the Hotel Auberge du Jeu de Paume which is a wonderful 5 star hotel located a few steps from Chantilly Castle.
Arriving at the hotel, I simply felt in love! The decor is very well done, which makes the ambience of the hotel become very cozy. The overall service of the hotel has an impeccable excellence, worthy of 5 star hotels and Palaces!
As soon as I arrived, I was greeted with an excellent front desk service, who quickly made my check-in and took me to the room. Upon entering the room, I simply came across a wonderful view of the garden from Chantilly Castle.
The hotel was able to use this incredible view very well, making a very large room with a charming terrace, which made the atmosphere even more cozy! 
The room is decorated with "toile de Jouy", antique furniture and soft colors and is all equipped with a very modern light and sound system, and with one of the softest beds, I have ever slept in.  The bathroom is also not far behind, being very well decorated, with a spacious bath and a great shower.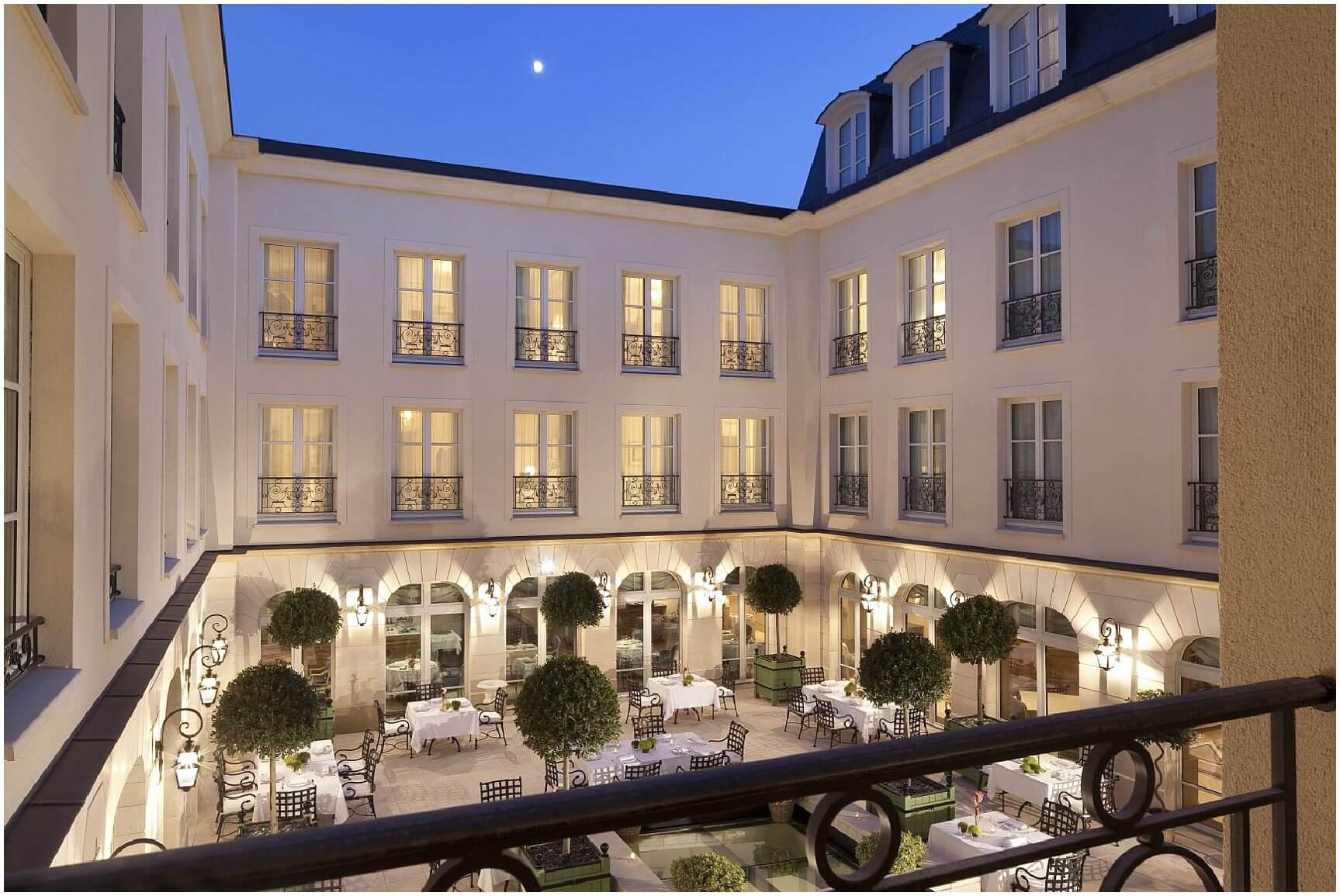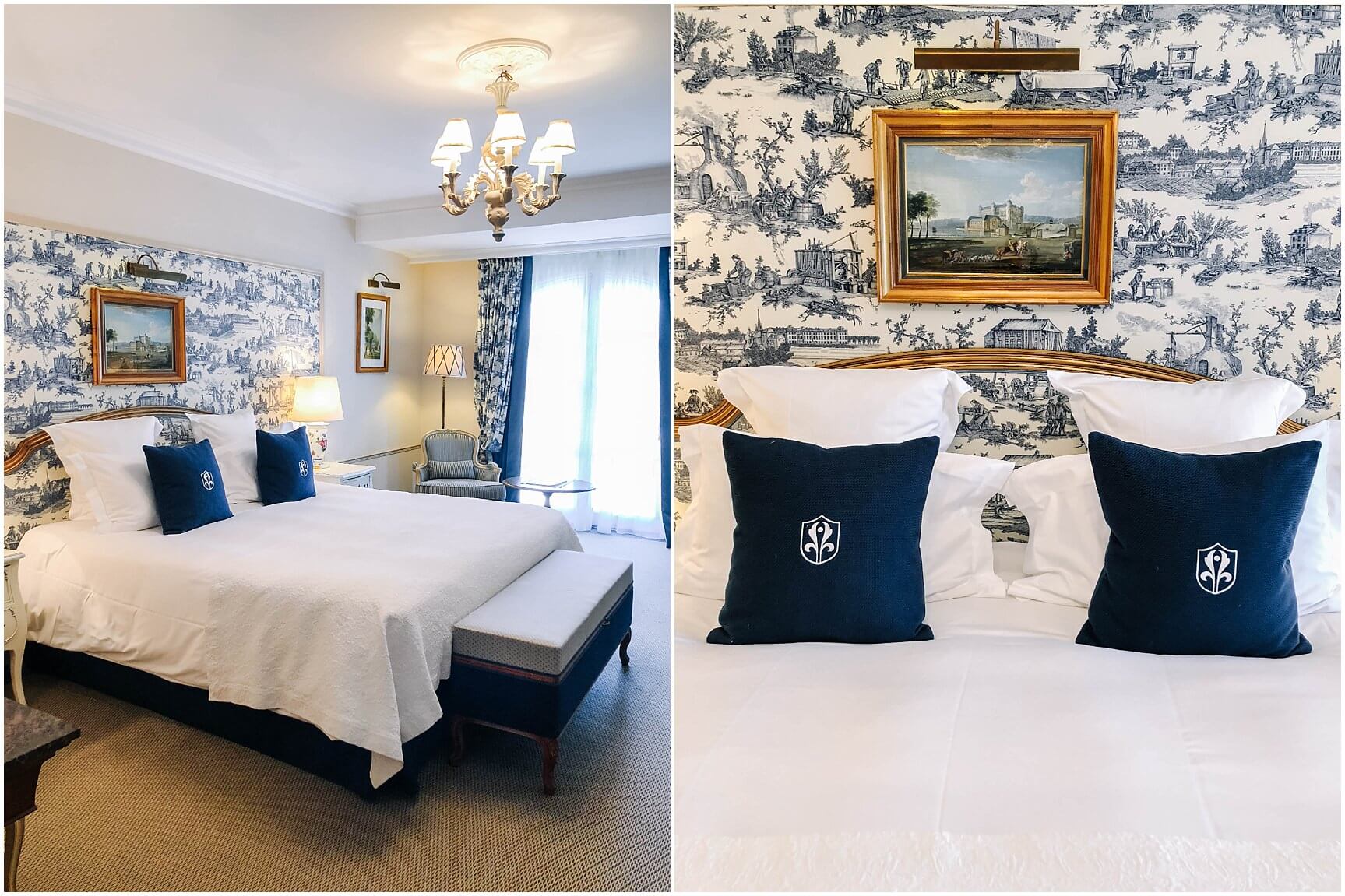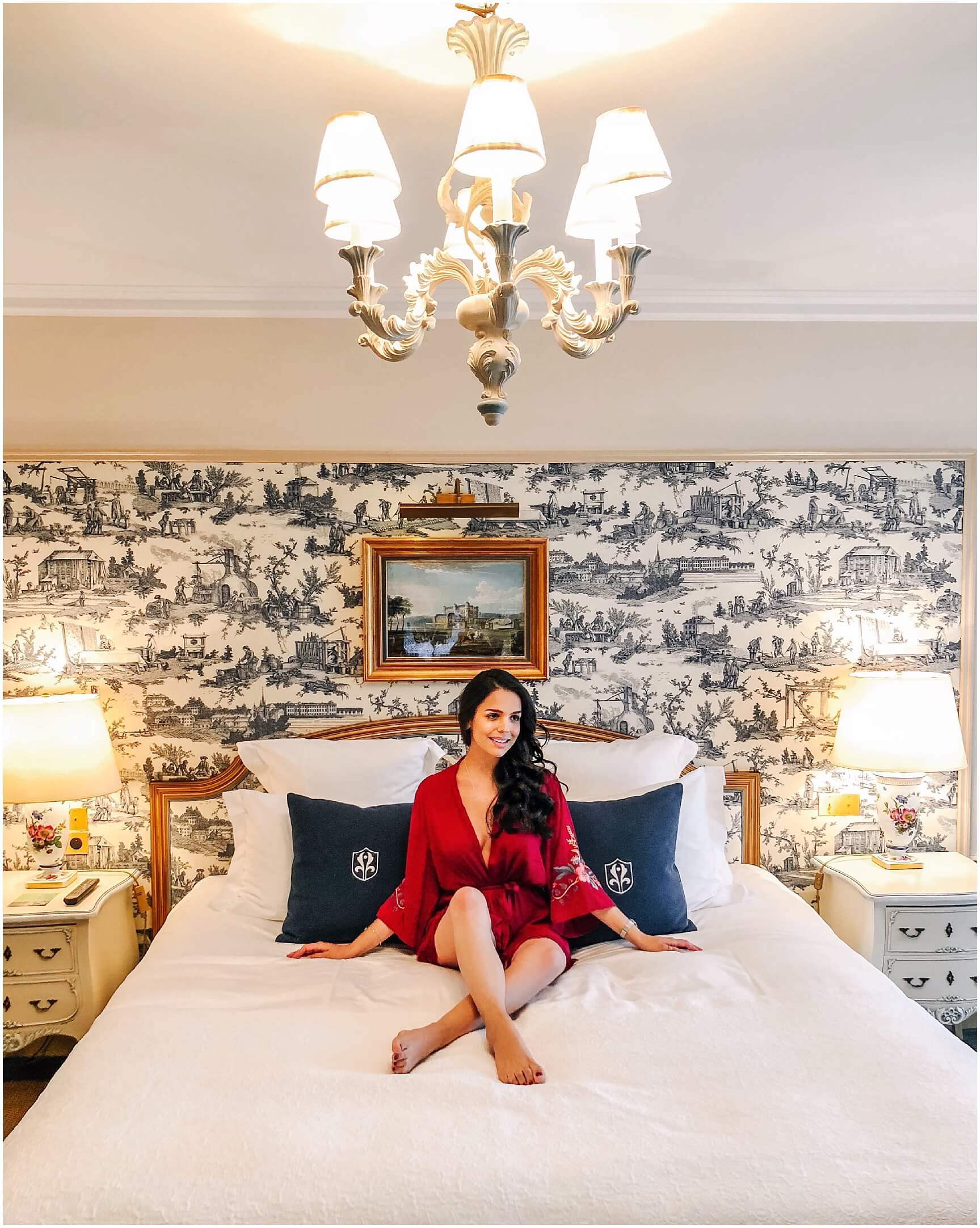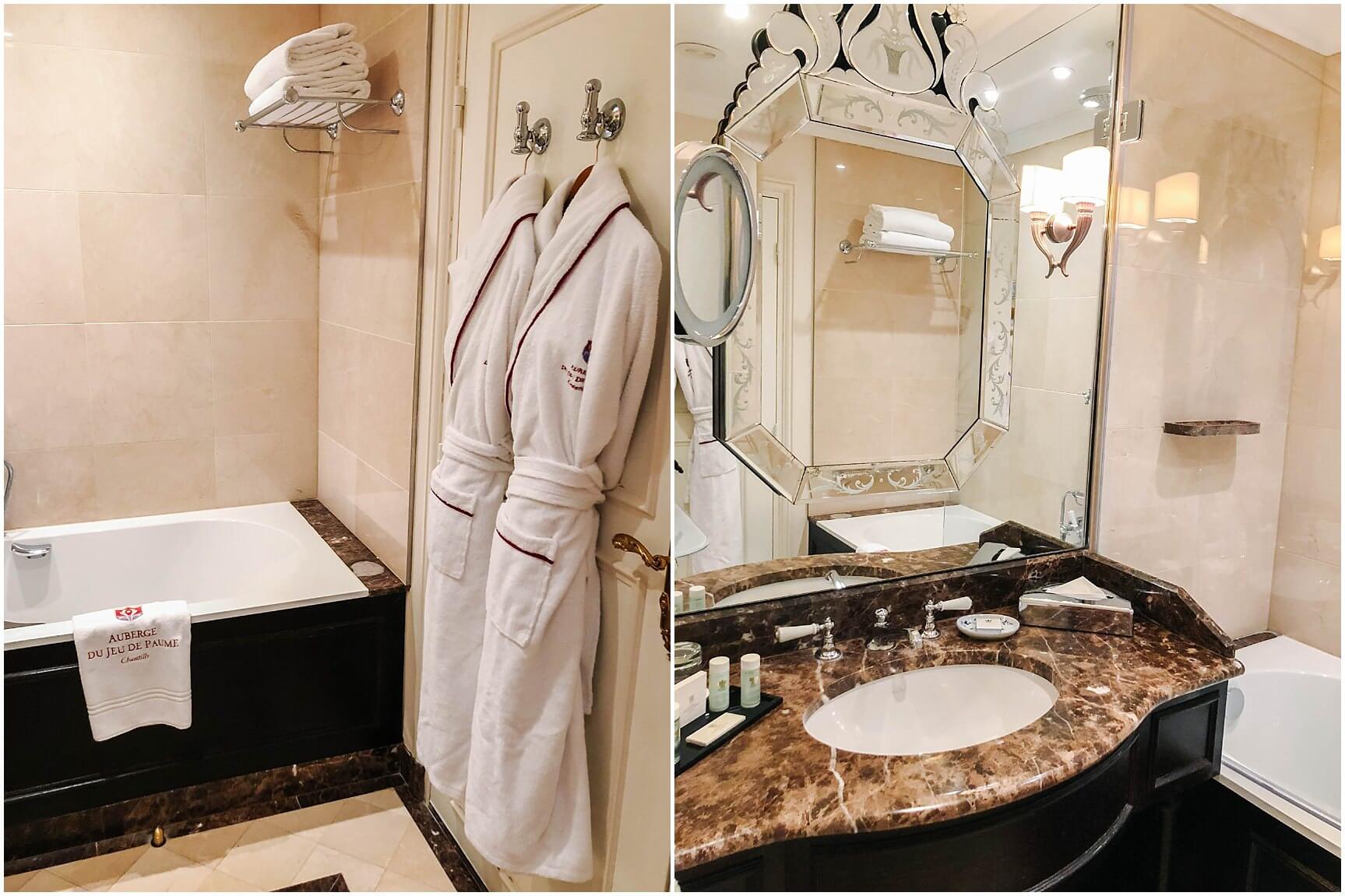 PORTUGUÊS
O maravilhoso SPA do hotel, é assinado pela Valmont e dispõe de cuidados de beleza, massagens, uma piscina, sauna, hammam, e espaço fitness.
---
FRANÇAIS
Le merveilleux SPA de l'hôtel, est signé par Valmont et propose des soins de beauté, des massages, une piscine, un sauna, un hammam et un espace fitness.
---
ENGLISH
The hotel's beautiful SPA is signed by Valmont and offers beauty care, massages, swimming pool, sauna, hammam, and fitness space.
PORTUGUÊS
No dia seguinte foi dia de conhecer o café da manhã, que é completo e super caprichado! Nós decidimos pedir o cafe da manha no quarto, que é feito através de uma ficha em que você preenche tudo o que deseja para o café da manha, depois coloca esta ficha na porta do quarto e no dia seguinte o seu café da manhã já está ali no momento desejado! Muitas opções de iogurtes, frutas, pães, sucos, cereais, geleias, queijos e ainda, várias receitas com ovos, crepes e panquecas que são preparadas da forma como desejarmos.
---
FRANÇAIS
Le lendemain était le jour pour essayer le petit déjeuner, qui est complet et super soigné!  Nous avons décidé de commander le petit déjeuner dans la chambre, ce qui est fait par un papier dans lequel vous remplissez tout ce que vous voulez pour le petit déjeuner, puis mettez ce papier dans la porte de la chambre et le lendemain votre petit déjeuner est déjà là au moment désiré! Beaucoup de choix de yaourts, fruits, pains, jus, céréales, gelées, fromages, diverses recettes avec des œufs, et des crêpes qui sont préparés comme vous le souhaitez.
---
ENGLISH
The next day was a day to try the breakfast, which is complete and super well prepared! We decided to order the breakfast in the room, which is made by a paper sheet in which you fill everything you want for breakfast, then you put this paper sheet at the bedroom door, and on the next day, your breakfast is already there at the desired moment! Lots of choices of yogurts, fruits, breads, juices, cereals, jellies, cheeses, various recipes with eggs, crepes, and pancakes that are prepared the way you wish.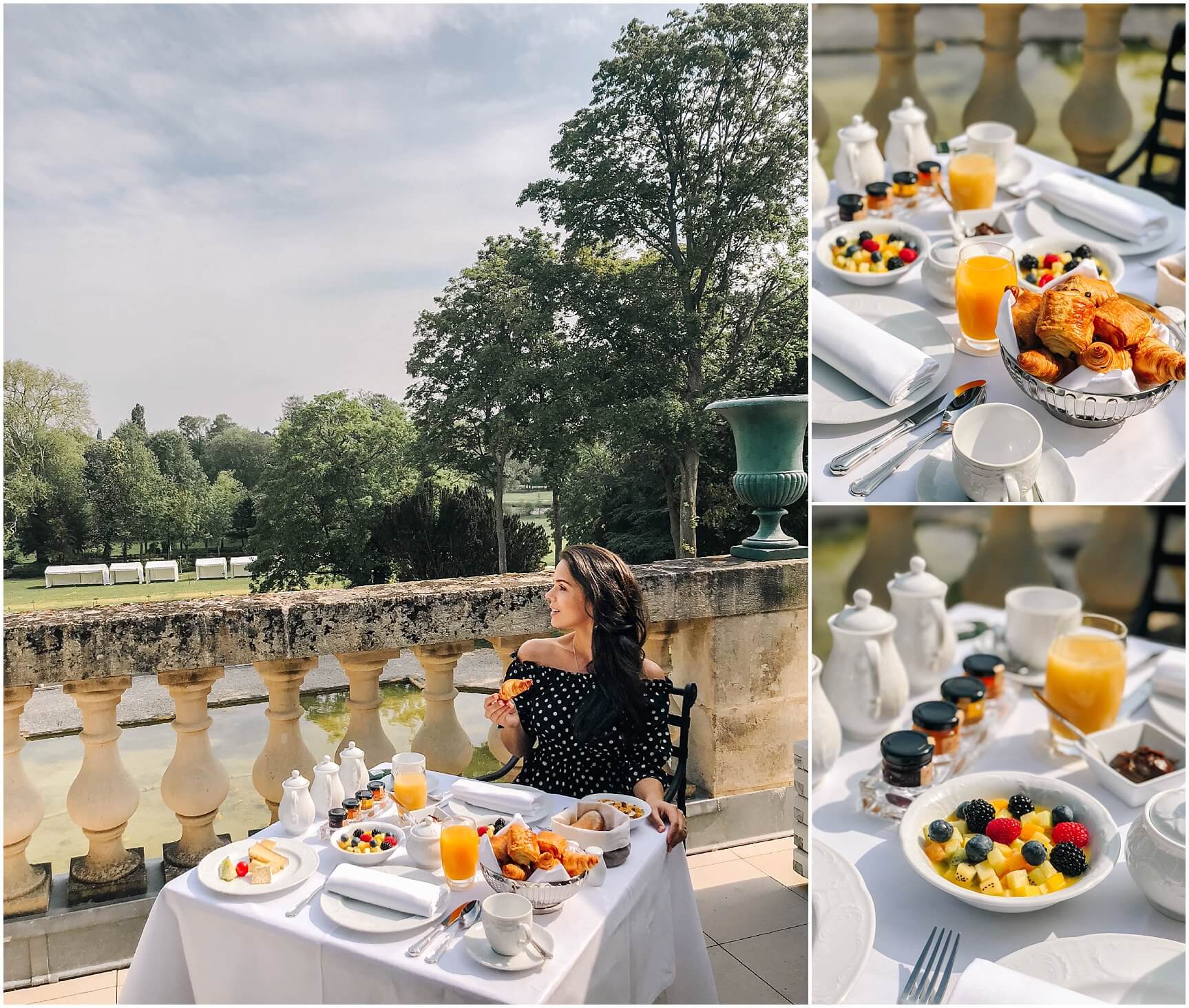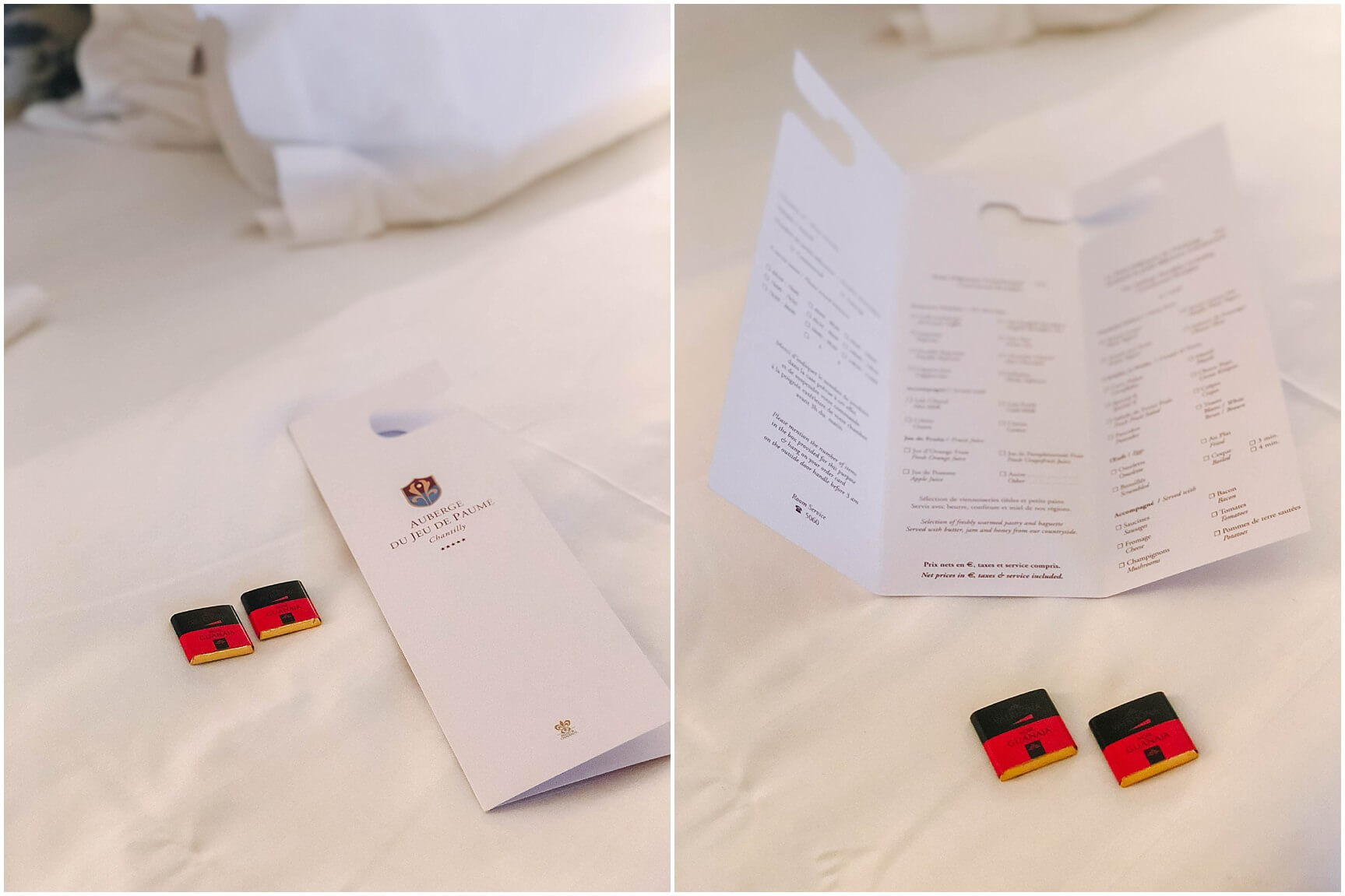 Site en Français: https://aubergedujeudepaumechantilly.fr
Site in English: https://aubergedujeudepaumechantilly.fr/en/
PORTUGUÊS
O restaurante do Hotel, La Table du Connétable, é mais uma maravilhosa surpresa! Com 1 Estrela no Guia Michelin, ele é dirigido pelo Chef Julien Lucas, que propõe uma cozinha inspirada na região local. Todos os pratos são feitos com um sabor e maestria digno de Estrelas Michelin! Neste restaurante eu tive uma verdadeira experiência gastronômica, o que me levou a fazer um post dedicado ao restaurante. Para lerem, basta clicar aqui!
Então, se vocês estão procurando um lugar para fazer memórias inesquecíveis, sem dúvidas o Hotel Auberge du Jeu de Paume é o lugar perfeito! Um lugar que vocês tem que conhecer e sem duvidas vão querer voltar mil vezes!
---
FRANÇAIS
Le restaurant de l'hôtel, La Table du Connétable, est une autre merveilleuse surprise! Avec 1 étoile au Michelin Guide, il est dirigé par le Chef exécutif Julien Lucas, qui propose une cuisine inspirée du terroir local. Tous les plats sont réalisés avec un goût et une maîtrise digne des étoiles Michelin! Dans ce restaurant, j'ai eu une véritable expérience gastronomique, ce qui m'a conduit à faire un poste dédié au restaurant. Pour lire, il suffit de cliquer ici!
Donc, si vous cherchez un endroit pour faire des souvenirs inoubliables, sans aucun doute l'Hotel Auberge du Jeu de Paume est l'endroit idéal!  Un lieu que vous devez connaître et sans doute vous voudrez y retourner mille fois!
---
ENGLISH
The Hotel's restaurant, La Table du Connétable, is another wonderful surprise! With 1 Star of Michelin Guide, it is directed by Chef exécutif Julien Lucas, who proposes cuisine inspired by the local region. All dishes are made with a taste and mastery worthy of Michelin Stars! In this restaurant, I had a true gastronomic experience, which led me to make a dedicated post to the restaurant. To read, just click here!
So if you are looking for a place to make unforgettable memories, without a doubt Hotel Auberge du Jeu de Paume is the perfect place! A place that you have to know and without a doubt will want to return a thousand times!