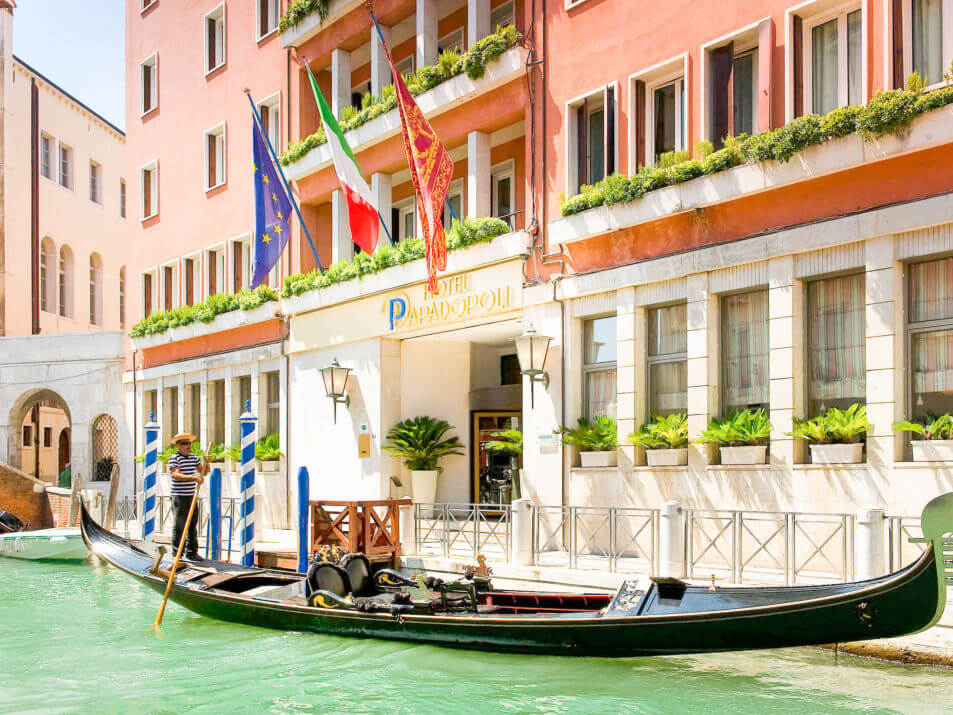 Bonjour,
Hoje vou contar um pouco sobre a minha incrível experiência em Veneza no Hotel Papadopoli que faz parte da coleção  MGallery da rede Sofitel Accor. Em Fevereiro deste ano, eu fui pela primeira vez conhecer Veneza, um lugar que eu sempre sonhei em conhecer!
Ficar hospedada no hotel Papadopoli realmente fez com que esta minha primeira vez em Veneza fosse mágica e eu vou contar para vocês o porque!
A localização do hotel é perfeita!  Depois de muitas pesquisas eu descobri este hotel que fica bem perto da estação de trem de Veneza, poucos minutos caminhando o que foi ótimo pois possibilitou de irmos a pé com as malas em um curto trajeto. Veneza é um lugar em que o melhor a se fazer é caminhar por suas ruas e ir descobrindo a cidade, mas caso você queira pegar o Vaporetto ( um barco que é o único transporte publico da cidade) ali bem perto do hotel tem varias linhas!
Chegando ao hotel já nos encantamos! A decoração é muito bem feita, misturando o moderno com toques Venezianos, que faz com que o ambiente do hotel se torne muito aconchegante. O serviço do hotel em geral tem uma excelência impecável!
Logo que cheguei, fui recebida com um excelente serviço de recepção, que rapidamente fez o meu check-in e me levou para o quarto. Ao entrar no quarto, simplesmente me deparei com um dos quartos mais lindos que eu já vi em toda a minha vida! A decoração do quarto tem um estilo elegante do século 18 e fez com que eu me sentisse uma princesa! Para me encantar mais ainda, esta suíte em que ficamos tem um terraço exclusivo maravilhoso com uma vista inesquecível!
---
FRANÇAIS
Bonjour,
Aujourd'hui, je vais vous parler un peu de mon expérience incroyable à Venise à l'hôtel Papadopoli qui fait partie de la collection MGallery de la chaine Sofitel Accor. En février de cette année, je suis allée à Venise pour la première fois, un endroit que j'ai toujours rêvé d'y aller !
Notre séjour à l'hôtel Papadopoli m'a vraiment fait ma première fois à Venise était magique et je vais vous dire pourquoi !
L'emplacement de l'hôtel est parfait! Après de nombreuses recherches, j'ai découvert cet hôtel qui est très proche de la gare de Venise, à quelques minutes à pied, ce qui était super car il nous a permis de marcher avec nos bagages dans une courte distance. Venise est un endroit où la meilleure chose à faire est de marcher dans ses rues et de découvrir la ville, mais si vous voulez prendre le Vaporetto (un des seuls transports en commun de la ville) il y a plusieurs lignes juste à côté de l'hôtel !
En arrivant à l'hôtel, j'étais simplement enchanté ! Le décor est très bien fait, alliant le moderne avec des touches vénitiennes, ce qui rend l'ambiance de l'hôtel très confortable. Le service de l'hôtel en général a une excellence impeccable !
Dès mon arrivée, j'ai été accueilli avec un excellent service de réception, qui a rapidement fait mon check-in et m'a emmené dans la chambre. En entrant dans la pièce, je suis simplement tombé sur l'une des plus belles chambres que j'ai jamais vue en toute ma vie ! La décoration de la chambre a un style élégant du 18ème siècle et m'a fait me sentir comme une princesse ! Pour vous enchanter encore plus, cette suite qui nous avons séjourné avait une merveilleuse terrasse exclusive avec des vues inoubliables !
---
ENGLISH
Bonjour,
Today I will tell you about my incredible experience in Venice at the Papadopoli Hotel which is part of the MGallery collection of the Sofitel Accor hotel chain. In February of this year, I went to Venice for the first time, a place I always dreamed of going!
Staying at Hotel Papadopoli really made this my first time in Venice magical and I will tell you why!
The location of the hotel is just perfect! After a lot of research I discovered this hotel which is very close to the train station of Venice, a few minutes walking which was great because it made it possible for us to walk with our bags in a short distance. Venice is a place where the best thing to do is walk along its streets and discover the city, but in the case you want to take the Vaporetto (a boat that is the only public transport in the city) there are several lines right next to the hotel!
Arriving at the hotel, I simply felt in love! The decor is very beautiful, blending the modern with Venetian touches, which makes the ambience of the hotel become very cozy. The overall service of the hotel has an impeccable excellence!
As soon as I arrived, I was greeted with an excellent front desk service, who quickly made my check-in and took me to the room. Upon entering the room, I simply came across one of the most beautiful rooms I have ever seen in my entire life! The decor of the room has an elegant 18th century style and made me feel like a princess! To enchant you even more, this suite we stayed in has a wonderful exclusive terrace with unforgettable views!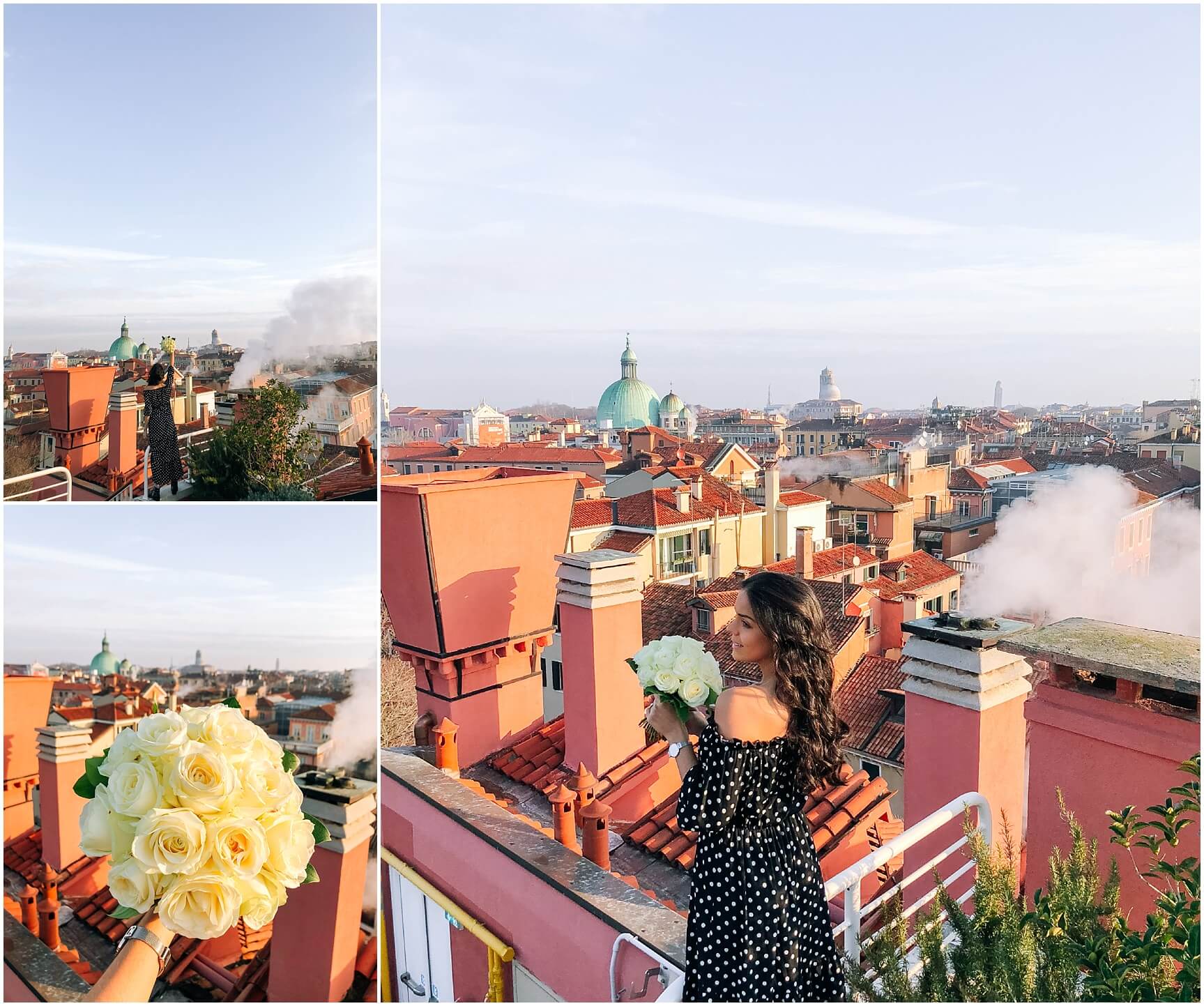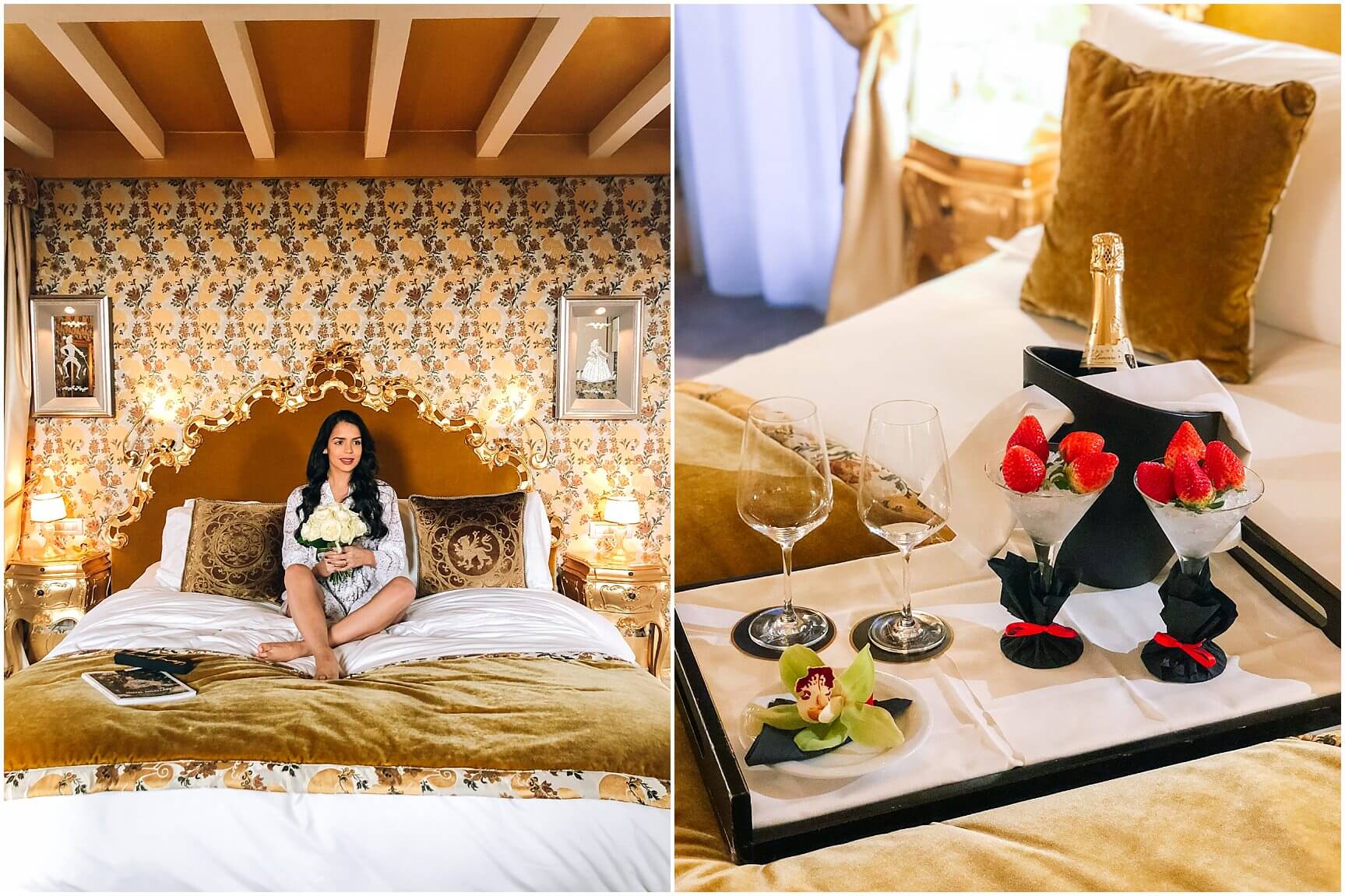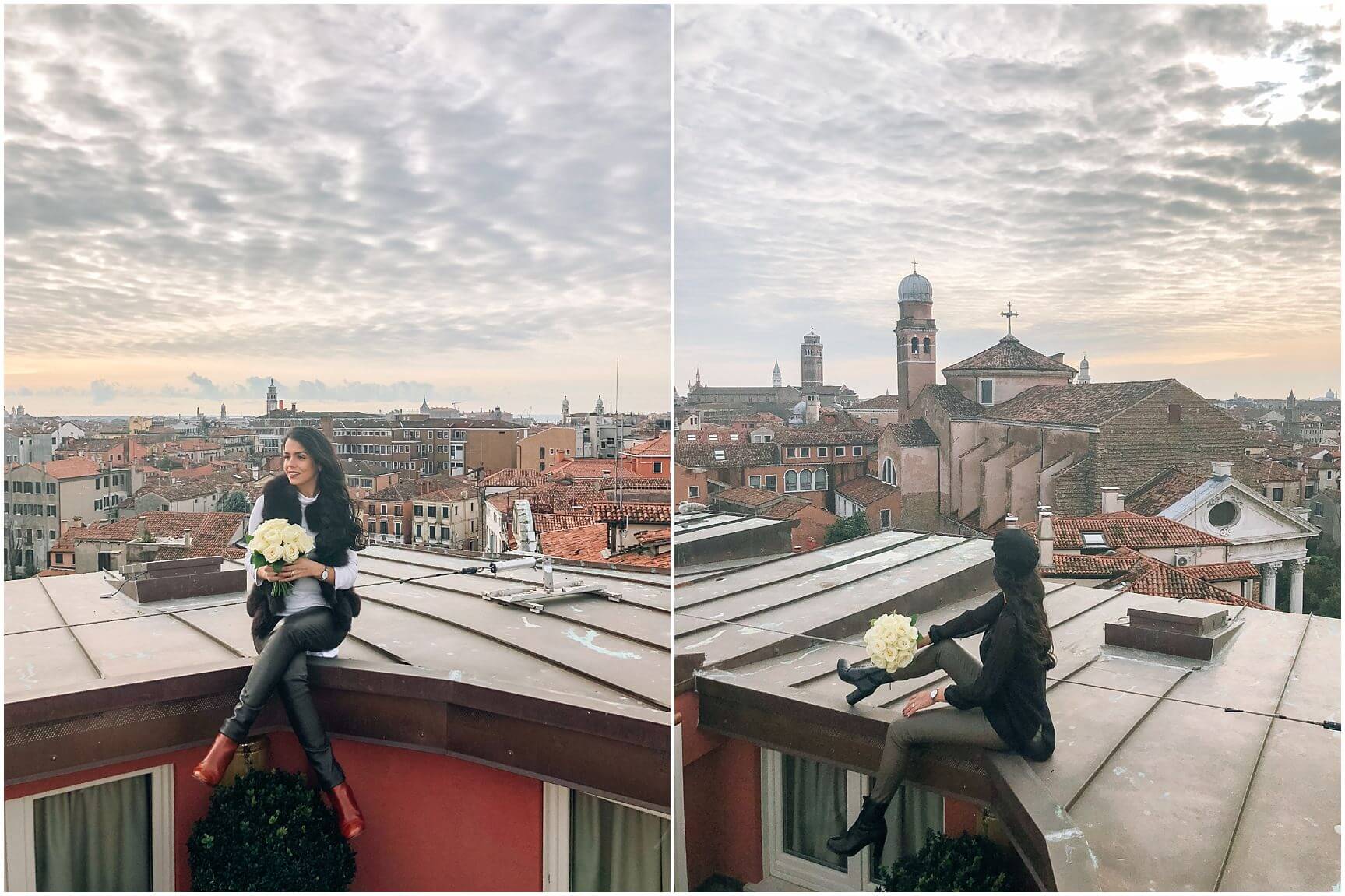 PORTUGUÊS
O quarto é muito amplo, com várias janelas e um charmoso terraço, que deixou o ambiente ainda mais aconchegante! A cama foi uma das camas mais macias que eu já dormi. O banheiro também não fica para trás, com luzes projetadas para um banho relaxante e uma banheira muito espaçosa.
---
FRANÇAIS
La chambre est très spacieuse, avec plusieurs fenêtres et une charmante terrasse, ce qui a rendu l'atmosphère encore plus confortable ! La chambre est équipée d'un système de son et de lumière très moderne et d'un des lits les plus doux dans lesquels j'ai jamais dormi. La salle de bain n'est pas loin derrière, avec des lumières conçues pour un bain relaxant et une baignoire très spacieuse.
---
ENGLISH
The room is very spacious, with several windows and a charming balcony, which made the atmosphere even more cozy! The bed was one of the softest beds, I have ever slept in. The bathroom is also not far behind, with lights designed for a relaxing bath and a very spacious bathtub.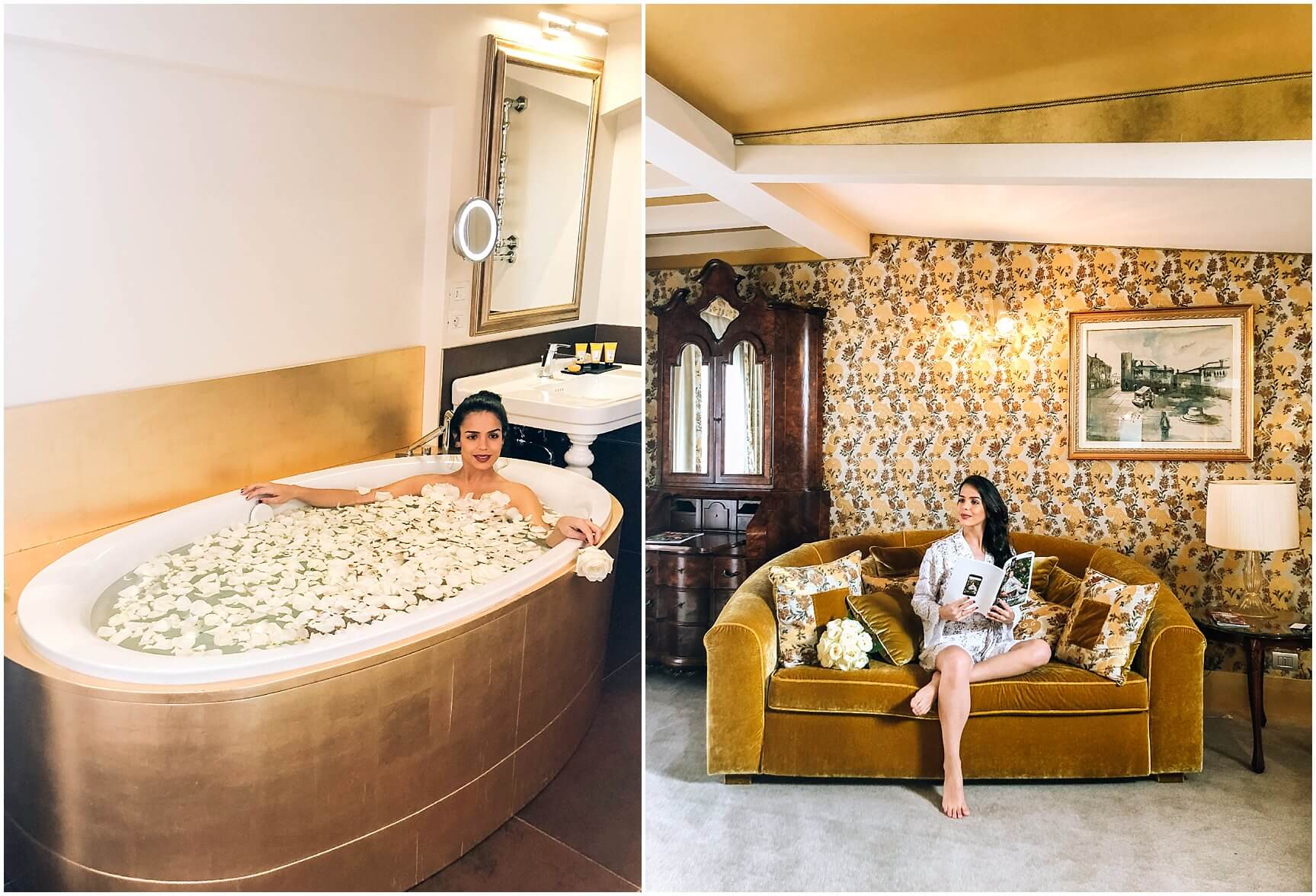 PORTUGUÊS
No dia seguinte foi dia de conhecer o café da manhã, que é completo e super caprichado! Muitas opções de iogurtes, frutas, pães, sucos, cereais, geleias, queijos e ainda, várias receitas com ovos, crepes e panquecas que são preparadas da forma como desejarmos. O local onde é servido o café da manhã é maravilhoso! Parece que você está comendo dentro do jardim de algum pintor!
Como no terraço do nosso quarto, tinha uma mesa em que poderíamos tomar o café da manhã, no segundo dia nos decidimos pedir no quarto o que foi uma bela surpresa! Preparado pensando nos mínimos detalhes, eu recomendo para os que forem ficar mais de uma dia no Papadopoli, a pedirem um dia o café da manhã no quarto.
---
FRANÇAIS
Le lendemain était le jour pour essayer le petit déjeuner, qui est complet et super soigné! Beaucoup de choix de yaourts, fruits, pains, jus, céréales, gelées, fromages et encore, diverses recettes avec des œufs, et des crêpes qui sont préparés comme vous le souhaitez. L'endroit où le petit déjeuner est servi est merveilleux ! On dirait que tu manges dans le jardin d'un peintre !
Comme sur la terrasse de notre chambre nous avions une table où nous pouvions prendre le petit déjeuner, dans le deuxième jour nous avons décidé de commander dans la chambre et…quelle belle surprise! Préparé en pensant aux moindres détails, je recommande à ceux qui restent plus d'un jour au Papadopoli, de demander un jour le petit déjeuner dans la chambre.
---
ENGLISH
The next day was a day to try the breakfast, which is complete and super well preprared! Lots of choices of yogurts, fruits, breads, juices, cereals, jellies, cheeses and still, various recipes with eggs, crepes, and pancakes that are prepared the way you wish. The place where breakfast is served is wonderful! Looks like you're eating inside some painter's garden! 
As on the terrace of our room we had a table where we could have breakfast, on the second day we decided to ask in the room and…what a beautiful surprise! Prepared thinking of the smallest details, I recommend to those who are staying more than one day at the Papadopoli, to ask for the breakfast in the room.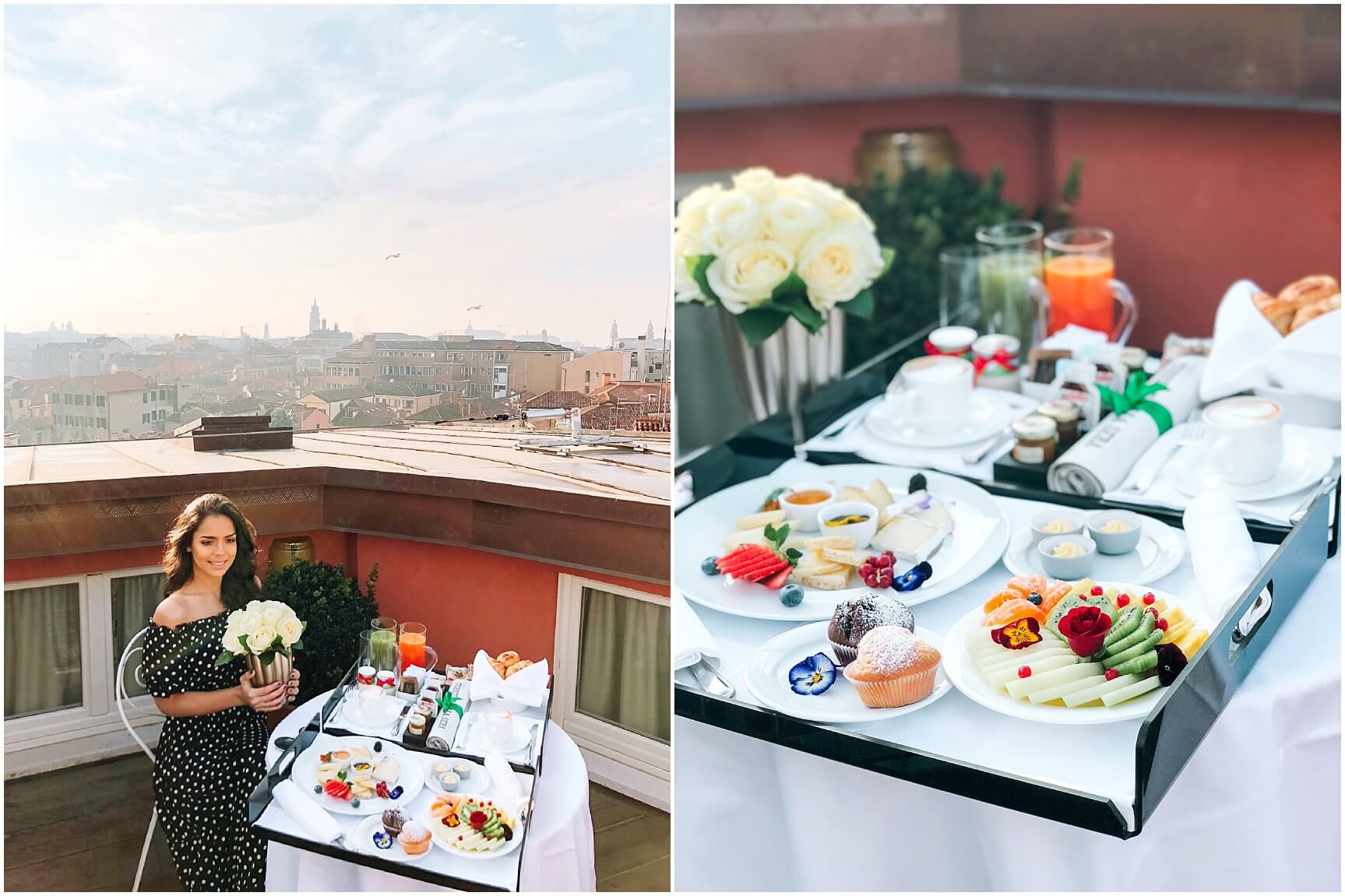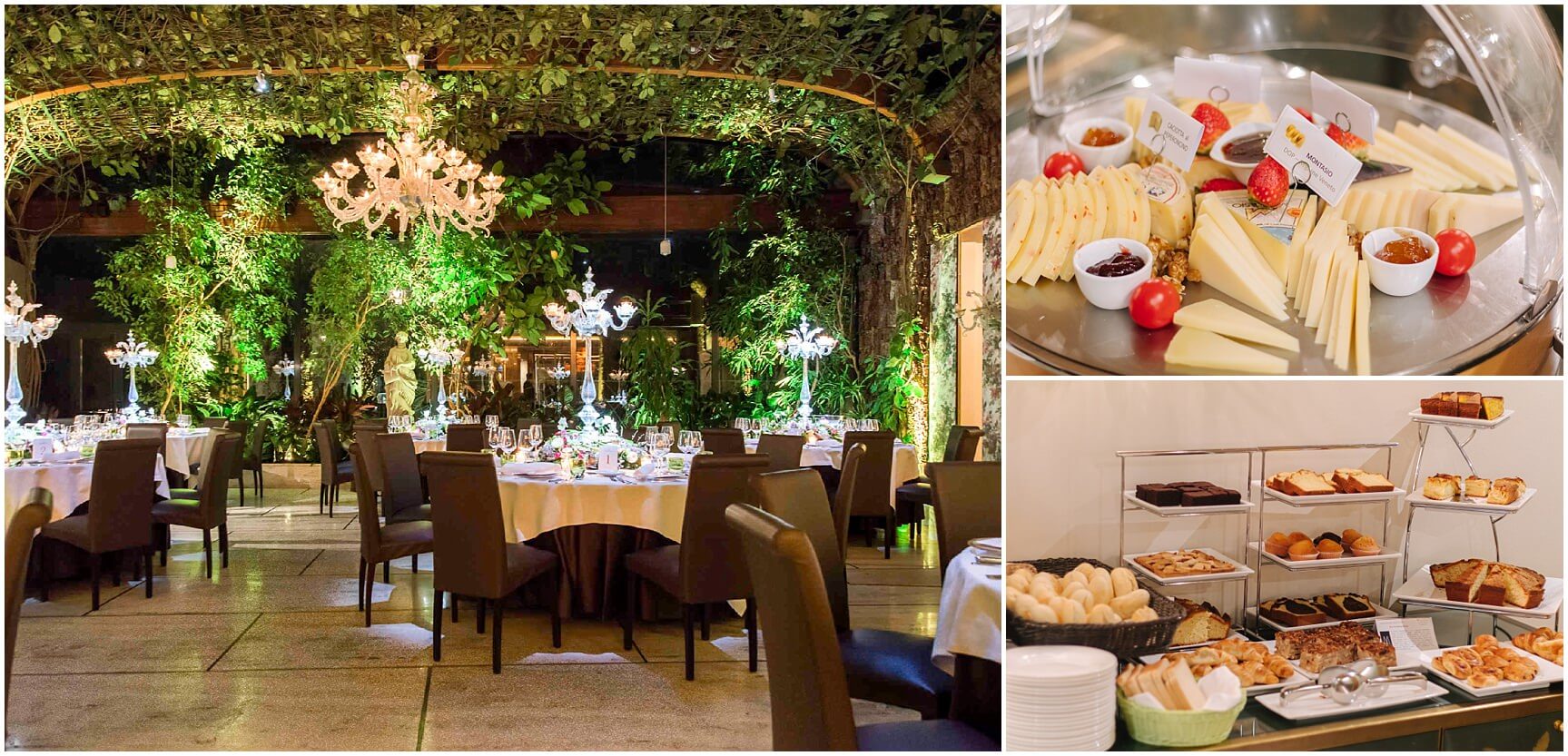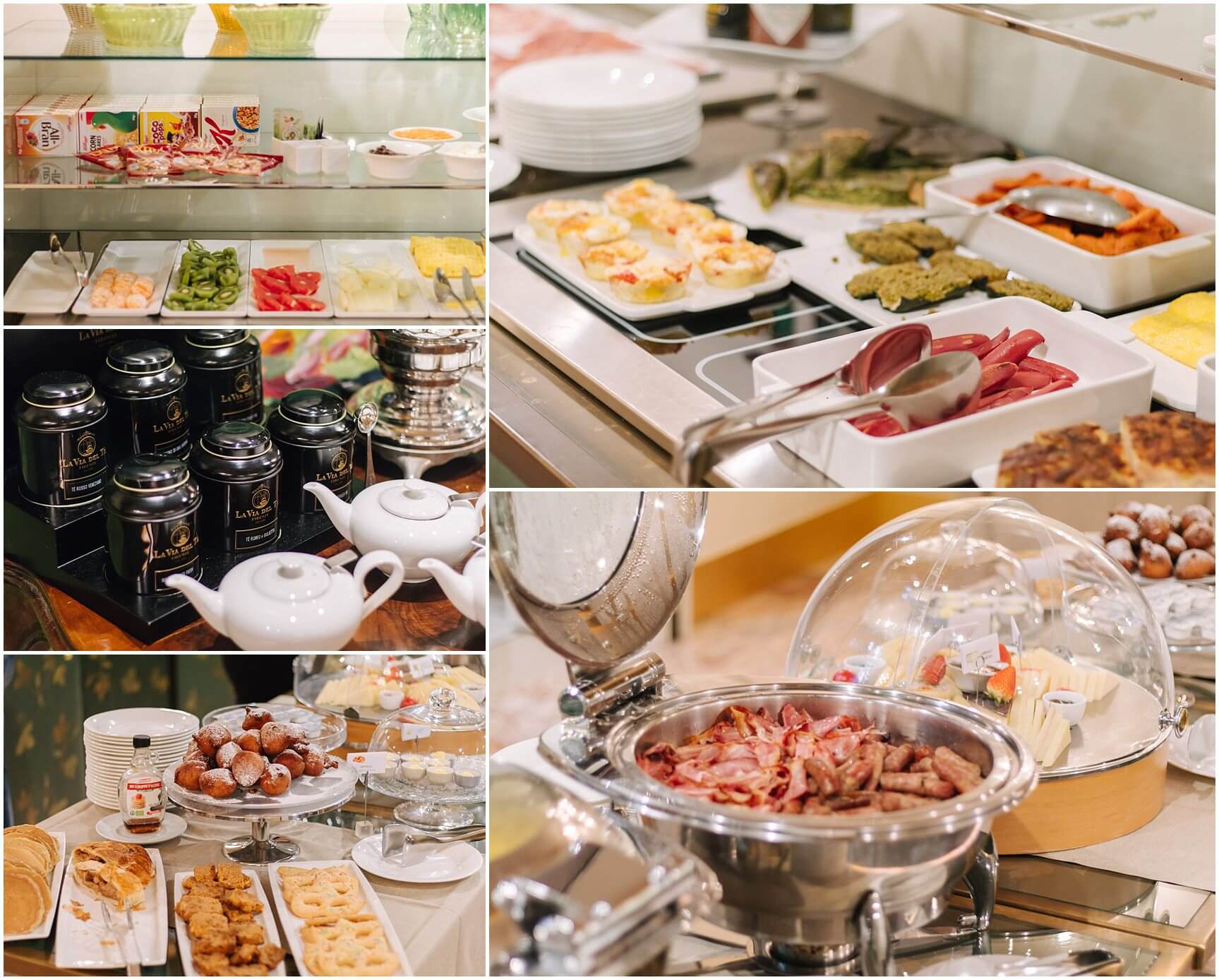 PORTUGUÊS
Então, se vocês estão procurando um lugar para fazer memórias inesquecíveis, sem dúvidas o Hotel Papadopoli é o lugar perfeito! A minha experiência neste hotel fez com que Veneza superasse todas as minhas expectativas, se tornando uma das minhas cidades preferidas no mundo! Um lugar que vocês tem que conhecer e sem dúvidas vão querer voltar mil vezes!
---
FRANÇAIS 
Donc, si vous cherchez un endroit pour faire des souvenirs inoubliables, sans aucun doute l'Hotel Papadopoli est l'endroit idéal ! Mon expérience dans cet hôtel a fait que Venise a dépassé toutes mes attentes, devenant l'une de mes villes préférées dans le monde ! Un lieu que vous devez y aller et sans doute vous voudrez y retourner mille fois !
---
ENGLISH
So if you are looking for a place to make unforgettable memories, without a doubt Hotel Papadopoli is the perfect place! My experience at this hotel has made Venice exceed all my expectations, becoming one of my favorite cities in the world! A place that you have to go and without a doubt will want to return a thousand times!