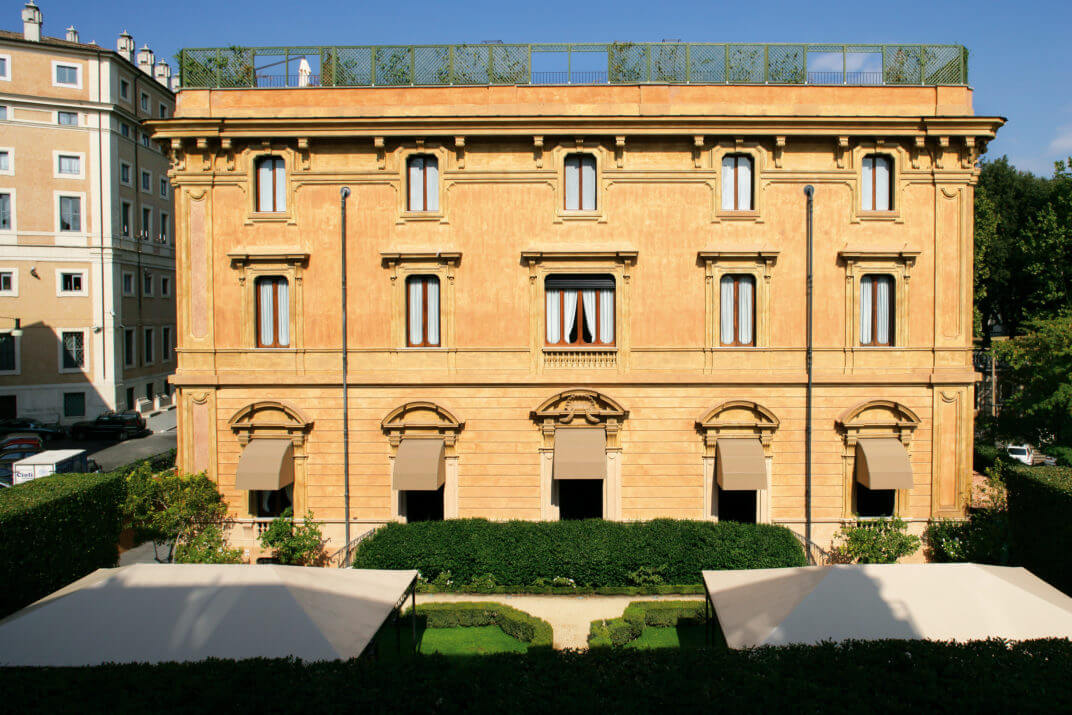 Bonjour,
Sabe quando você entra em um lugar e não quer sair de lá nunca mais? Então, este lugar é o Hotel Villa Spalletti Trivelli! Um hotel maravilhoso que faz parte da Small Luxury Hotels of The Word. Um hotel intimista com apenas 15 quartos de luxo e suítes individualmente decoradas. Um verdadeiro refúgio no coração de Roma!
Nós fomos recebidos pela proprietária do hotel, que com muita simpatia nos apresentou o hotel e nos contou a incrível historia da propriedade da família, que vocês podem ler clicando aqui.
A localização é simplesmente perfeita! Villa Spalletti Trivelli está situado em uma das sete colinas originais de Roma, o Quirinale, e está a poucos passos da Piazza del Quirinale e da Fontana di Trevi. A localização é perfeita para fazer vários roteiros a pé, o que inclusive é uma dica preciosa que sempre dou para quem vai a Roma: descubra a cidade andando a pé!
A decoração não só dos quartos, como de todo o hotel, te faz viajar no tempo descobrindo antiguidades genuínas, que fazem com que o ambiente se torne ainda mais intimista e confortável! Ao mesmo tempo que você tem os privilégios de um hotel de luxo, você facilmente poderá se sentir com o conforto de casa!
Os quartos e banheiros são todos amplos, muito bem decorados e o serviço do hotel em geral é impecável! O completo e caprichado café da manha é servido em uma das maravilhosas salas do hotel. Muitas opções de iogurtes, frutas, pães, sucos, cereais, geleias, queijos e várias receitas com ovos, crepes e panquecas que são preparadas da forma como desejarem.
---
FRANÇAIS
Bonjour,
Savez-vous quand vous entrez dans un lieu et ne voulez jamais partir? Donc, cet endroit est l'Hôtel Villa Spalletti Trivelli! Un merveilleux hôtel qui fait partie des Small Luxury Hotels of The Word. Un hôtel exclusif avec seulement 15 chambres de luxe et suites décorées individuellement. Un véritable havre de paix au coeur de Rome!
Nous avons été accueillis par le propriétaire de l'hôtel, qui nous a montré très sympathiquement l'hôtel, et nous a dit l'histoire étonnante de cette propriété familiale, que vous pouvez lire en cliquant ici.
L'emplacement est parfait! Villa Spalletti Trivelli est situé dans l'une des sept collines d'origine de Rome, le Quirinale, et se trouve à quelques pas de la Piazza del Quirinale et la Fontaine di Trevi. L'emplacement est parfait pour faire plusieurs itinéraires à pied, ce qui est même un conseil précieux que je donne toujours à tous ceux qui vont à Rome: découvrir la ville en marchant!
La décoration non seulement des chambres, mais aussi de l'ensemble de l'hôtel, vous fait voyager dans le temps en découvrant de véritables antiquités, ce qui rend l'environnement encore plus exclusif et confortable! En même temps que vous avez les privilèges d'un hôtel de luxe, vous pouvez facilement se sentir dans le confort de la maison!
Les chambres et les salles de bains sont grandes, très joliment décorées et le service de l'hôtel en général est parfait! Le petit déjeuner complet et capricieux est servi dans un beau salon de l'hôtel. Beaucoup de choix de yaourts, fruits, pains, jus, céréales, confitures, fromages et diverses recettes avec des œufs, et des crêpes qui sont préparés comme vous le souhaitez.
---
ENGLISH
Bonjour,
Do you know when you enter a place and never want to leave? So this place is the Hotel Villa Spalletti Trivelli! A wonderful hotel that is part of the Small Luxury Hotels of The Word. An intimate hotel with only 15 luxury rooms and individually decorated suites. A real haven in the heart of Rome!
We were greeted by the owner of the hotel, who very kindly showed us the hotel and told us the amazing history of the family property  which you can read by clicking here.
The location is just perfect! Villa Spalletti Trivelli is situated on one of the original Seven Hills of Rome, the Quirinale, and is steps away from Piazza del Quirinale and just a few minutes from the Fontana di Trevi. The location is perfect to do several itineraries by foot, which is a precious tip I always give to everyone that is  going to Rome: discover the city by walking!
The decoration, not only of the rooms, but also of the whole hotel, makes you travel back in time discovering genuine antiques, which make the environment even more intimate and comfortable! At the same time that you have the privileges of a luxury hotel, you can easily feel with the comfort of home!
The rooms and bathrooms are all large, very well appointed and the hotel service in general is perfect! The complete and capricious breakfast is served in one of the hotel's beautiful living rooms. Lots of choices of yogurts, fruits, breads, juices, cereals, jams, cheeses and various recipes with eggs, crepes and pancakes which are prepared the way they want.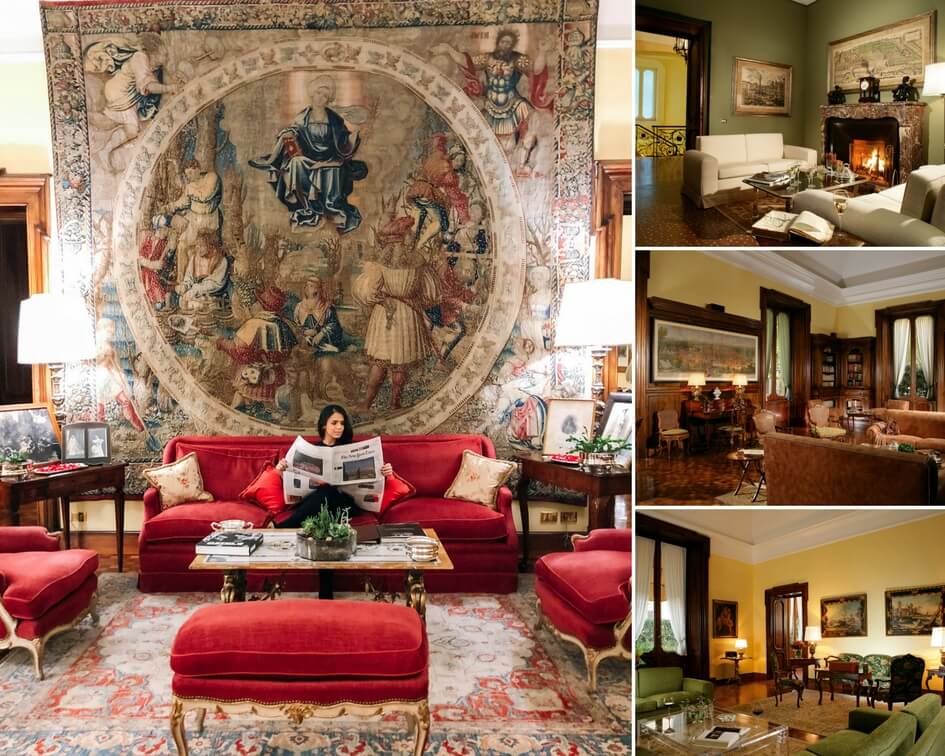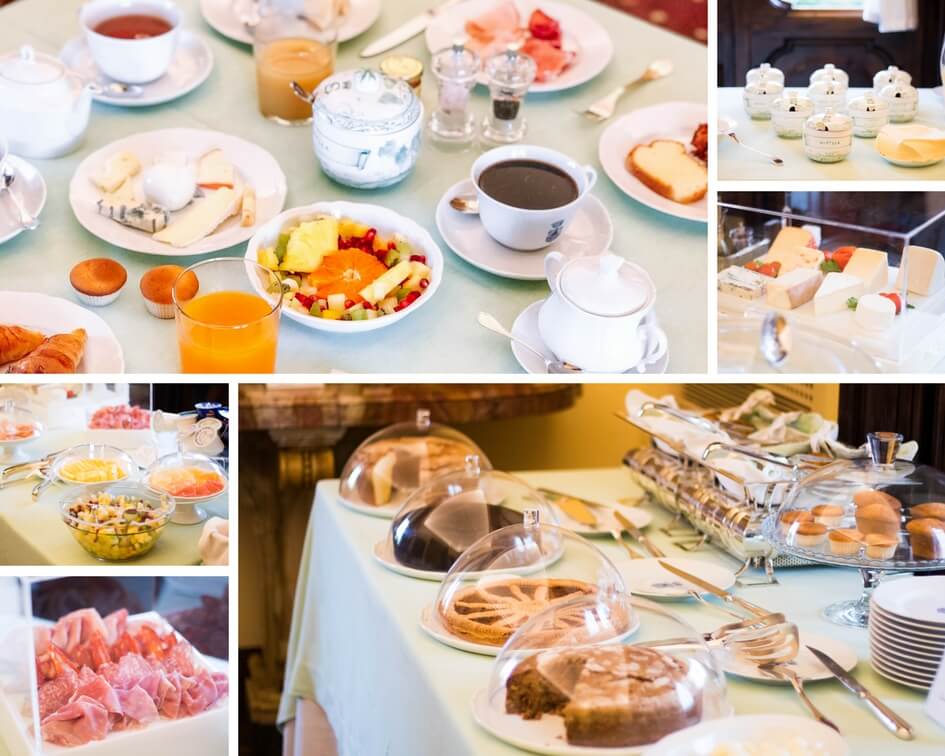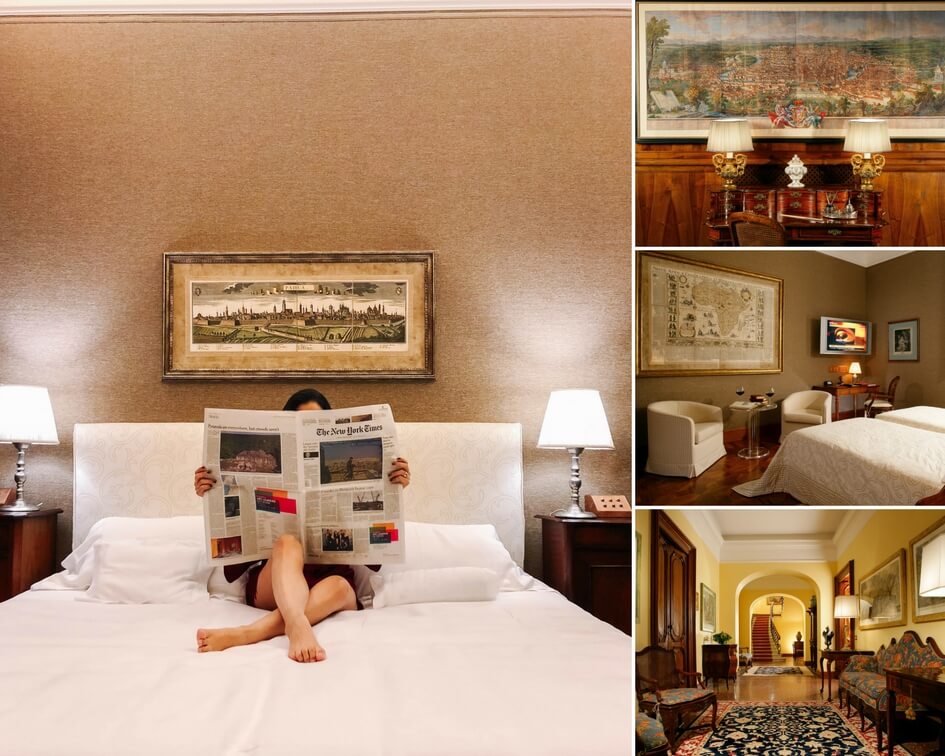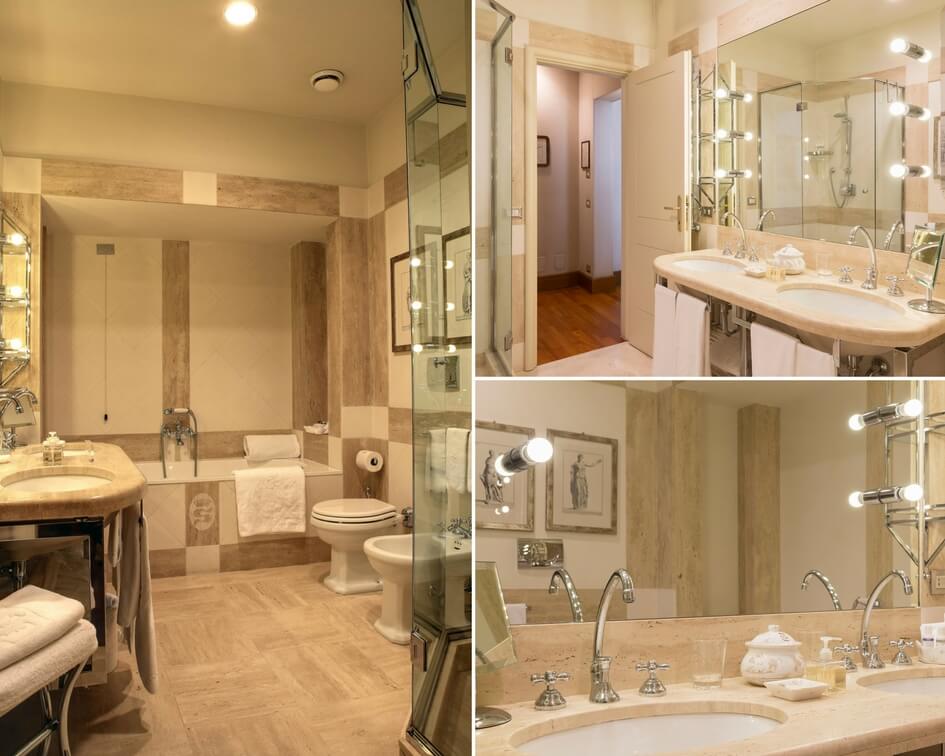 PORTUGUÊS
O Hotel Villa Spalletti Trivelli tem uma filosofia em que eles definitivamente fazem de tudo para que o cliente sinta-se em casa e o mais confortável possível! O hóspede poderá desfrutar do mini-bar do quarto e do bar do hotel sem pagar nada a mais por isso!
Além disto, todas as quartas-feiras à noite, o hotel oferece uma degustação de vinhos Pomario em que os proprietários da vinícola Pomario são os mesmos do hotel! Infelizmente nós não tivemos a oportunidade de participar da degustação, porque nós já tínhamos um restaurante reservado para o mesmo dia, porém na nossa próxima estadia vamos fazer questão de estar no hotel na quarta-feira a noite, para a degustação e depois contarei tudo para vocês!
---
FRANÇAIS
L'Hôtel Villa Spalletti Trivelli a une philosophie, dans laquelle ils font tout pour que le client se sent comme chez lui et aussi confortable que possible! Vous pouvez profiter du minibar dans la chambre et du bar de l'hôtel sans rien payer en plus pour cela!
Et aussi, tous les mercredis soirs, l'hôtel propose une dégustation de vin Pomario dans laquelle les propriétaires de la cave Pomario sont les mêmes que l'hôtel! Malheureusement, nous n'avons pas eu l'occasion de participer à la dégustation, car nous avions déjà un restaurant réservé pour le jour même, mais lors de notre prochain séjour, nous nous assurerons d'être à l'hôtel mercredi soir pour la dégustation, et je vous dirai tout!
---
ENGLISH
The Villa Spalletti Trivelli has a philosophy, in which they definitely do everything, to make the guest feel at home, and as comfortable as possible! You can enjoy the minibar in the room and the hotel bar during your stay without paying anything extra for it!
In addition, every Wednesday evening the hotel offers a Pomario wine tasting in which the owners of the Pomario winery are the same as the hotel! Unfortunately we did not have the opportunity to participate at the wine tasting, because we already had a restaurant booked for the same day, however on our next stay we will make sure to be at the hotel on Wednesday night for the tasting and then I will tell you all about it!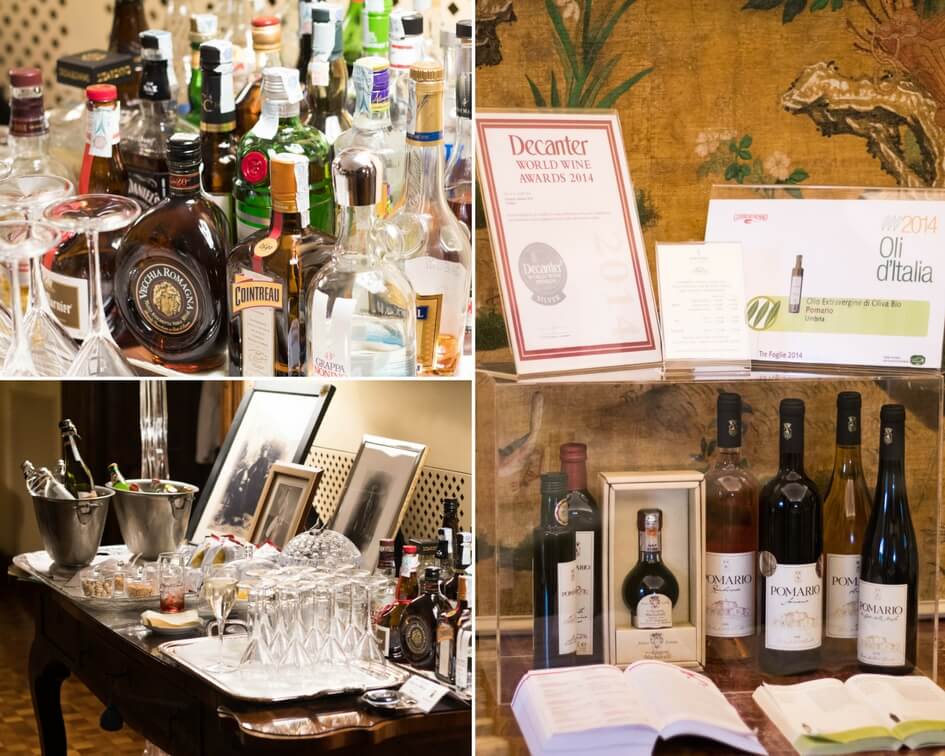 PORTUGUÊS
As áreas comuns são super aconchegantes, o que te leva a definitivamente reservar um dia da viagem para ficar somente dentro no hotel! Além de academia, biblioteca, salas charmosas e um jardim incrível, eles possuem um spa completo com salas de massagem, sauna, banho turco e um delicioso espaço para relaxar com diversos tipos de chá a disposição dos hóspedes.
No terraço do Hotel, ainda tem 3 grandes Jacuzzis, sofás e espreguiçadeiras confortáveis, com uma maravilhosa vista dos telhados da capital da moda italiana. Nós estivemos durante o inverno no hotel, então aproveitamos a Jacuzzi com água quente para relaxar depois de um dia inteiro andando por Roma. A dona do Hotel nos contou que durante o verão, tem um bar que abre ali mesmo no terraço do hotel, com ótima música e ela disse ser incrível! Na minha lista de desejos já está o de voltar para o Villa Spalletti Trivelli no verão!
---
FRANÇAIS
Les parties communes sont super confortables, ce qui vous amène à réserver une journée, pour rester seulement à l'hôtel! En plus d'une salle de sport, d'une bibliothèque, de chambres charmantes et d'un jardin incroyable, ils disposent d'un spa complet avec salles de massage, sauna, bain turc et un espace agréable pour se détendre avec différents types de thés à disposition des clients.
Sur la terrasse de l'hôtel, il y a encore 3 grands jacuzzis, des canapés et des chaises longues confortables, avec une vue magnifique sur les toits de la capitale de la mode italienne. Nous avons séjourné pendant l'hiver à l'hôtel, nous avons donc profité du jacuzzi avec de l'eau chaude pour se détendre après une longue journée de marche autour de Rome. Le propriétaire de l'hôtel nous a dit que pendant l'été il y a un bar qui ouvre sur la terrasse de l'hôtel avec de la bonne musique et elle a dit être très sympa! Sur ma liste de souhaits est déjà de revenir à la Villa Spalletti Trivelli pendant l'été!
---
ENGLISH
The common areas are super comfortable, which leads you to definitely book a day just to stay in the hotel! In addition to a gym, library, charming rooms and an incredible garden, they have a complete spa with massage rooms, sauna, Turkish bath and a delightful space to relax with various types of tea at guests' disposal.
On the Hotel's Rooftop, it has 3 large Jacuzzis, sofas and comfortable sunbathing chairs, with a wonderful view of the rooftops of the Italian capital of fashion.We stayed during winter at the hotel, so we used the Jacuzzi with hot water to relax after a full day walking around Rome. The owner of the Hotel told us that during the summer there is a bar that opens on the terrace of the hotel with great music and she said that is incredible! On my wish list already is to return to the Villa Spalletti Trivelli in the summer!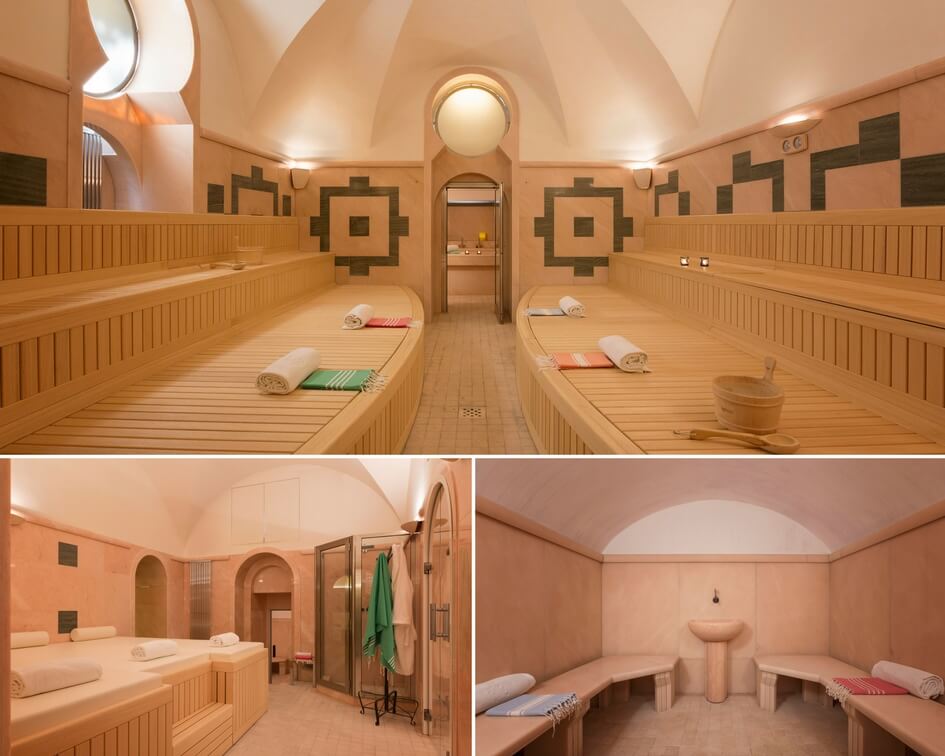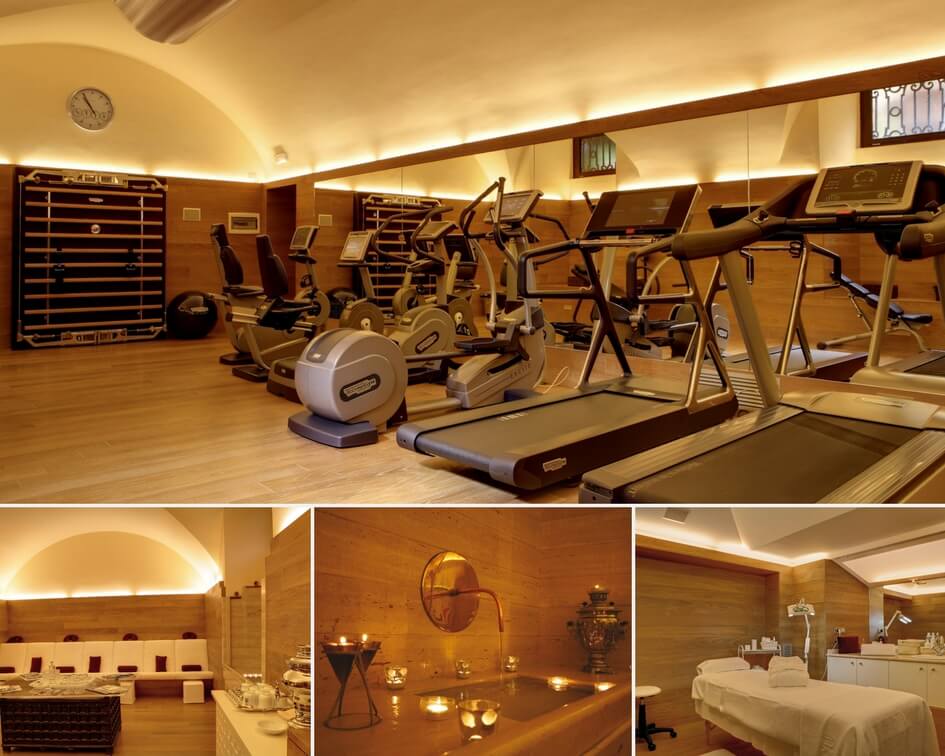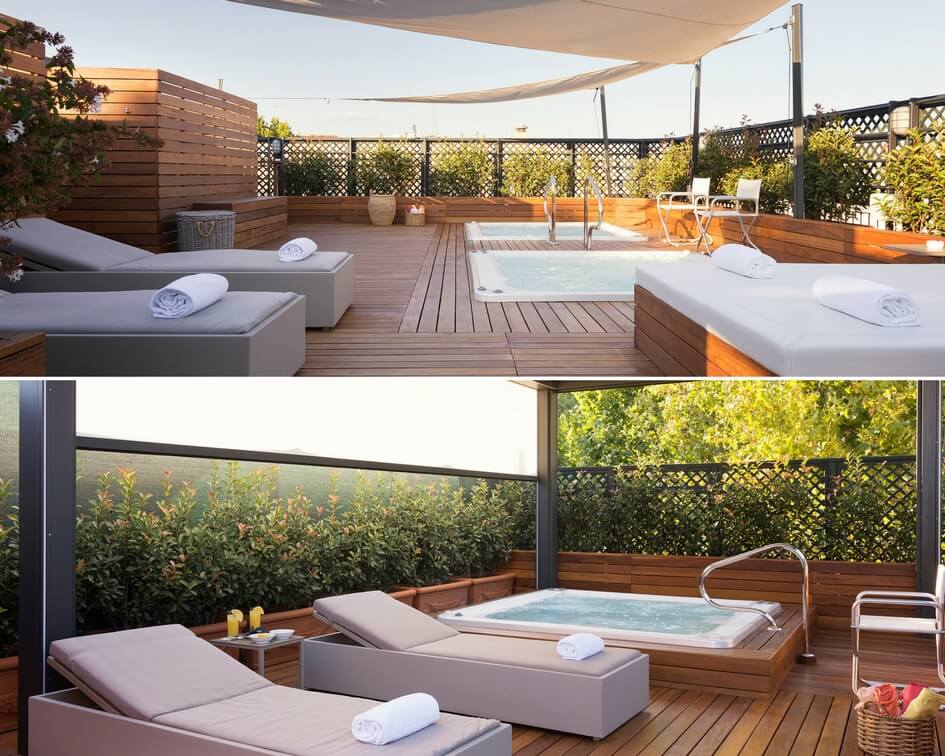 SITE EN FRANÇAIS: https://villaspalletti.it/fr/
SITE IN ENGLISH: https://villaspalletti.it/en/
PORTUGUÊS
Nós fomos embora mas já querendo voltar! Eu espero que vocês tenham gostado desta incrível dica e que possam ter incríveis momentos no Villa Spalletti Trivelli!
---
FRANÇAIS
Nous sommes partis, mais voulions déjà revenir! J'espère que vous avez apprécié cette astuce incroyable, et j'espère que vous pourrez passer des moments incroyables à la Villa Spalletti Trivelli!
---
ENGLISH
We left, but already wanting to return! I hope you have enjoyed this amazing tip, and I hope you can have some incredible moments at Villa Spalletti Trivelli!