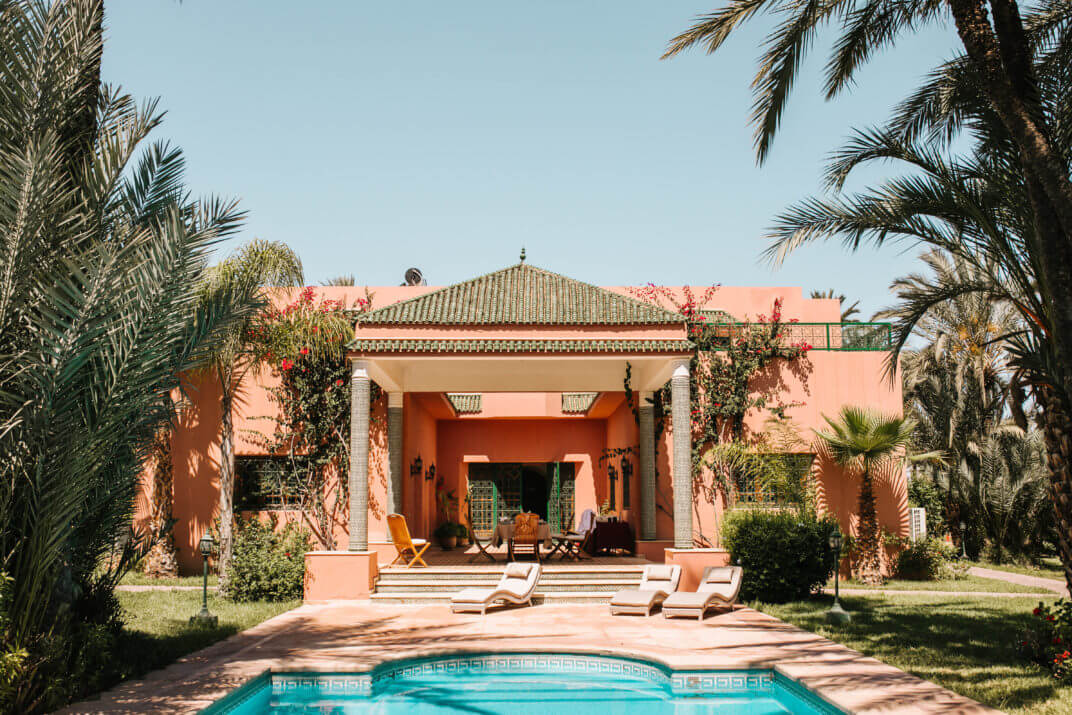 Bonjour,
Hoje vou contar um pouco sobre a minha incrível experiência em Marrakech no Hotel Domaine Rosaroum que fica no Palmeiral de Marrakech. No mês passado, eu fui pela primeira vez conhecer Marrakech, um lugar que eu sempre sonhei em conhecer!
Ficar hospedada no Domaine Rosaroum realmente fez com que esta minha primeira vez em Marrakech fosse mágica! Assim que chegamos no aeroporto fomos recebidas pelo gentil motorista do hotel que ficou conosco durante os dois dias em que ficamos hospedadas no hotel, nos levando para todos os pontos turísticos e restaurante, sempre muito bem humorado e educado.
Chegando ao hotel já nos encantamos! O hotel é composto por varias vilas (casas) independentes, que te faz sentir em casa com todos os serviços de um hotel. Nos ficamos na Villa Prestige, que é uma casa de dois andares com 4 quartos, que podem acomodar até 8 pessoas e tem uma piscina e jardim privados.  A arquitetura hispano-mourisca e a decoração são muito bem feitas, fazendo com que o ambiente do hotel se torne muito aconchegante.  Cada Villa tem um bangalô privado opcional composto por 3 quartos separados e luxuosos aumentando assim a sua capacidade para 7 quartos. Um lugar perfeito para viajar em casal, família ou grupo de amigos!
O serviço do hotel em geral tem uma excelência impecável! Logo que chegamos, fomos recebidas com um excelente serviço de recepção, que logo nos forneceu um celular que ficou conosco durante os dois dias para contato direto com a recepção e o motorista.
---
FRANÇAIS
Bonjour,
Aujourd'hui je vais vous parler un peu de mon incroyable expérience à Marrakech à l'Hôtel Domaine Rosaroum situé dans la Palmeraie de Marrakech. Le mois dernier, je suis allé à Marrakech pour la première fois, une ville où j'ai toujours rêvé d'aller.
Séjourner au Domaine Rosaroum a vraiment fait que ma première fois à Marrakech était magique ! Dès que nous sommes arrivées à l'aéroport, nous avons été accueillies par le gentil conducteur de l'hôtel qui est resté avec nous pendant les deux jours où nous avons séjourné à l'hôtel, il nous a emmenées dans tous les sites et restaurants, toujours très cordial et humble.
En arrivant à l'hôtel nous avons adoré les lieux ! L'hôtel se compose de plusieurs villas indépendantes et privées, ce qui vous permet de vous sentir chez vous avec tous les services d'un hôtel. Nous avons séjourné dans une Villa de Prestige qui est une maison de deux étages avec 4 chambres pouvant accueillir jusqu'à 8 personnes et dispose d'une piscine privée et un jardin. L'architecture et la décoration hispano-mauresque sont très bien faites, rendant l'ambiance de l'hôtel très confortable. Chaque villa dispose d'un bungalow privé optionnel composé de 3 chambres privées avec chacune sa salle de bain, ces chambres luxueuses augmentent ainsi la capacité de la villa de Prestige à 7 chambres. Je considère ainsi le Domaine Rosaroum comme un endroit parfait pour voyager en couple, en famille ou en groupe d'amis !
Le service de l'hôtel en général a une excellence impeccable ! Dès que nous sommes arrivées, nous avons été accueillies avec un excellent service de réception, qui nous a aussitôt fourni un téléphone portable qui est resté avec nous pendant les deux jours pour un contact direct avec la réception et le chauffeur.
---
ENGLISH
Bonjour,
Today I will tell you about my incredible experience in Marrakech at the Hotel Domaine Rosaroum which is ideally located in the heart of Marrakech's Palm Tree Garden ("Palmeraie") . Last month, I went to Marrakech for the first time, a place I always dreamed to go!
Staying at the Domaine Rosaroum really made my first time in Marrakech magical! As soon as we arrived at the airport we were greeted by the gentle driver of the hotel who stayed with us during the two days we stayed at the hotel, taking us to all the sights and restaurant, always very friendly and polite.
Arriving at the hotel already we loved it! The hotel consists of several independent villas, which makes you feel at home with all the services of a hotel. We stayed in the Villa Prestige which is a two storey house with 4 bedrooms which can accommodate up to 8 people and has a private pool and garden. The Hispano-Moorish architecture and decor are very well done, making the ambiance of the hotel very cozy. Each Villa has an optional private bungalow that consists of 3 separate and luxurious bedrooms thus increasing its capacity to 7 bedrooms. A perfect place to travel as a couple, family or group of friends!
The hotel service in general has an impeccable excellence! As soon as we arrived, we were greeted with an excellent reception service, who soon provided us with a cell phone that stayed with us during the two days for a direct contact with the front desk and the driver.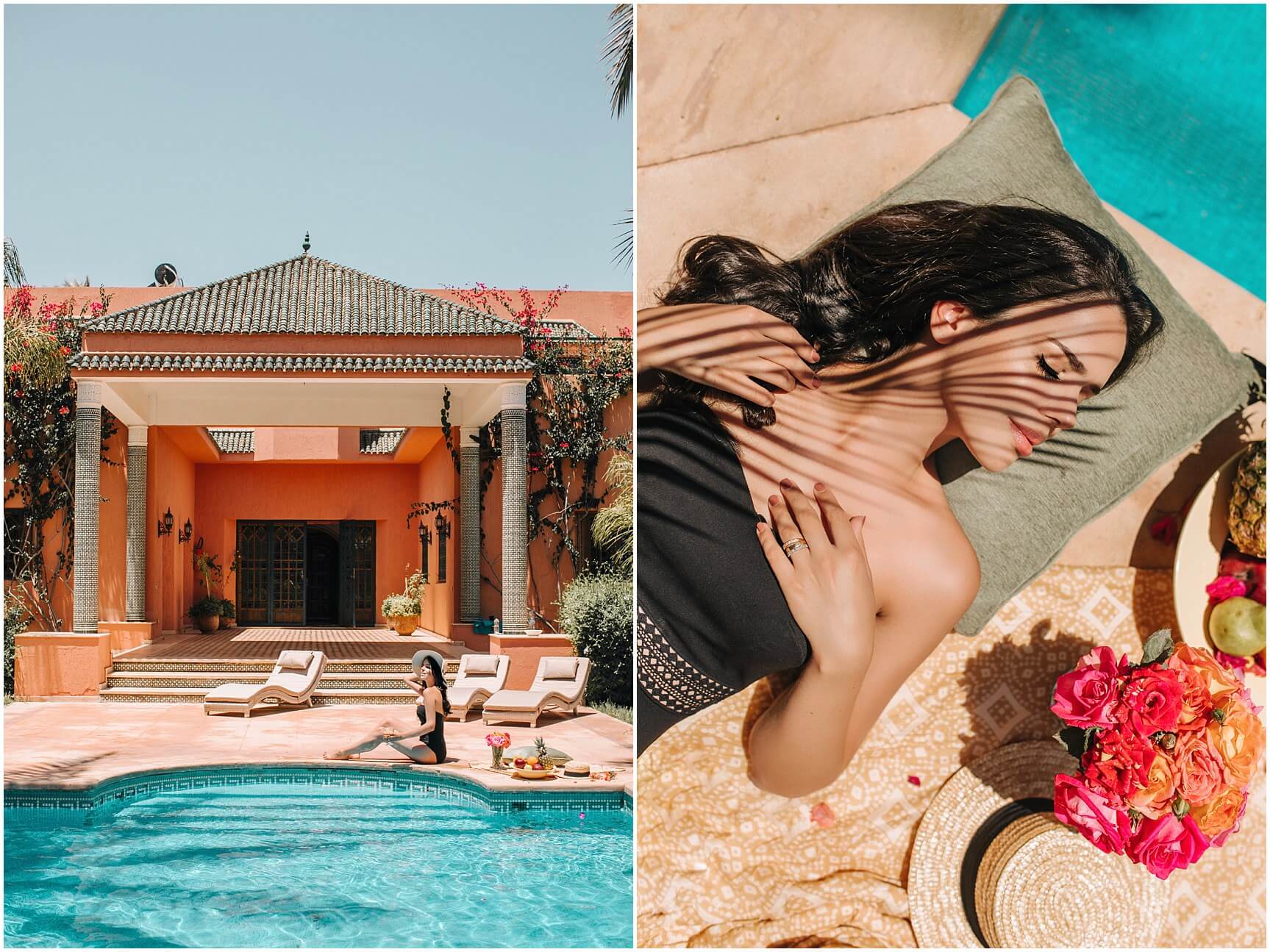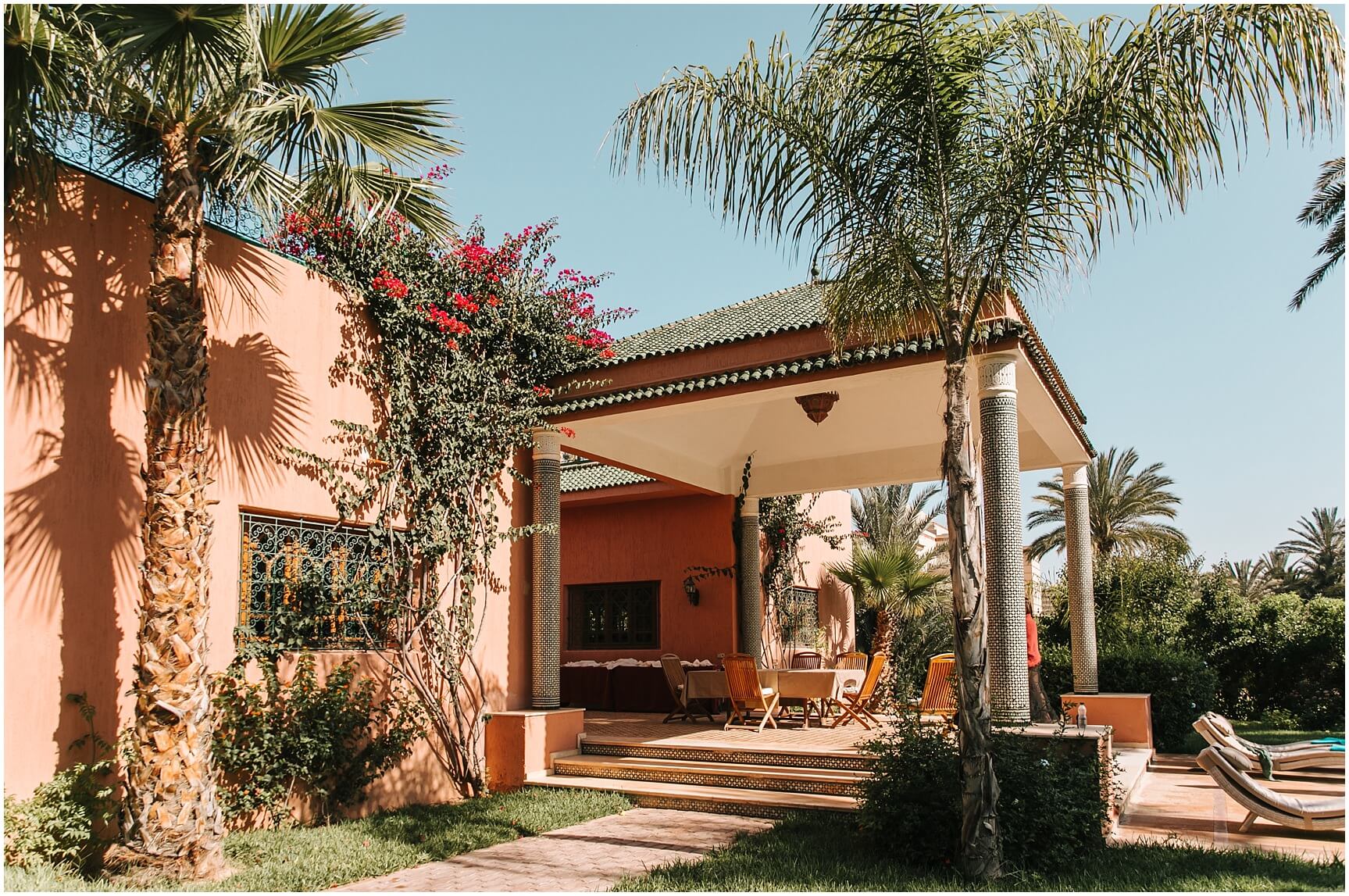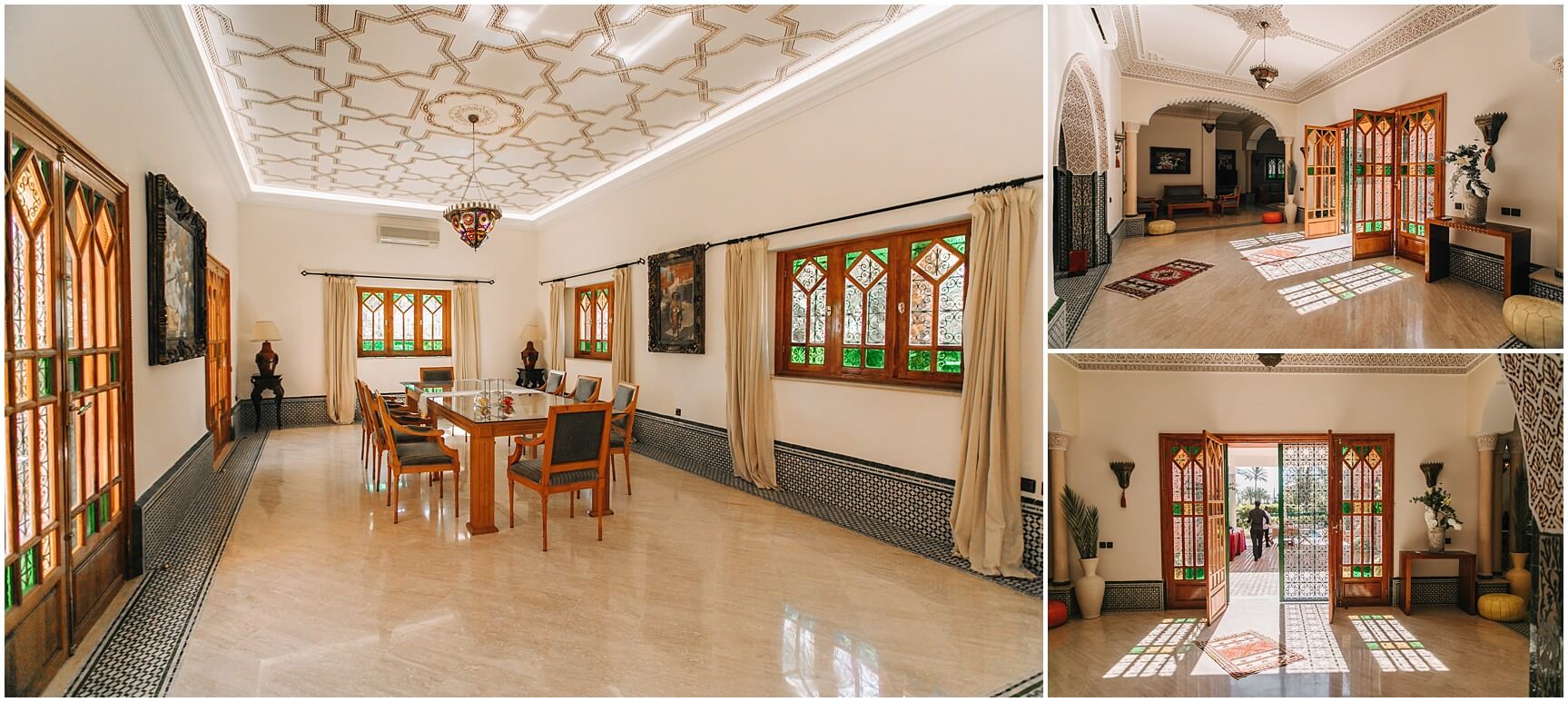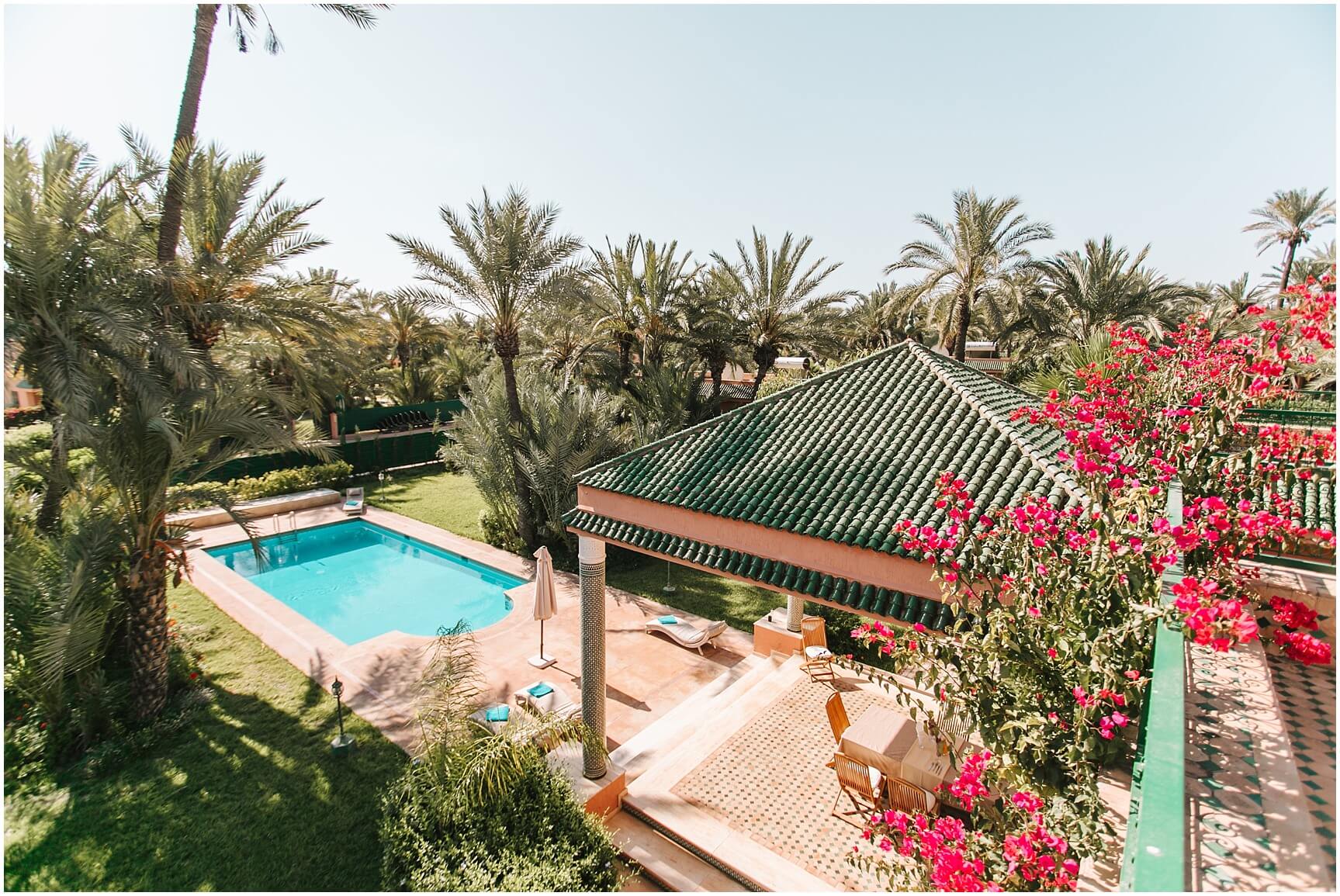 PORTUGUÊS
Os quartos são muito amplos, com várias janelas e charmosos terraços, que deixam o ambiente ainda mais aconchegante! Toda a casa estava muito limpa, com ótimas roupas de cama e banho. A cozinha é toda equipada, pronta para os que gostam de cozinhar! No dia que chegamos nós tivemos um jantar típico marroquino preparado pelo chef do hotel na cozinha da nossa casa e servido no nosso jardim, que estava simplesmente delicioso, muito bem feito e com uma ótima apresentação dos pratos!
---
FRANÇAIS
Les chambres sont très spacieuses, avec plusieurs fenêtres et des charmantes terrasses, ce qui a rendu l'atmosphère encore plus confortable !  Toute la villa était très propre avec une literie haut de gamme et une spacieuse baignoire. La cuisine est entièrement équipée, prête pour ceux qui aiment cuisiner ! Le jour de notre arrivée, nous avons eu un dîner marocain typique préparé par le chef de l'hôtel dans la cuisine de notre maison et servi dans notre jardin, c'était tout simplement délicieux, très bien fait et avec une belle présentation des plats !
---
ENGLISH
The room is very spacious, with several windows and charming terraces, which made the atmosphere even more cozy! The whole house was very clean with great bedding and bath. The kitchen is fully equipped, ready for those who like to cook! The day we arrived we had a typical Moroccan dinner prepared by the hotel chef in the kitchen of our house and served in our garden, which was simply delicious, very well done and with a great presentation of the dishes!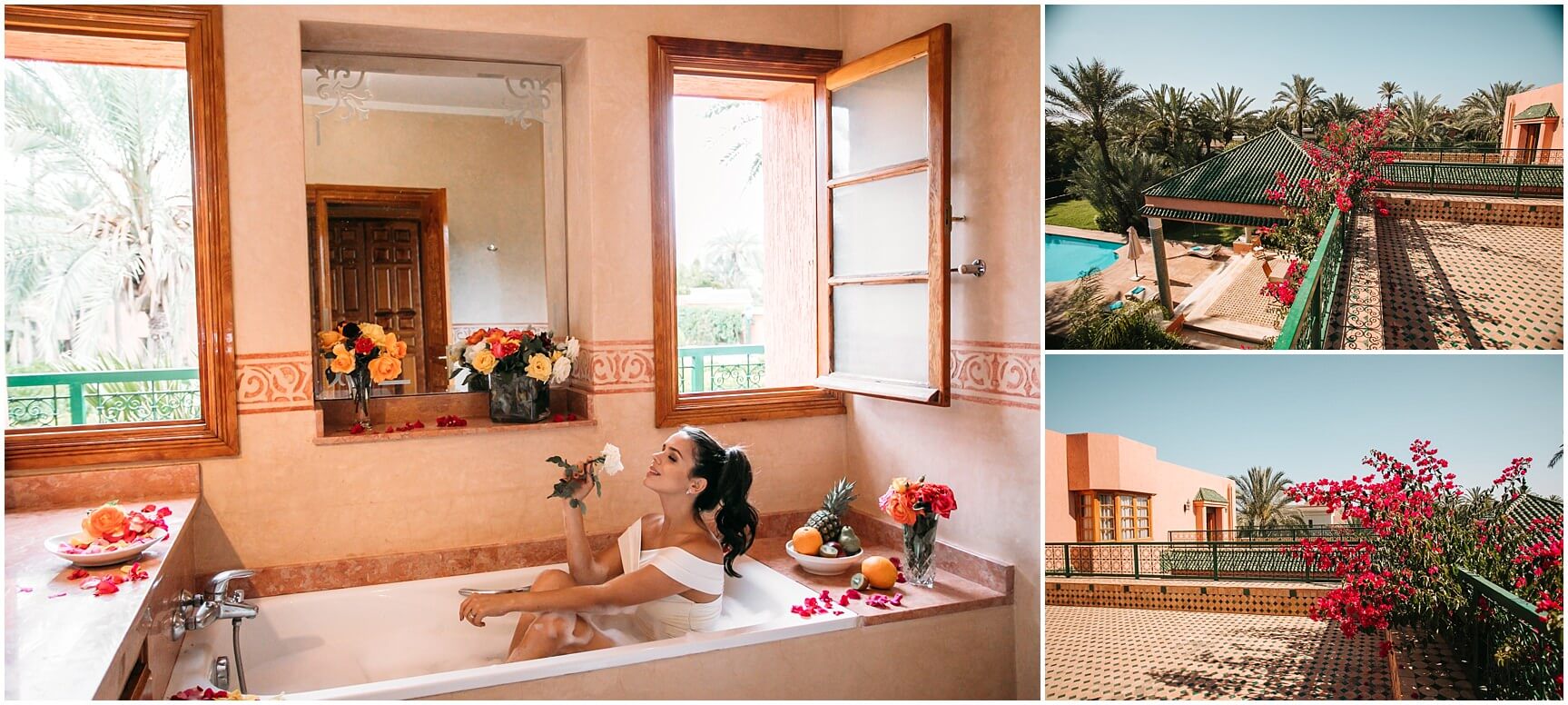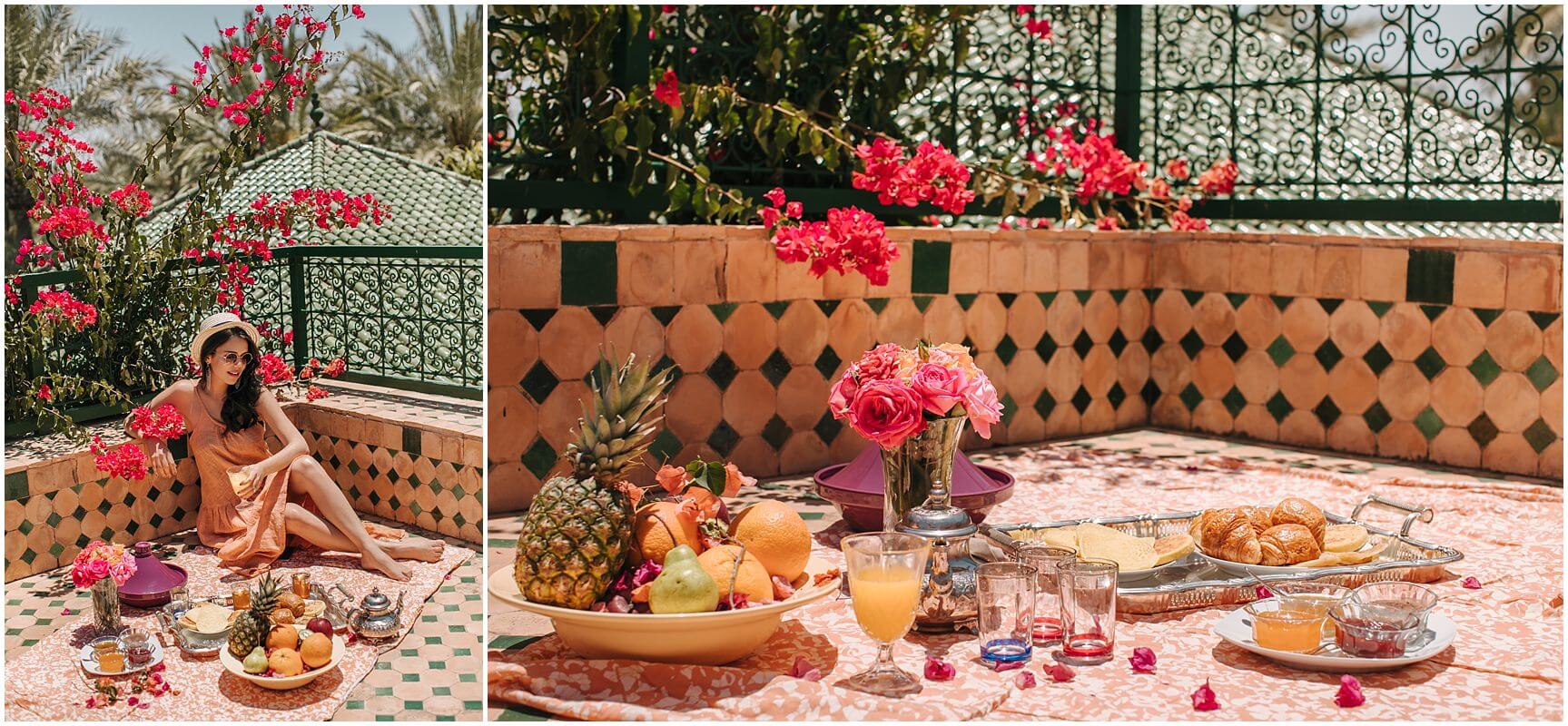 PORTUGUÊS
No dia seguinte foi dia de conhecer o café da manhã, que é completo e super caprichado! Muitas opções de iogurtes, frutas, pães tradicionais marroquinos, sucos, cereais, queijos e ainda, várias receitas com ovos, crepes e panquecas que são preparadas da forma como desejarmos.
---
FRANÇAIS
Le lendemain était le jour pour essayer le petit déjeuner, celui-ci est complet et très bien soigné ! Beaucoup de choix de yaourts, fruits, pains marocains traditionnels, croissants et pains au chocolats, jus d'orange pressé minute, céréales, fromages et encore, diverses recettes avec des œufs, et des crêpes qui sont préparées comme vous le souhaitez. 
---
ENGLISH
The next day was the day to try the breakfast, which is complete and super well preprared! Lots of choices of yogurts, fruits, traditional Moroccan breads, juices, cereals, cheeses and still, various recipes with eggs, crepes, and pancakes that are prepared the way you wish.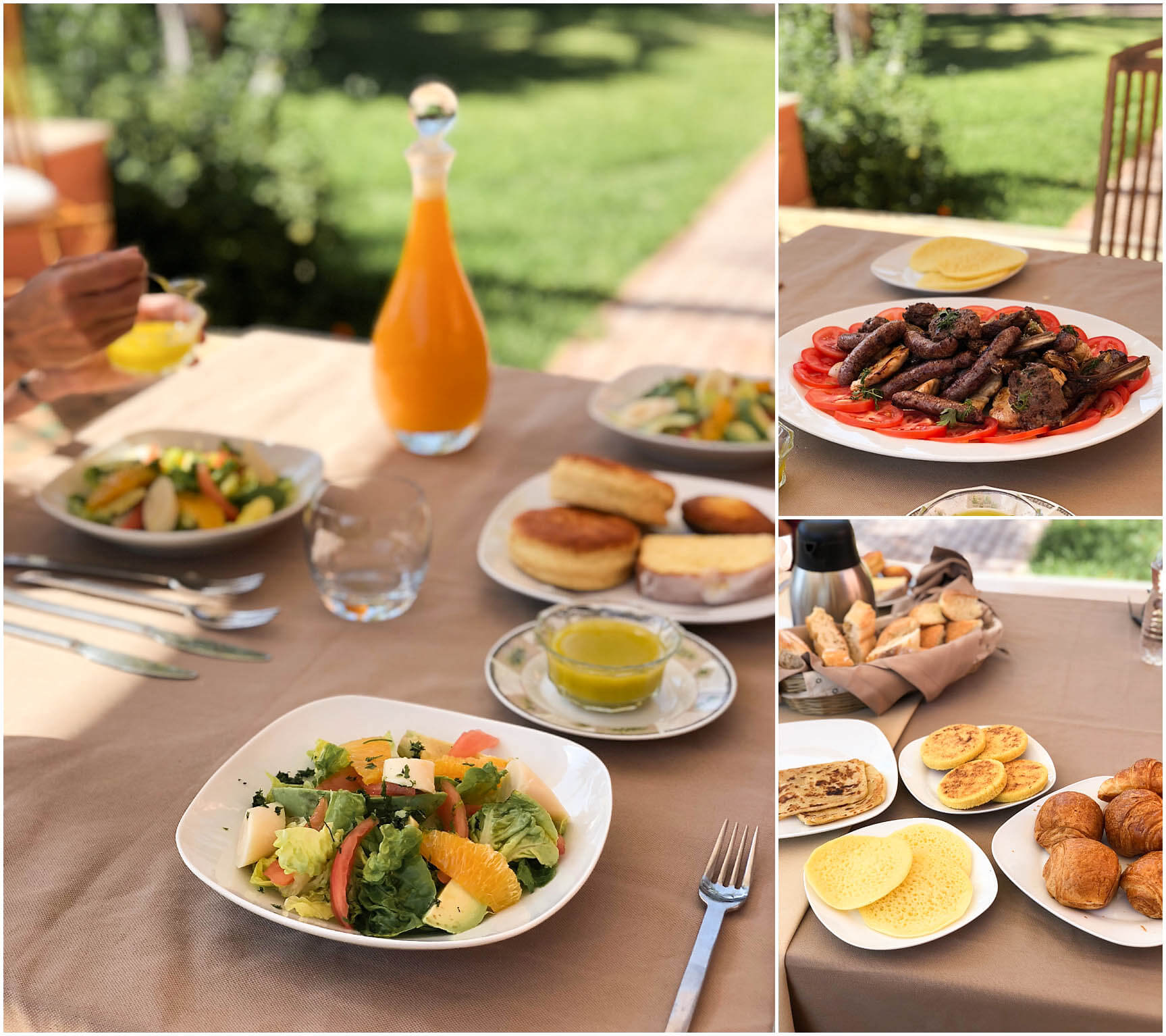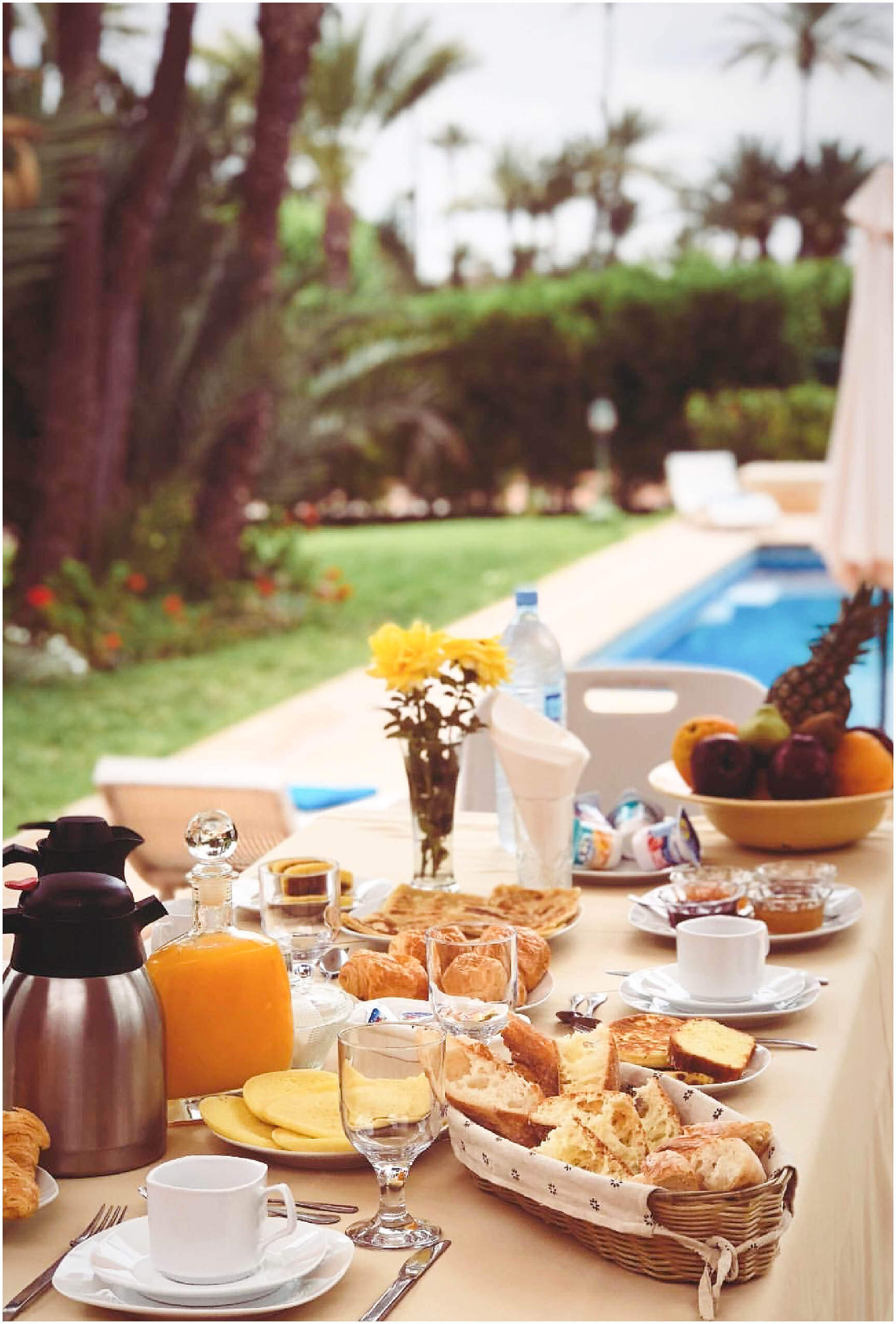 Site en français: http://www.domainerosaroum.com
Le numéro de l'hôtel pour toute réservation : +212-524-32-88-98 et le mail: contact@domainerosaroum.com
Site in English: http://www.domainerosaroum.com/en/
The hotel number for all reservations: + 212-524-32-88-98 and the mail: contact@domainerosaroum.com
Site em Espanhol: http://www.domainerosaroum.com/es/
O número do hotel para todas as reservas: +212-524-32-88-98 e o e-mail: contact@domainerosaroum.com
PORTUGUÊS
Então, se vocês estão procurando um lugar para fazer memórias inesquecíveis, sem dúvidas o Domaine Rosaroum é o lugar perfeito! Um verdadeiro refúgio de paz! Um lugar que vocês tem que conhecer e sem dúvidas vão querer voltar mil vezes!
---
FRANÇAIS 
Donc, si vous cherchez un endroit pour vivre des moments inoubliables, sans aucun doute le Domaine Rosaroum est l'endroit idéal ! Un véritable havre de paix! Un lieu à visiter et y séjourner sans aucun doute, vous serez enchantés et vous aurez l'envie d'y retourner mille fois !
---
ENGLISH
So if you are looking for a place to make unforgettable memories, without a doubt Domaine Rosaroum is the perfect place! A true peace of haven! A place that you have to go and without a doubt will want to return a thousand times!