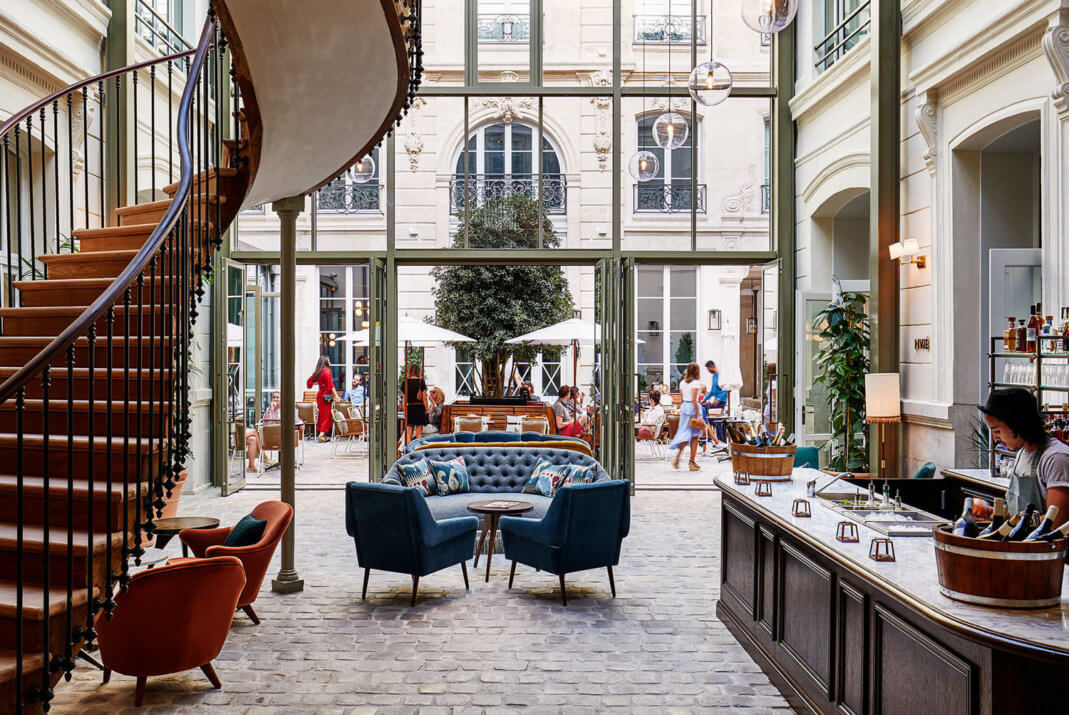 Bonjour,
Neste mês eu tive a ótima oportunidade de conhecer e ficar no super badalado hotel The Hoxton em Paris e estou aqui para contar em detalhes como foi essa incrível experiência.
Para o começar o hotel tem uma ótima localização. No coração do 2º Arrondissement, a poucos passos da famosa Boulevard Poissonnière, próximo do famoso cinema Le Grand Rex e de diversos restaurantes que ficam sempre lotados!
O hotel tem uma belíssima construção do século XVIII, com uma charmosa decoração que deixa o ambiente muito aconchegante e acolhedor! Logo na entrada do hotel, no salão principal, tem uma escada com mais de 300 anos de idade que chama atenção por sua beleza! O hotel é muito bem frequentado e super animado! Os seus restaurantes e bares estão sempre cheios e no restaurante principal tem dj's ou atrações todas as noites.
---
FRANÇAIS
Bonjour,
Ce mois-ci, j'ai eu l'occasion de découvrir le "branché" Hôtel The Hoxton à Paris, et je suis ici pour vous dire en détail à quel point cette expérience a été formidable.
Pour commencer, l'hôtel est très bien situé. Au coeur du 2ème arrondissement, à deux pas du Boulevard Poissonnière, à proximité du célèbre cinéma Le Grand Rex et de nombreux restaurants que sont toujours plein!
L'hôtel a un beau bâtiment du 18ème siècle avec une décoration charmante qui laisse l'atmosphère très chaleureuse et accueillante! À l'entrée de l'hôtel, dans le hall principal, il y a un escalier de plus de 300 ans qui attire l'attention pour sa beauté! L'hôtel est très bien fréquenté et super animé! Ses restaurants et bars sont toujours pleins et le restaurant principal à un DJ ou des autres attractions tous les soirs.
---
ENGLISH
Bonjour,
This month I had the great opportunity to discover and stay at the super cool hotel The Hoxton in Paris, and I am here to tell you in detail how great was this experience.
The hotel is on a great location. In the heart of the 2nd Arrondissement, a few steps from the Boulevard Poissonnière, near the famous "Le Grand Rex" cinema and a lot off restaurants that are always crowded!
The hotel has a beautiful 18th century building with a charming decoration that leaves the atmosphere very warm and welcoming! At the entrance of the hotel, in the main hall, there is a staircase over 300 years old that draws attention for its beauty! The hotel is very well frequented and super alive! Its restaurants and bars are always full and the main restaurant has dj's or attractions every night.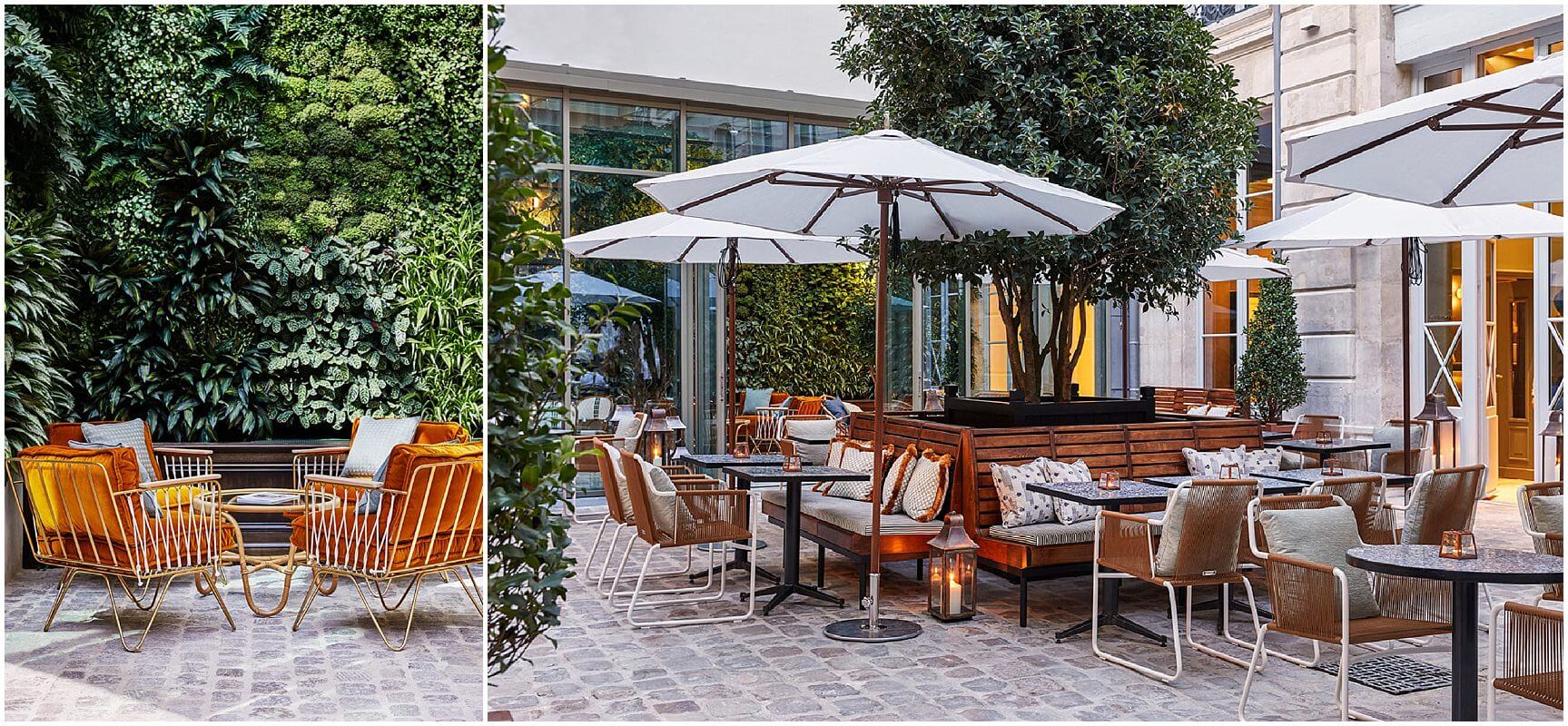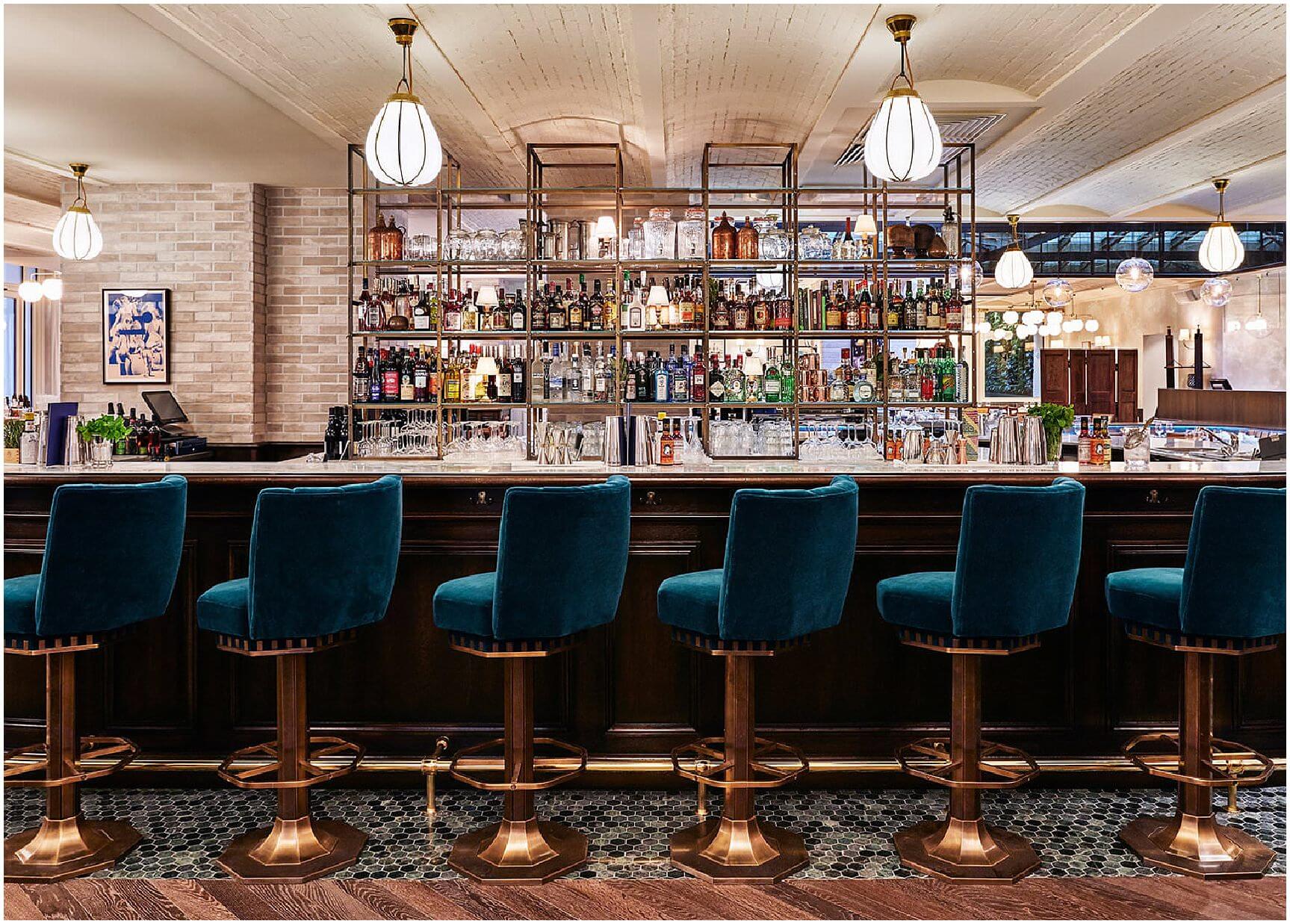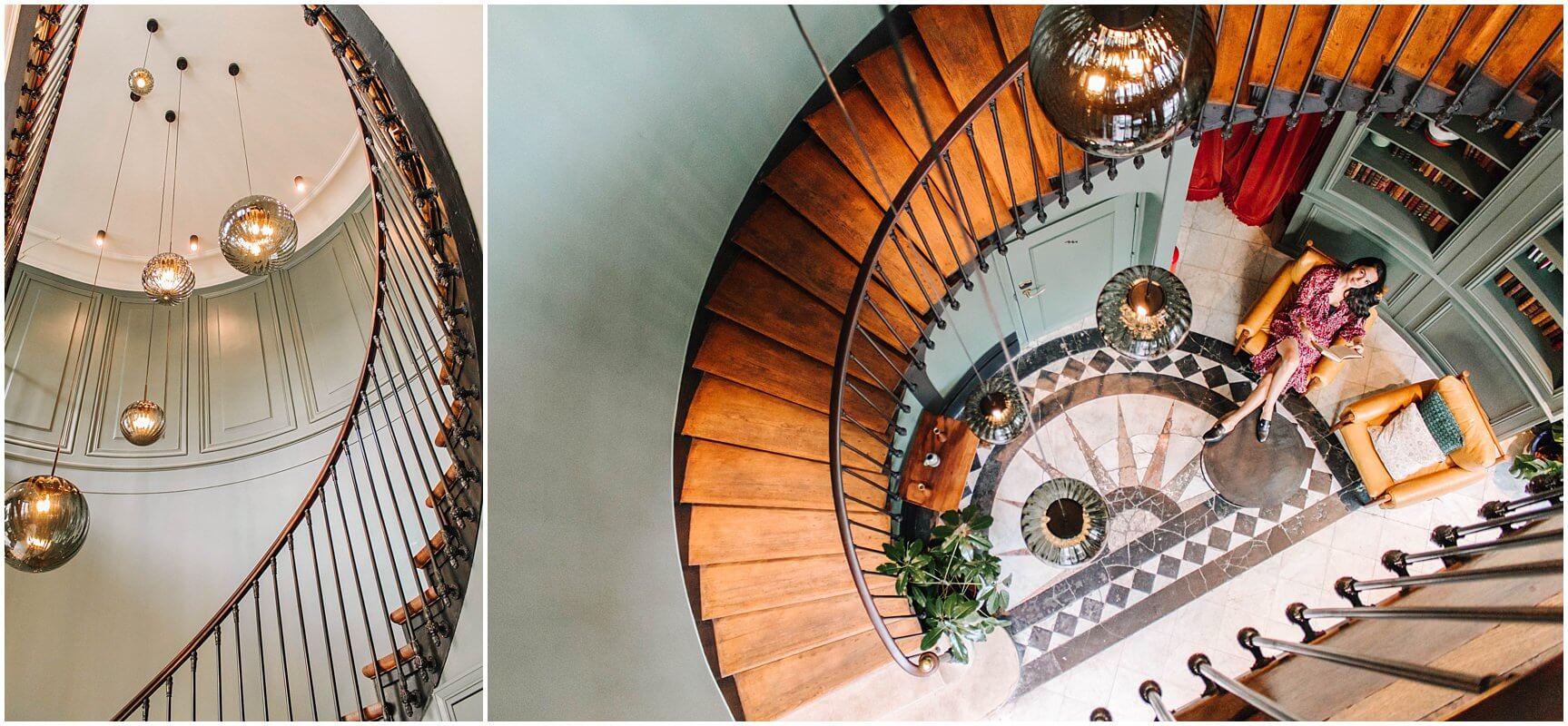 PORTUGUÊS
A recepção do hotel que fica em uma área mais reservada de todo esse agito, pude observar que toda a equipe do hotel e restaurantes são super jovens e despojados, com um estilo realmente cool, desde seus uniformes até a sua maneira de falar.
Quando peguei a chave e fui em direção ao quarto, passei por uma porta ao lado da recepção que foi um divisor de águas, pois nos levava para um segundo prédio aonde não se escutava nenhum barulho, parecia que eu estava em outro lugar. O segundo prédio é novo como todo o hotel, mas com um estilo exterior francês e interior inglês.
O hotel possui 172 quartos, todos com de piso de madeira "chevron sob medida", decoração elegante, paredes com detalhes arrojados e banheiros muito estilosos com azulejos contemporâneos.
O quarto que ficamos é super bacana com uma grande janela e vista para o jardim interno do hotel, com uma cama muito confortável e uma charmosa decoração! Ponto alto para o jogo de luz que foi muito bem pensado, e deixou o ambiente charmoso e londrino.
Nos quartos você encontra um guia para o bairro com todas as dicas da região (como cinema e academia para uso enquanto estiver no hotel), e um mini-bar com água, cafés, chás e leite. Para o café da manhã, você pode escolher uma "health bag" que está inclusa no valor da diária, ou o café da manha tradicional do hotel que é cobrado à parte. A "health bag" é composta por um suco natural de laranja, uma banana, iogurte com granola e calda de frutas. Ela é colocada na porta do quarto na hora que escolhermos.
---
FRANÇAIS
La réception de l'hôtel est dans une zone calme de tout ce bruit, j'ai pu constater que tout le personnel de l'hôtel et les restaurants sont super jeunes et épurés, dans un style vraiment cool, de leurs uniformes à leur façon de parler.
Quand j'ai eu la clé et que je suis allé dans la chambre, j'ai franchi une porte à côté de la réception qui était un tournant, car il nous a conduit à un deuxième bâtiment où aucun bruit n'était entendu, j'avais l'impression d'être ailleurs. Le deuxième bâtiment est nouveau comme l'hôtel, mais avec un style anglais à l'intérieur et français à l'extérieur.
L'hôtel dispose de 172 chambres, toutes avec des planchers de bois sur mesure "chevron", un décor élégant, des murs audacieusement détaillés et des salles de bains très élégantes avec des carreaux contemporains.
La chambre que nous avions était super cool avec une grande fenêtre donnant sur le jardin intérieur de l'hôtel, avec un lit super confortable et un décor charmant! Le jeu de lumière a été très bien pensé, et a laissé l'atmosphère super charmante et londonienne.
Dans les chambres, vous trouverez un guide du quartier avec tous les conseils de la région (tels que le cinéma et la salle de gym à utiliser proche de l'hôtel), et un mini-bar avec d'eau, des cafés, du thé et du lait. Pour le petit-déjeuner, vous pouvez choisir un "health bag" inclus dans le tarif ou le petit-déjeuner traditionnel de l'hôtel qui est facturé séparément. Le "health bag" est placé sur la porte de la chambre à l'heure demandée et se compose d'un jus d'orange naturel, d'une banane, d'un yaourt avec granola et sirop des fruits.
---
ENGLISH
The reception of the hotel it is in a quieter area of the hotel, I could observe that all of the hotel staff and restaurants are super young and uncluttered, in a really cool style, from their uniforms to their way of speaking.
When I got the key and went to the room, I went through a door next to the reception that was a watershed, because it took us to a second building where no noise was heard, it seemed that I was somewhere else. The second building is new as the whole hotel, but with a French exterior style and an English interior style.
The hotel has 172 rooms, all with "chevron" custom-made wood floors, elegant décor, boldly detailed walls and very stylish bathrooms with contemporary tiles.
The room we stayed in is super cool with a big window overlooking the inner garden of the hotel, with a super comfy bed and a charming decor! High point for the game of light that was very well thought out, and left the atmosphere super charming and Londoner.
In the rooms you will find a guide to the neighborhood with all the tips of the area (such as cinema and gym for use near the hotel), and a mini bar with water, coffees, tea and milk. For breakfast, you can choose a health bag that is included in the daily rate, or the traditional hotel breakfast that is charged separately. The health bag is placed on the door of the room at the requested time and it comes with a natural orange juice, a banana, yogurt with granola and fruit syrup.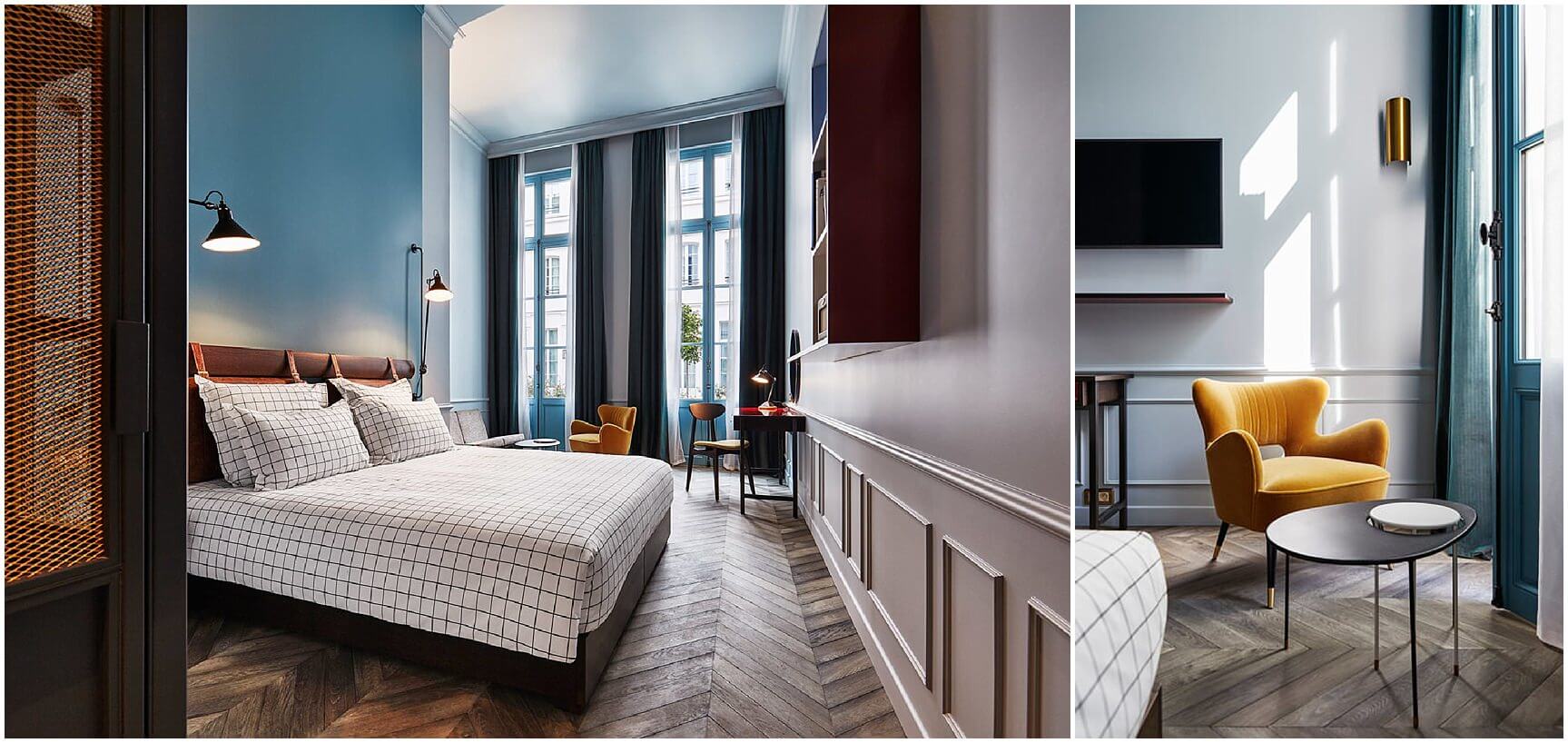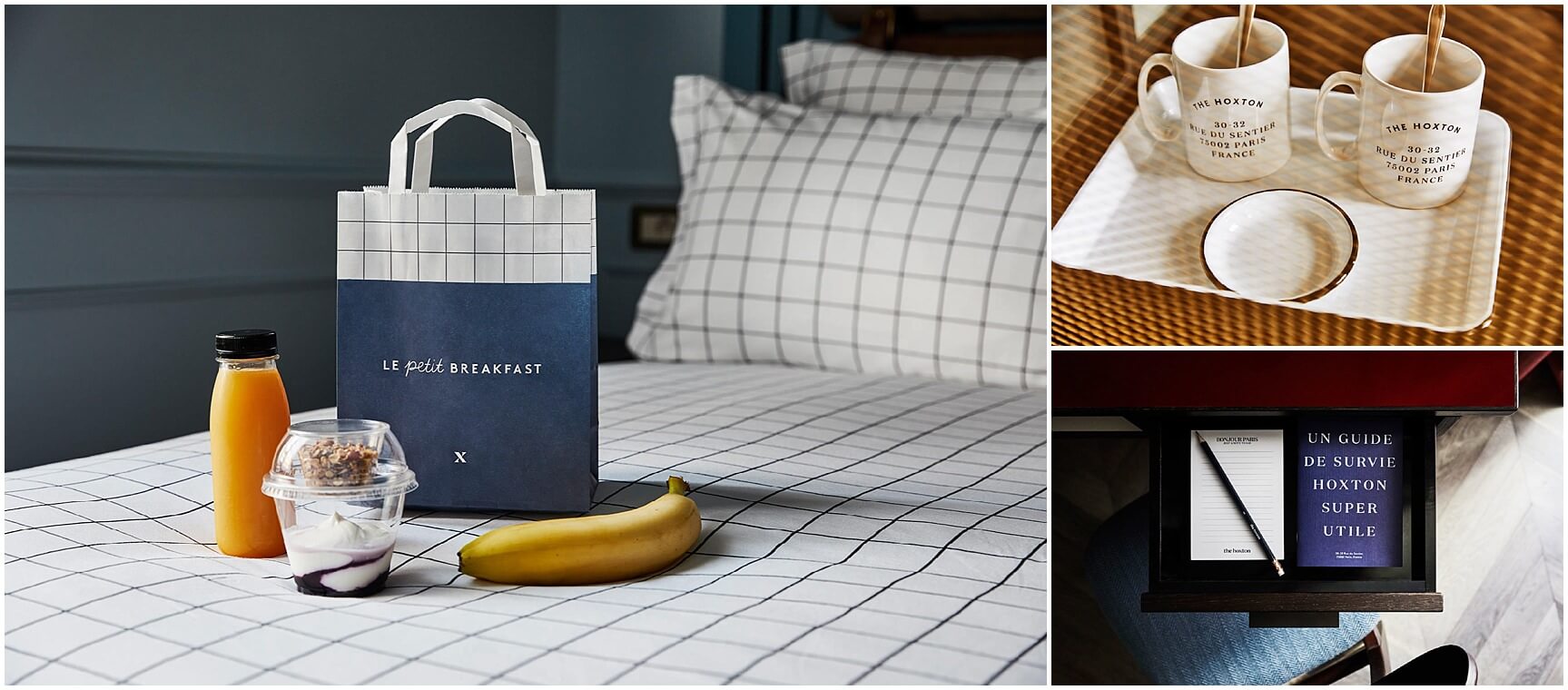 Photos: https://www.alanjensen.com
Site en Français: https://thehoxton.com/fr/paris/paris/hotels?setLanguage=fr
Site in English: https://thehoxton.com/paris/paris/hotels?setLanguage=en
PORTUGUÊS
Nós fomos embora mas já querendo voltar! Eu espero que vocês tenham gostado desta incrível dica e que possam ter incríveis momentos no hotel The Hoxton Paris.
---
FRANÇAIS
Nous sommes partis, mais voulions déjà revenir! J'espère que vous avez apprécié cette astuce incroyable, et j'espère que vous pourrez passer des moments incroyables à l'hotel The Hoxton Paris.
---
ENGLISH
We left, but already wanting to return! I hope you have enjoyed this amazing tip, and I hope you can have some incredible moments at The Hoxton Paris.