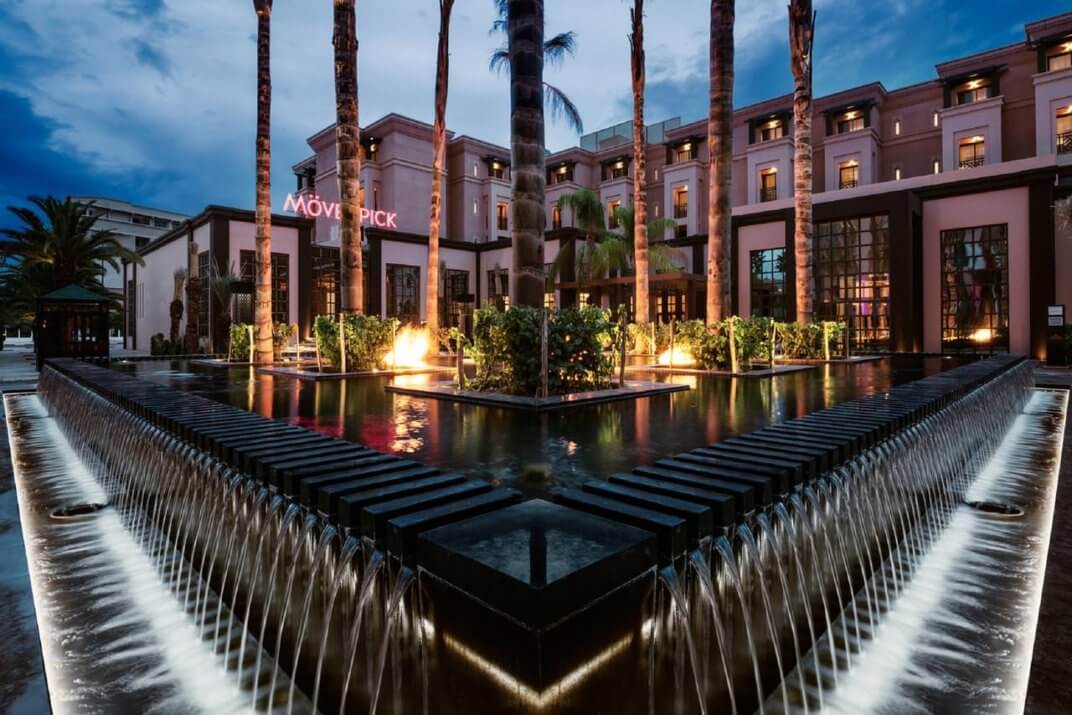 Bonjour,
Hoje vou contar um pouco sobre a minha incrível experiência em Marrakech no Hotel Mövenpick Mansour Eddahbi. Em Junho deste ano, eu fui pela primeira vez conhecer Marrakech, um lugar que eu sempre sonhei em conhecer!
O Mövenpick Hotel Mansour Eddahbi Marrakech é localizado no distrito central de invernada, a poucos minutos da agitação da medina. Num hotel 5 estrelas, que tem seis bares e restaurantes, o spa Ô de Rose, três piscinas das quais duas são aquecidas e um clube para crianças.
Ficar hospedada no hotel Mövenpick realmente fez com que esta minha primeira vez em Marrakech fosse mágica e eu vou contar para vocês o porque!
A localização do hotel é perfeita! Ele fica a poucos minutos do aeroporto e da medina, é rodeado por restaurantes e também esta do lado de um grande shopping com varias lojas e um supermercado.
Chegando ao hotel já nos encantamos! A decoração é muito bem feita, misturando o moderno com toques marroquinos, que fez com que o ambiente do hotel se torne muito aconchegante. O hotel é enorme, possui muitas árvores, cantos verdes e tem uma maravilhosa área de lazer que fez com que a gente não tivesse vontade de sair do hotel! O serviço do hotel em geral tem uma excelência impecável!
---
FRANÇAIS
Bonjour,
Aujourd'hui, je vais vous parler un peu de mon expérience incroyable en Marrakech à l'hôtel Mövenpick Mansour Eddahbi. En juin de cette année, je suis allée à Marrakech pour la première fois, un endroit que j'ai toujours rêvé d'y aller !
Mövenpick Hotel Mansour Eddahbi Marrakech est situé dans le quartier central de l'hivernage, à seulement quelques minutes de l'animation de la médina. C'est un hôtel 5 étoiles, avec six bars et restaurants, le spa et centre de bien-être Ô de Rose, trois piscines dont deux chauffées et un mini-club.
Notre séjour à l'hôtel Mövenpick a vraiment fait ma première fois à Marrakech magique et je vais vous dire pourquoi !
L'emplacement de l'hôtel est parfait! Situé à quelques minutes de l'aéroport et de la médina, il est entouré de restaurants et se trouve à côté d'un grand centre commercial avec plusieurs magasins et un supermarché.
En arrivant à l'hôtel, j'étais simplement enchanté! Le décor est très bien fait, alliant le moderne avec des touches marocaines, ce qui rend l'ambiance de l'hôtel très confortable.  L'hôtel est immense, il y a beaucoup d'arbres, des coins verts et il y a un merveilleux espace de loisirs qui ne nous donne pas envie de quitter l'hôtel ! Le service de l'hôtel en général a une excellence impeccable !
---
ENGLISH
Bonjour,
Today I will tell you about my incredible experience in Marrakech at the Mövenpick Hotel Mansour Eddahbi. In June of this year, I went to Marrakech for the first time, a place I always dreamed of going!
Mövenpick Hotel Mansour Eddahbi Marrakech is located in just a few minutes away from the bustling Medina in the central L'Hivernage district. It is a 5-star hotel, with six restaurants and bars, the spa Ô de Rose , three swimming pools, two of which are heated, and a kids club.
Staying at Mövenpick Hotel really made my first time in Marrakech magical and I will tell you why!
The location of the hotel is just perfect! It is situated a few minutes from the airport and the medina, it is surrounded by restaurants and it is next to a large shopping mall with several shops and a supermarket.
Arriving at the hotel, I simply felt in love! The decor is very beautiful, blending the modern with Moroccan touches, which makes the ambience of the hotel become very cozy. The hotel is huge, has many trees, green corners and has a wonderful leisure area that made us feel like we did not want leave the hotel! The overall service of the hotel has an impeccable excellence!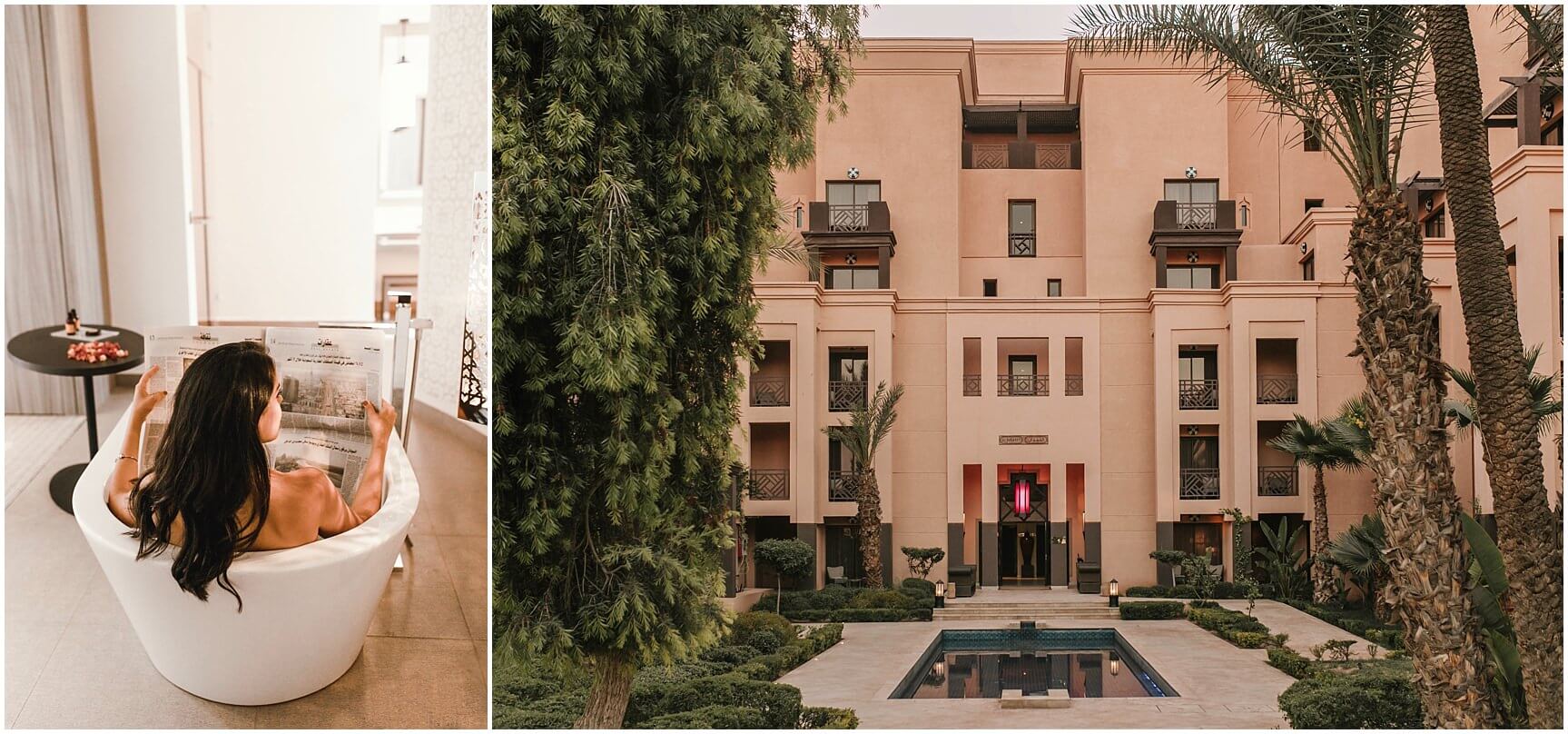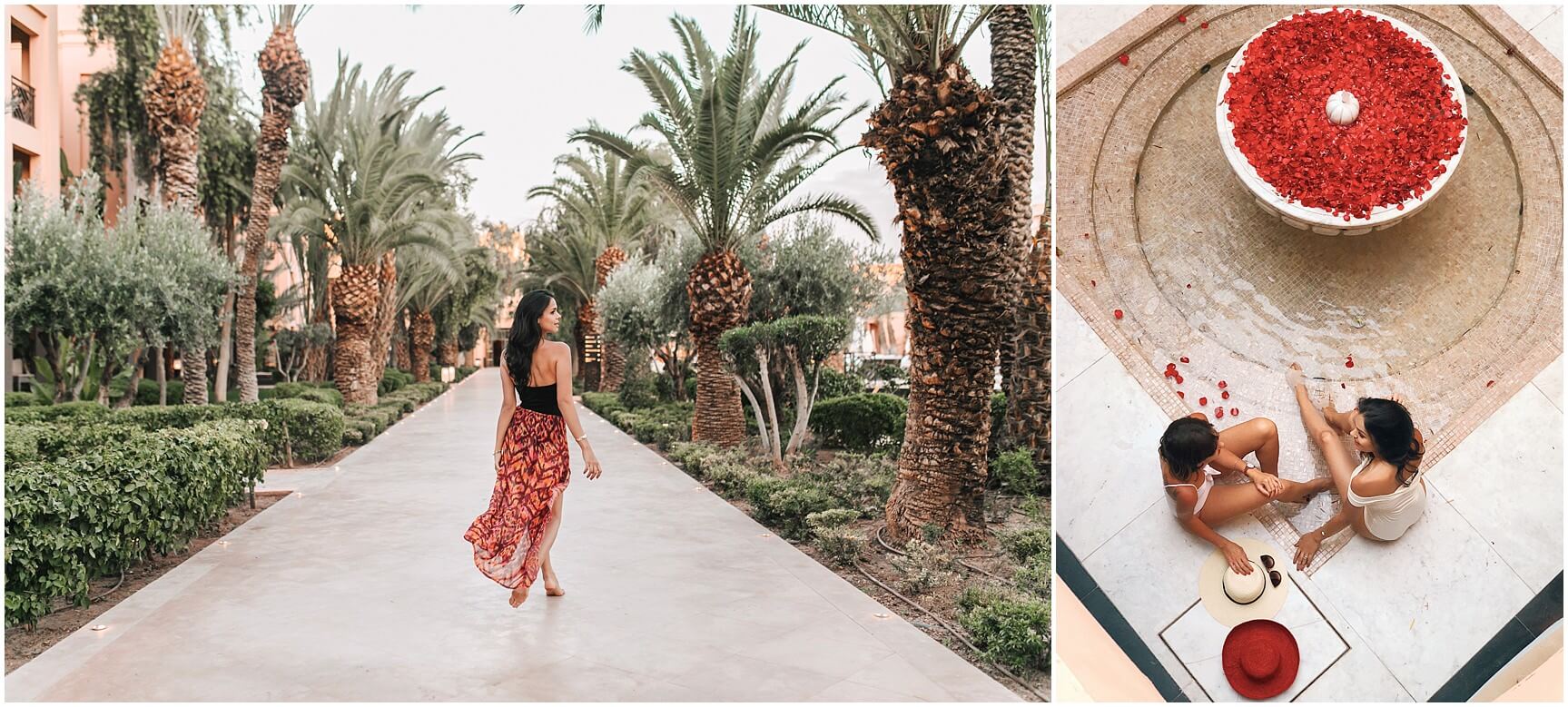 PORTUGUÊS
Logo que cheguei, fui recebida com um excelente serviço de recepção, que rapidamente fez o meu check-in e me levou para o quarto. Ao entrar no quarto, simplesmente me deparei com um quarto super espaçoso, com uma grande sacada, um ótimo closet e uma linda decoração. O banheiro também não fica para trás! Muito espaçoso, todo equipado e com uma banheira maravilhosa!
---
FRANÇAIS
Dès mon arrivée, j'ai été accueilli avec un excellent service de réception, qui a rapidement fait mon check-in et m'a emmené dans la chambre. En entrant dans la pièce, je suis simplement tombé sur une chambre très spacieuse avec un grand balcon, un placard spacieux et une belle décoration. La salle de bain n'est pas loin derrière! Très spacieux, tout équipé et avec une baignoire merveilleuse!
---
ENGLISH
As soon as I arrived, I was greeted with an excellent front desk service, who quickly made my check-in and took me to the room. Upon entering the room, I simply came across a super spacious room with a large balcony, a great closet and a beautiful decor. The bathroom is also not far behind! Very spacious, all equipped and with a wonderful bath!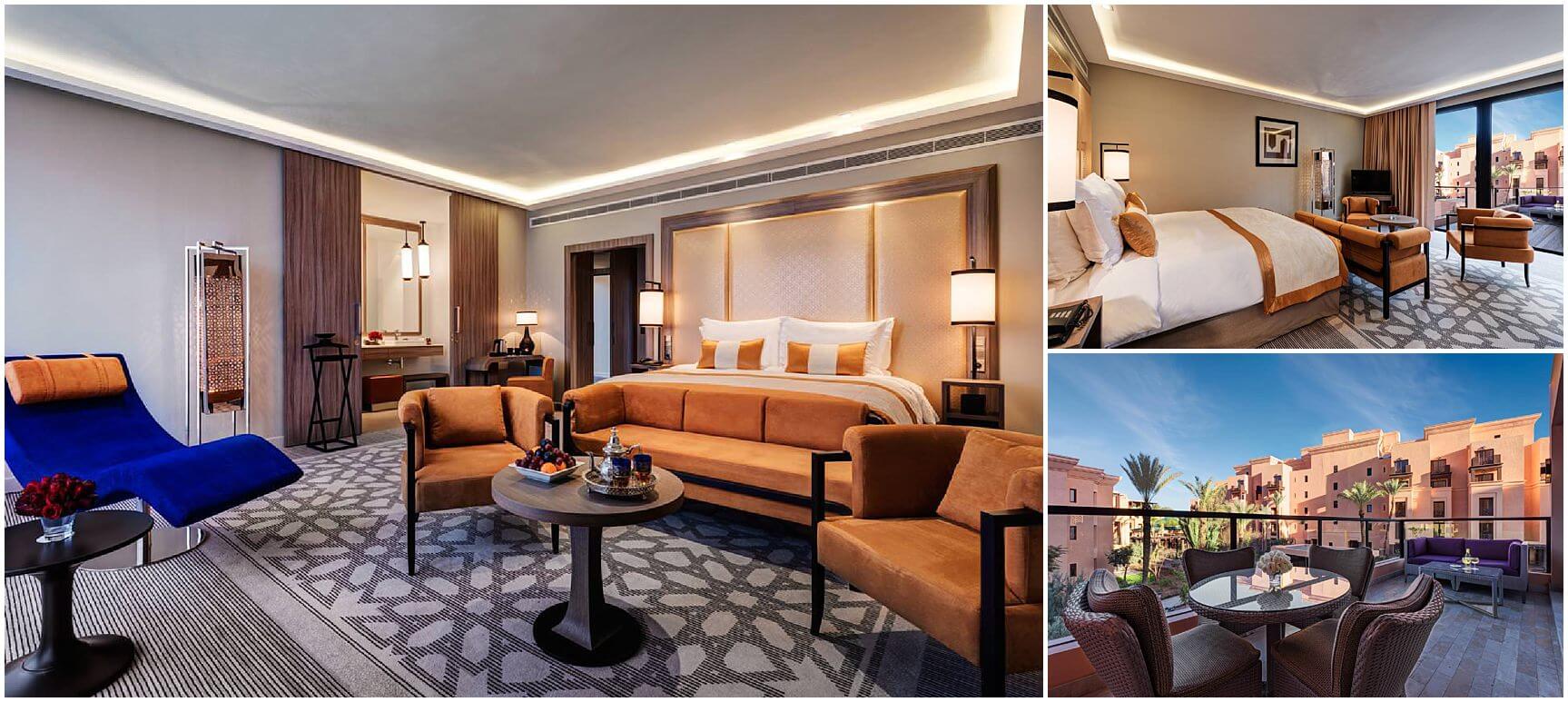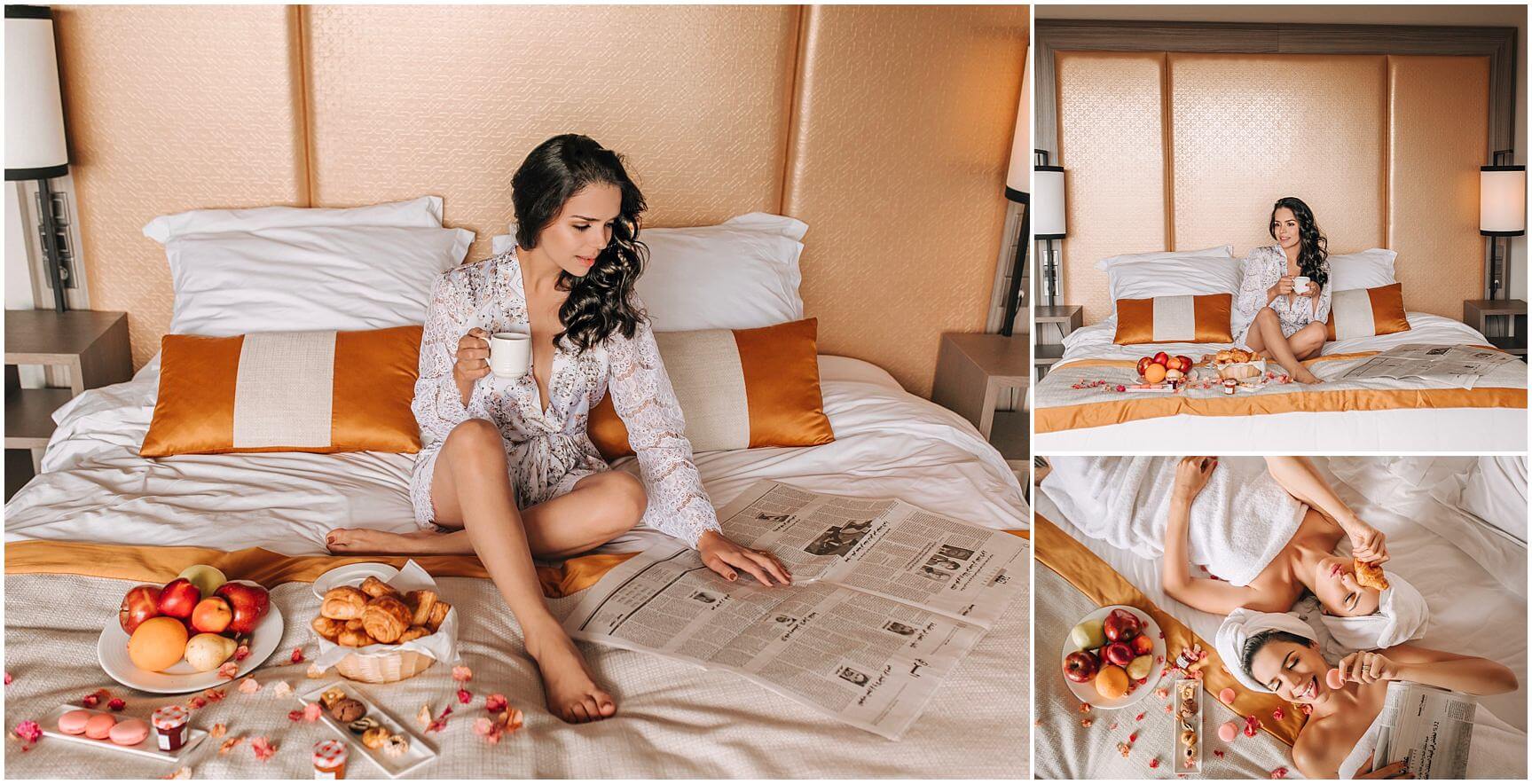 PORTUGUÊS
O café da manhã é completo, super caprichado e tem um atendimento maravilhoso! Muitas opções de iogurtes, frutas, pães, sucos, cereais, geleias, queijos e ainda, várias receitas tradicionais marroquina e outras varias receitas com ovos, crepes e panquecas que são preparadas da forma como desejarmos.
O restaurante do Hotel, Marcelona, é mais uma maravilhosa surpresa! Saborosas receitas catalãs são servidas em um belo cenário, onde misturam oliveiras e uma decoração eclética. Todos os pratos são feitos com maestria e com um ótimo sabor e apresentação! Neste restaurante eu tive uma verdadeira experiência gastronômica!
---
FRANÇAIS
Le petit déjeuner est complet, super soigné et avec un service exceptionnel! Beaucoup de choix de yaourts, fruits, pains, jus, céréales, gelées, fromages et encore, diverses recettes marocaines traditionnelles et autres recettes avec des œufs, et des crêpes qui sont préparés comme vous le souhaitez.
Le restaurant de l'hôtel, Marcelona, est une autre merveilleuse surprise ! De savoureuses recettes catalanes vous y sont servies dans un superbe cadre où des oliviers côtoient une décoration éclectique. Tous les plats sont réalisés avec maîtrise, avec beaucoup de goût  et une belle présentation ! Dans ce restaurant, j'ai eu une véritable expérience gastronomique !
---
ENGLISH
The breakfast is complete, super well preprared and has a wonderful service! Lots of choices of yogurts, fruits, breads, juices, cereals, jellies, cheeses and still, various traditional Moroccan recipes and other various recipes with eggs, crepes, and pancakes that are prepared the way you wish. 
The Hotel's restaurant, Marcelona, is another wonderful surprise! A wide range of Catalonian recipes coupled with superb décor & olive trees. All the dishes are made with mastery, with a great flavor and a beautiful presentation! In this restaurant, I had a true gastronomic experience!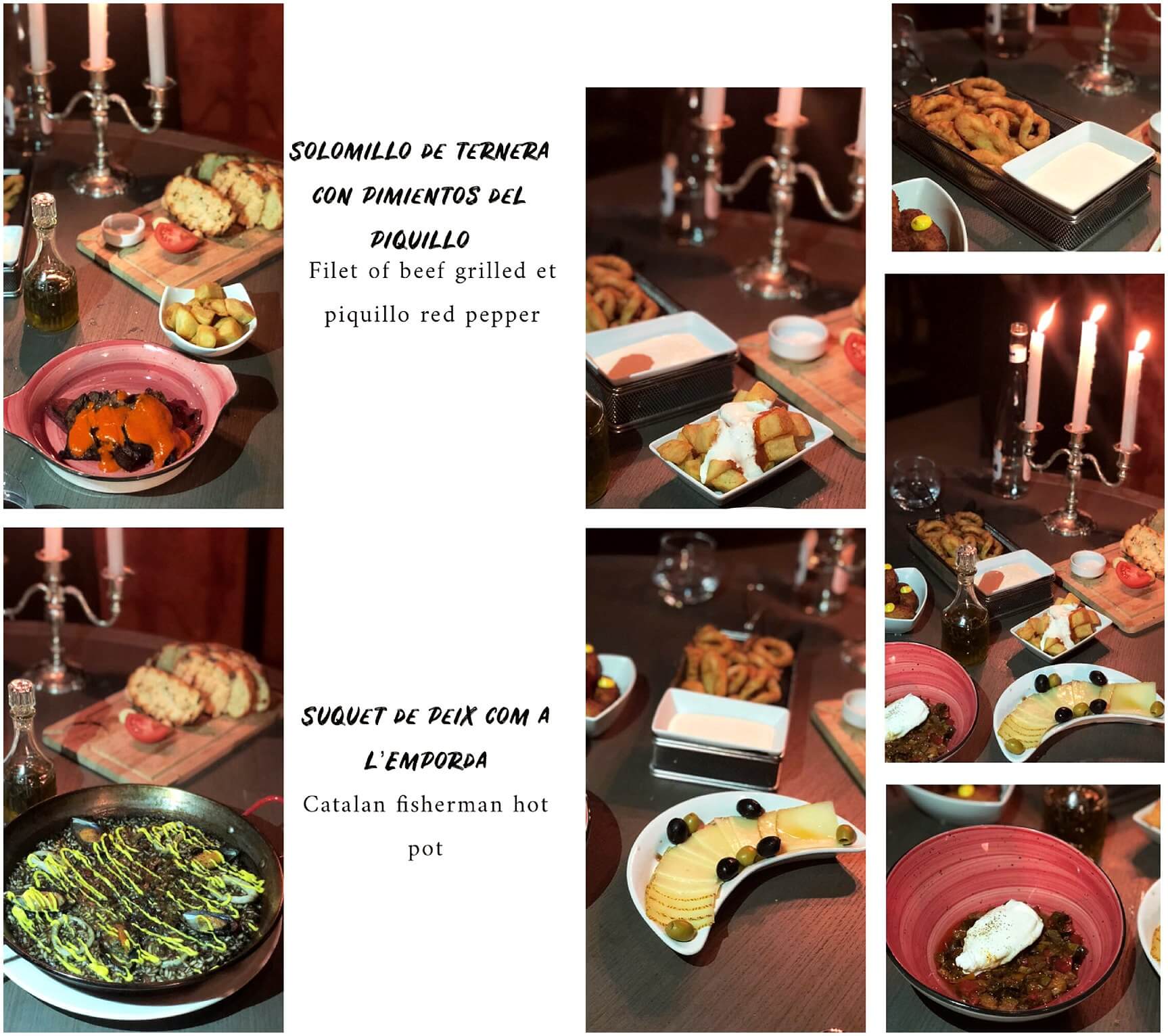 Site en Français: https://www.movenpick.com/fr/africa/morocco/marrakech/marrakech/overview/
Site en English: https://www.movenpick.com/en/africa/morocco/marrakech/marrakech/overview/
PORTUGUÊS
Então, se vocês estão procurando um lugar para fazer memórias inesquecíveis, sem dúvidas o Hotel Mövenpick é o lugar perfeito! Um lugar que vocês tem que conhecer e sem duvidas vão querer voltar mil vezes!
---
FRANÇAIS
Donc, si vous cherchez un endroit pour faire des souvenirs inoubliables, sans aucun doute l'Hotel Mövenpick est l'endroit idéal!  Un lieu que vous devez connaître et sans doute vous voudrez y retourner mille fois!
---
ENGLISH
So if you are looking for a place to make unforgettable memories, without a doubt Hotel Mövenpick is the perfect place! A place that you have to know and without a doubt will want to return a thousand times!