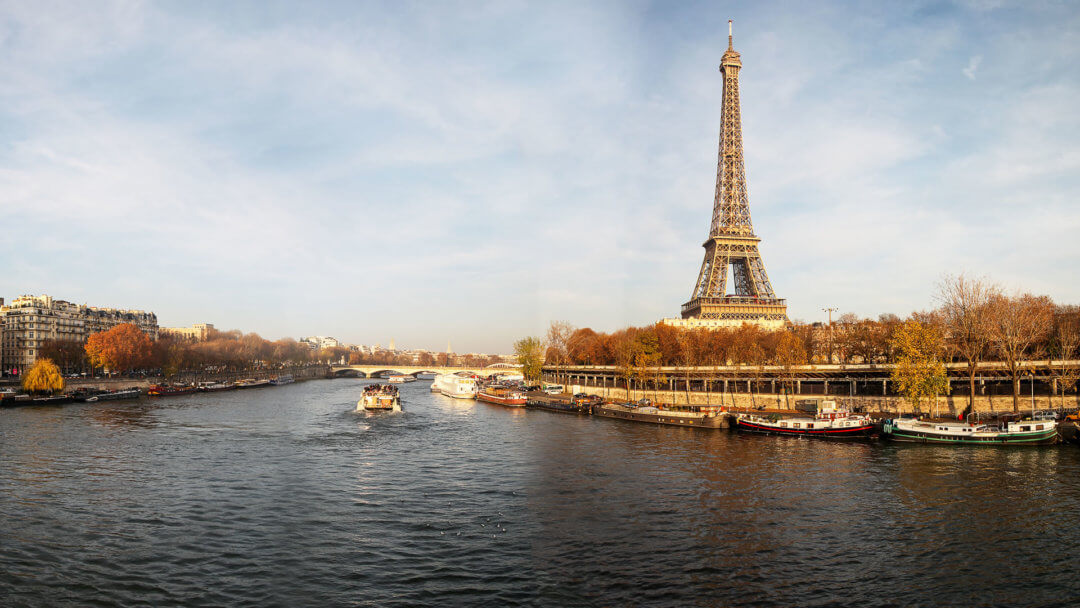 Bonjour,
Este ano para comemorar o nosso aniversario de casamento, nós decidimos fazer um programa diferente e muito especial! Reservamos um jantar em um cruzeiro no Rio Sena com a Bateaux Mouches. Estou escrevendo agora para vocês com o coração transbordando de alegria, só de relembrar como foi uma noite agradável e inesquecível! 
A empresa Bateaux-Mouches foi fundada em 1949 por Jean Bruel. Inicialmente com um único barco a vapor, e atualmente dispõe de uma frota moderna de 15 barcos que recebem todos os anos cerca de 2,5 milhões de passageiros, parisienses e turistas de passagem.
Visitar Paris de barco permite mudar de ponto de vista e descobrir o coração histórico da capital de outra forma, sob um ângulo diferente. É uma excelente opção, pois durante um passeio já podemos ver a Torre Eiffel, o Louvre, a Catedral Notre-Dame de Paris, a Conciergerie, o Museu de Orsay.
Bateaux-Mouches é sem duvidas uma referência incontornável para um cruzeiro no Sena. De barco nós podemos visitar Paris de outra forma e descobrir o coração histórico da cidade das luzes, deslizando ao longo da sua mais bela avenida. Eles oferecem o tradicional passeio comentado, um almoço ou jantar em algum dos seus barcos-restaurantes, e outros passeios que vocês podem ver clicando aqui.
Existem quatro escolhas de menu para o jantar e a nossa escolha para este dia tao especial foi o jantar no Sena com o "Menu jantar Excellence". Este cardápio propõe: 1 taça de champanhe, entrada, prato principal, uma seleção de queijos, sobremesa,  1 garrafa de vinho para duas pessoas, água mineral ou bebidas sem álcool, e para terminar, os tradicionais chás ou cafés acompanhados com um digestivo.
Assim que chegamos já ficamos encantados com a beleza do barco! Ele tem uma decoração aconchegante e um jogo de luz que deixa o ambiente super confortável. Um pianista e um violonista tocam durante toda a noite os maiores clássicos franceses e internacionais.
Todos os pratos são feitos a partir de produtos frescos, selecionados todas as manhãs e cozinhados na hora. A comida estava realmente deliciosa, muito bem preparada, temperada e com uma linda apresentação. 
---
FRANÇAIS
Bonjour,
Cette année, pour célébrer notre anniversaire de mariage, nous avons décidé de faire un programme différent et très spécial ! Nous avons réservé un dîner croisière sur la Seine avec Bateaux Mouches. Je vous écris maintenant avec mon coeur débordant de joie, de me rappeler à quel point la nuit était agréable et inoubliable !
La Compagnie des Bateaux-Mouches fut fondée en 1949 par Jean Bruel. Au départ un unique bateau à vapeur et aujourd'hui une flotte moderne de 15 navires qui accueillent chaque année près de 2.5 millions de personnes, parisiens et touristes de passage.
Visiter Paris en bateau permet de changer de point de vue et de découvrir le cœur historique de la capitale, autrement, sous un angle différent. C'est une excellente option, car lors d'une visite, nous pouvons déjà voir la Tour Eiffel, le Louvre, la Notre Dame de Paris, la Conciergerie et le Musée d'Orsay.
Bateaux-Mouches est sans aucun doute une référence incontournable pour une croisière sur la Seine. En bateau, nous pouvons visiter Paris d'une autre manière et de découvrir le cœur historique de la ville lumière en glissant le long de sa plus belle avenue. Ils offrent la promenade commentée traditionnelle, le déjeuner ou le dîner dans l'un de leurs restaurants-bateaux, et d'autres visites que vous pouvez voir en cliquant ici.
Il y a quatre choix de menu pour le dîner et notre choix pour ce jour si spécial était le dîner sur la Seine avec le "Menu dîner Excellence" Ce menu comprennent: 1 coupe de champagne, entrée, plat principal, une sélection des fromages, dessert, 1 bouteille de vin pour deux personnes, de l'eau minérale, des boissons non alcoolisées et pour finir les traditionnels thés ou cafés accompagnés d'un digestif.
Dès notre arrivée, nous avons été ravis de la beauté du bateau! Il a une décoration chaleureuse et un jeu de lumière qui laisse l'environnement très confortable. Un pianiste et un violoniste jouent tout au long de la nuit les plus grands classiques français et internationaux.
Tous les plats sont élaborés à partir de produits frais sélectionnés chaque matin et cuisinés sur l'instant. La nourriture était vraiment délicieuse, très bien préparée et avec une belle présentation.
---
ENGLISH
Bonjour,
This year to celebrate our wedding anniversary, we decided to make a different and very special program! We booked a dinner on a cruise on the Seine river with Bateaux Mouches. I am writing to you with my heart overflowing with joy, just to remember how a pleasant and unforgettable this night was!
Compagnie des Bateaux-Mouches was founded in 1949 by Jean Bruel. It began with a single steam boat and today, they have a modern fleet of 15 boats that host almost 2.5 million people, Parisians and tourists alike, each year.
Seeing Paris by boat gives you a different perspective, enabling you to take in the historic heart of the capital in a new way, from a different angle. It is an excellent option, because during a tour we can already see the Eiffel Tower, the Louvre, the Notre Dame, the Conciergerie and the Musée d'Orsay.
Bateaux-Mouches is undoubtedly the leading provider of cruises on the river Seine. By boat we can visit Paris in another way and uncover the historic heart of the city of lights whilst slipping down its most beautiful avenue. They offer the traditional commentated tour, a lunch or dinner at one of their boat-restaurants, and other tours that you can see clicking here.
There are four menu choices for dinner, and our choice for this so special day was the dinner on the Seine with the "Menu Excellence". This menu includes: 1 glass of champagne, starter, main course, a selection of cheeses, dessert,  1 bottle of wine for two people, mineral water, non-alcoholic drinks and to finish, traditional teas and coffees accompanied by an after-dinner liqueur.
As soon as we arrived we were delighted with the beauty of the boat! It has a cozy decor and an lights that leaves the environment super comfortable. You also have a pianist and a violinist playing throughout the night the best French and international classics.
All dishes are made using the freshest ingredients hand-selected every morning and cooked to order. The food was really delicious, very well prepared,  with a beautiful presentation.
PORTUGUÊS / FRANÇAIS / ENGLISH
Como entradas pedimos:
Comme entrées nous avons commandé/ As starters we have ordered:
Salmão marinado ao mel, aneto, misto de legumes crocantes (P)
Tranche de saumon écossais, crème de wasabi, mini blinis tiède (F)
Smoked Scottish salmon, wasabi cream, warm mini blinis (E)
Purê de abacate mexicano, yakitori de vitela com gergelim (P)
Ecrasée d'avocat, yakitori de veau aux sésames (F)
Avocado puree, sesame veal yakitori (E)


Como prato principal pedimos:
Comme plat principal, nous avons commandé/ As a main dish we have ordered:
Filé com royal de batata-doce e molho de pimenta (P)
Côtes de bœuf, gratin de rutabaga, sauce au poivre fumé (F)
Prime rib, rutabaga au gratin, smoked black pepper sauce (E)
Filé de linguado recheado com pimenta piquillo e pinoles com purê de batata vitelotte (P)
Filet de soles farcies aux piquillos et pignon de pin, purée de vitelotte (F)
Stuffed filet of sole with piquillo peppers and pine nuts, vitelotte potato puree (E)


Para a sobremesa pedimos:
Pour le dessert, nous avons commandé / For dessert we have ordered:
Petit-Gateau de chocolate com creme de baunilha (P)
Mi cuit chocolat avec crème anglaise à la vanille (F)
Chocolate lava cake with vanilla custard cream (E)
Vacherin de morango (P)
Vacherin fraise (F)
Strawberry vacherin cake (E)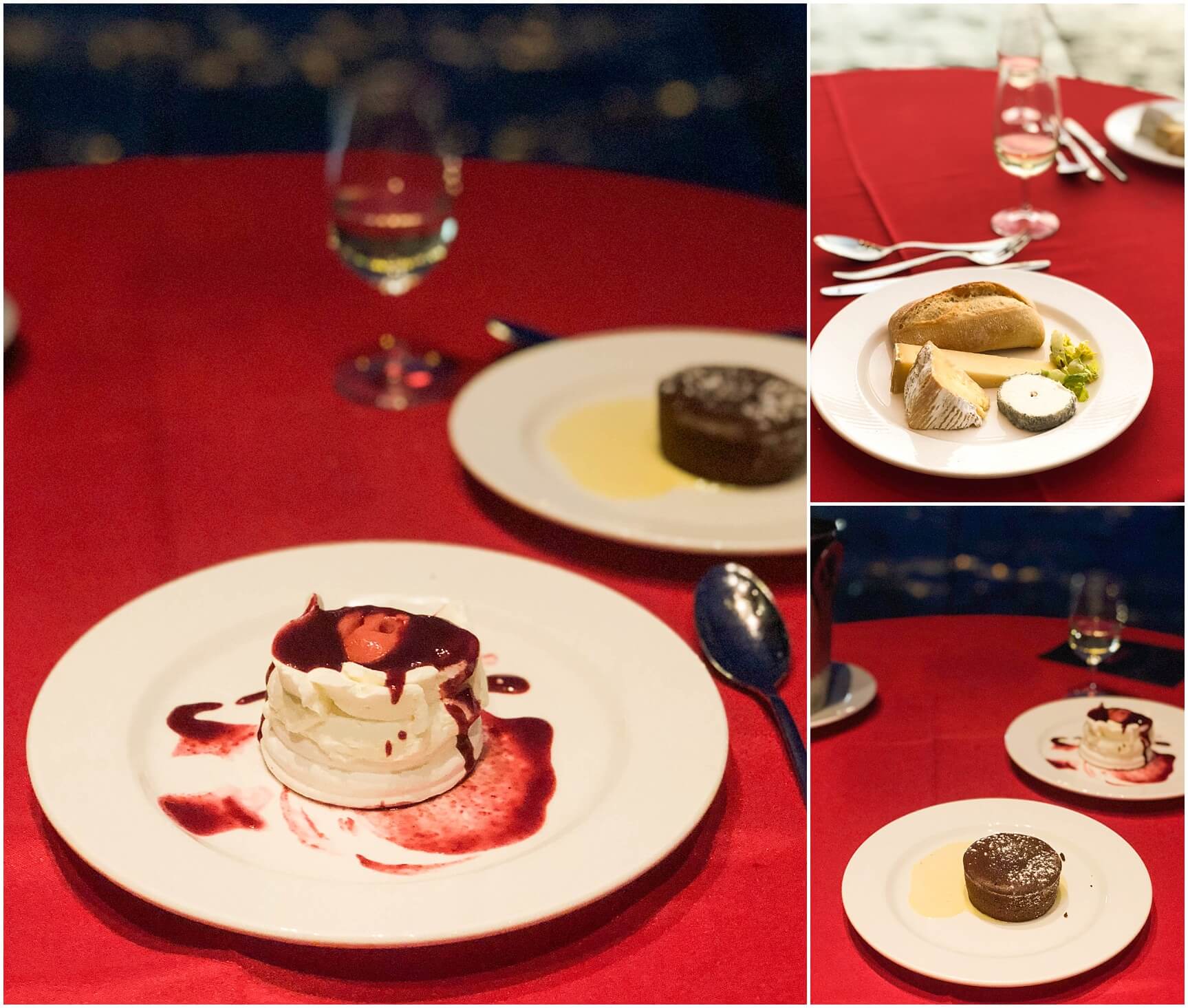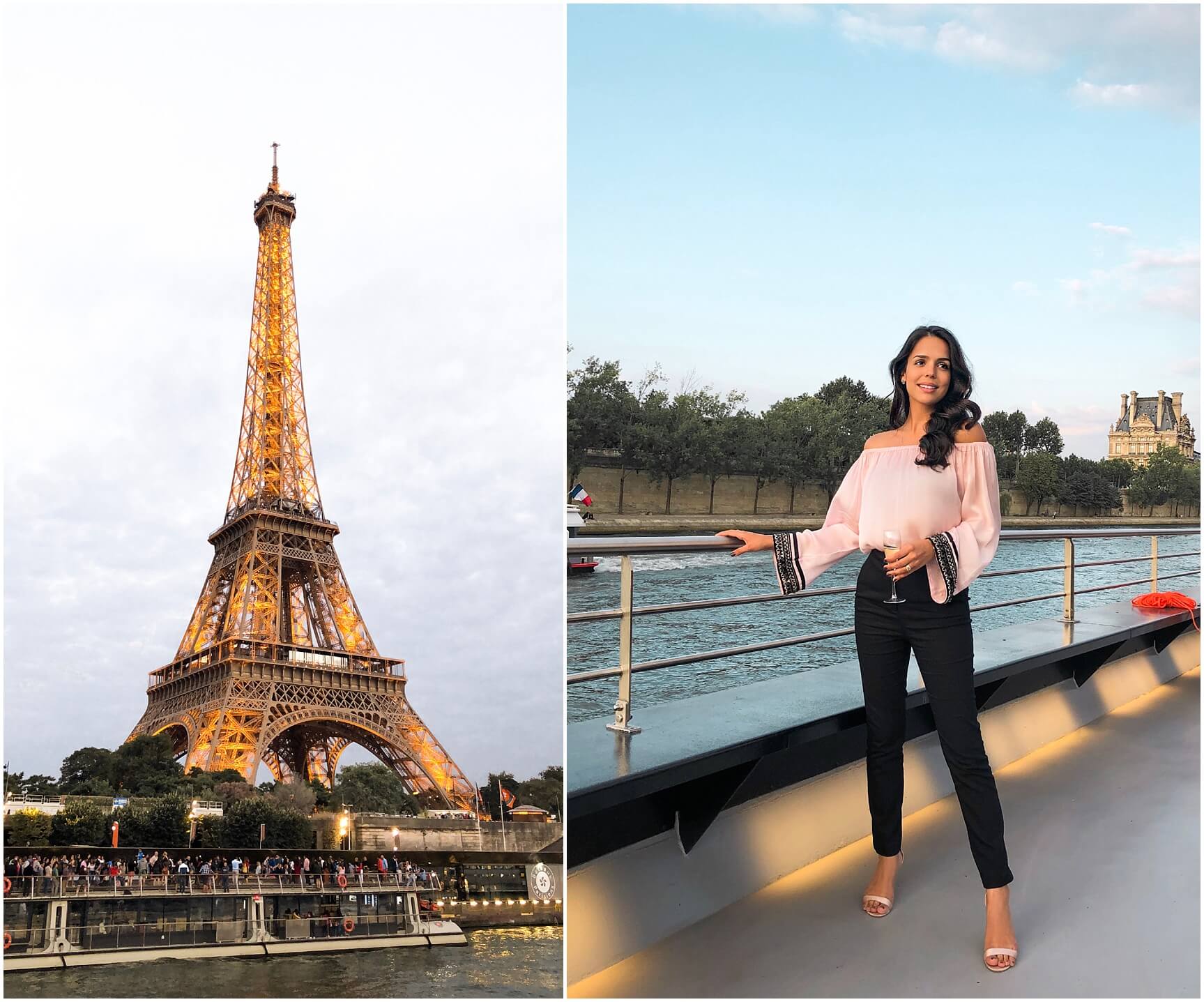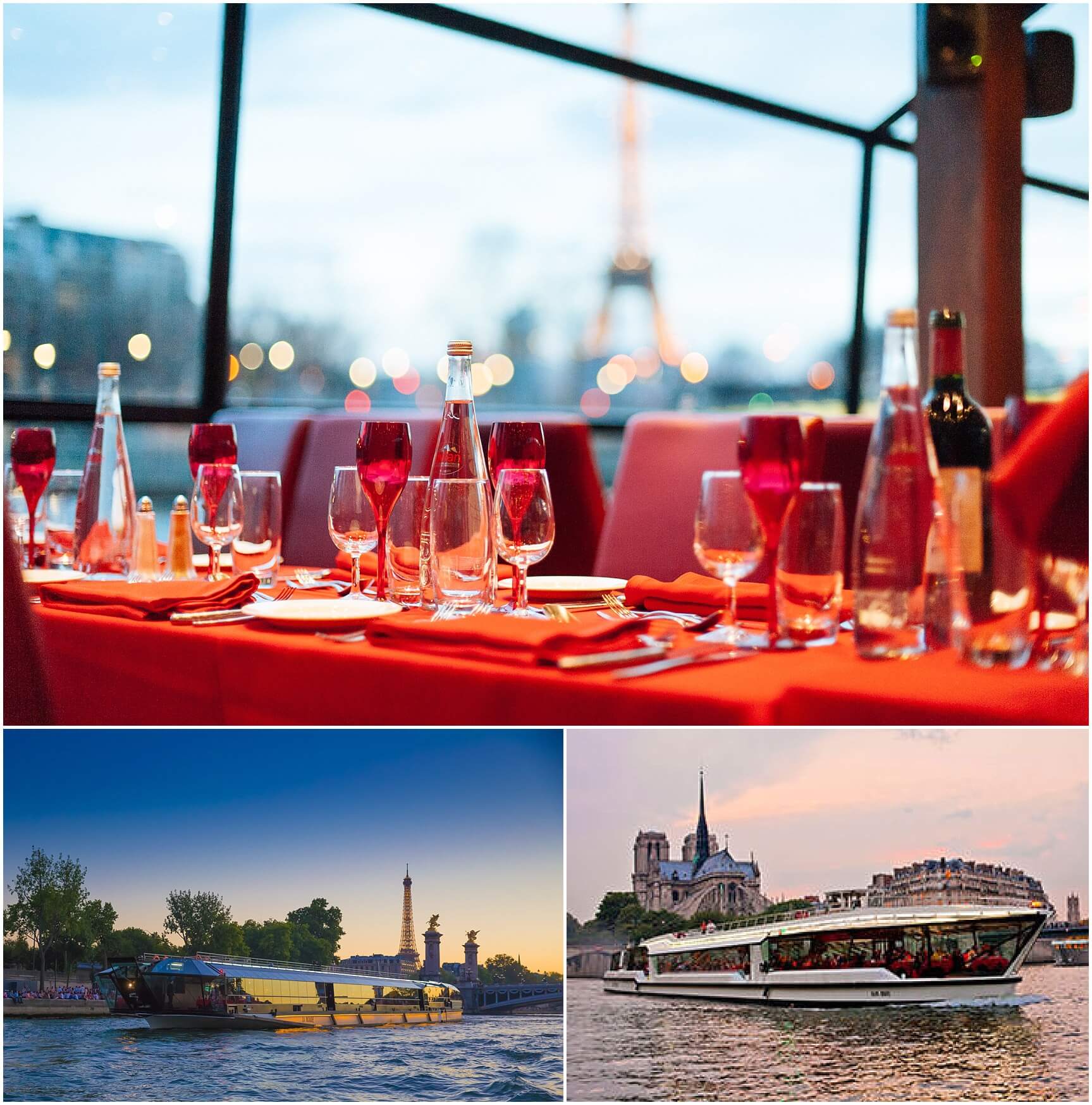 Site em Português:https://www.bateaux-mouches.fr/pt
Site en Français: https://www.bateaux-mouches.fr
Site in English: https://www.bateaux-mouches.fr/en
Instagram: https://www.instagram.com/bateauxmouches/
Facebook: https://www.facebook.com/bateauxmouchesparis
PORTUGUÊS
É obrigatório reservar antecipadamente para os cruzeiros gastronômicos. Para certas datas ou ocasiões, como o Dia das Mães, Dia dos Namorados ou Réveillon, eles oferecem menus especiais.
Ter um jantar maravilhoso e ao mesmo tempo apreciar a maravilhosa cidade de Paris realmente é um passeio imperdível não so para os turistas, como também para todos que moram em Paris!  Então, se você estiver em Paris, eu aconselho de olhos fechados a fazer esse agradável jantar, pois tenho certeza não se arrependerão!
---
FRANÇAIS
La réservation à l'avance est impérative pour le diner croisière. Pour certaines dates ou occasions comme la fête des mères ou la Saint Valentin, ils offrent des menus spéciaux.
Dîner et profiter de la merveilleuse ville de Paris est un incontournable, non seulement pour les touristes, mais aussi pour tous ceux qui vivent à Paris ! Donc, si vous êtes à Paris, je vous conseille d'y faire cette agréable diner, dont je suis sûr que vous ne pouvez pas vous tromper !
---
ENGLISH
Bookings must be made in advance for the gourmet cruises. For special dates or occasions such as Mother's Day, Valentine's Day or New Year's Eve, they offer special menus.
Having a wonderful dinner and at the same time enjoy the wonderful city of Paris it is really a must-see, not only for tourists, but also for everyone who lives in Paris! So, if you are in Paris, I advise you to book this nice cruise diner, which I'm sure you can not go wrong!