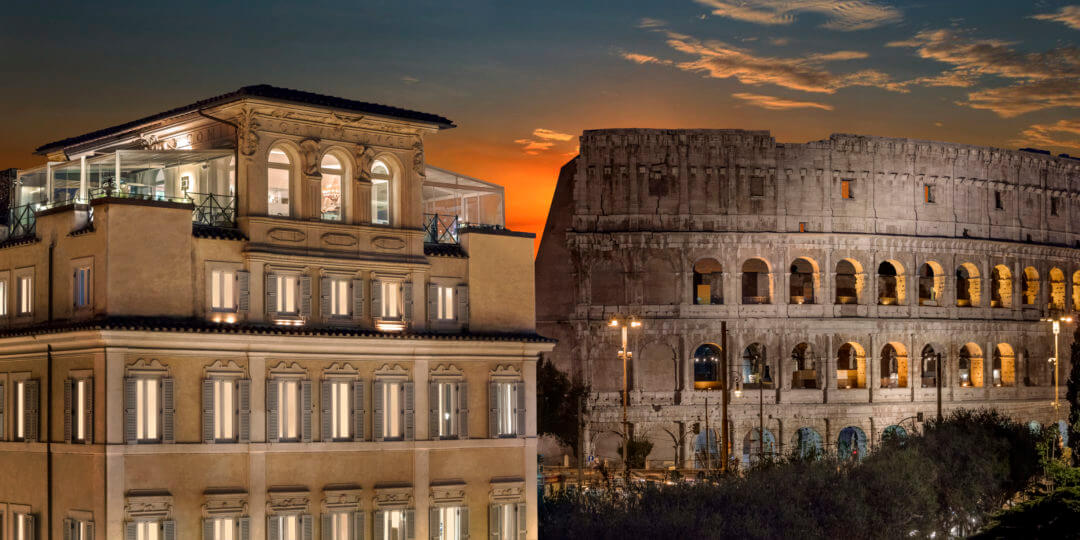 Bonjour,
Eu sempre tive um grande sonho de conhecer a Itália! Sua gastronomia, histórias e paisagens sempre me encantaram! Neste mês, eu consegui realizar o meu sonho de conhecer este lindo país! Para começar uma viagem de 9 dias, escolhi um dos mais famosos destinos do mundo: Roma!
Depois de escolhido o destino, fomos em busca dos hotéis, e logo me deparei com um hotel de sonhos, o Palazzo Manfredi! Logo que vi as fotos do hotel na internet, eu definitivamente decidi que era ali que eu queria ficar!
Chegando no hotel, eu rapidamente tive todas as minhas expectativas superadas! A localização é literalmente no coração de Roma: em frente ao Coliseu! O hotel em si, é tão bárbaro, que eu decidi fazer este artigo contando minha experiência para vocês!
O Palazzo Manfredi é um pequeno e luxuoso hotel 5 estrelas da associação Relais & Châteaux, muito bem decorado com lindas obras de arte, misturando peças contemporâneas com pinturas do século XVI. O hotel tem um ambiente intimista e muito aconchegante! Todos os funcionários estavam sempre a disposição e nos atenderam com muito carinho e profissionalismo.
---
FRANÇAIS
Bonjour,
J'ai toujours rêvé de connaître l'Italie! Sa gastronomie, ses histoires et ses paysages m'ont toujours enchanté! Ce mois-ci, j'ai pu réaliser mon rêve de connaître ce beau pays! Pour commencer un voyage de 9 jours, j'ai choisi l'une des destinations les plus célèbres du monde: Rome!
Après avoir choisi la destination, nous sommes allés à la recherche des hôtels, et bientôt je suis tombé sur un hôtel de rêve, le Palazzo Manfredi! Dès que j'ai vu les photos de l'hôtel sur internet, j'ai définitivement décidé que c'était là où je voulais rester!
En arrivant à l'hôtel, j'ai rapidement dépassé toutes mes attentes! L'emplacement est littéralement au coeur de Rome: en face au Colisée! L'hôtel en lui-même est vraiment incroyable, j'ai décidé de faire cet article pour vous raconter mon expérience!
Le Palazzo Manfredi est un petit et luxueux hôtel 5 étoiles de l'association Relais & Châteaux, bien décoré avec de belles œuvres d'art, mêlant des pièces contemporaines à des peintures du XVIe siècle. L'hôtel a une atmosphère intime et très confortable! Tout le personnel était toujours disponible et nous a traités avec beaucoup de soin et de professionnalisme.
---
ENGLISH
Bonjour,
I always had a big dream of going to Italy! Its gastronomy, stories, and landscapes have always enchanted me! This month, I was able to fulfill my dream of going to this beautiful country! To start a 9-days trip, I chose one of the most famous destinations in the world: Rome!
After choosing the destination, we went in search of the hotels, and soon I came across a dreamy hotel, the Palazzo Manfredi! As soon as I saw the pictures of the hotel on the internet, I definitely decided that was where I wanted to stay!
Arriving at the hotel, I quickly had all my expectations surpassed! The location is literally in the heart of Rome: in front of the Colosseum! The hotel itself is so amazing, I decided to make this article telling my experience to you!
Palazzo Manfredi is a small and luxurious 5-star hotel of the Relais & Châteaux association, well decorated with beautiful works of art, mixing contemporary pieces with paintings from the 16th century. The hotel has an intimate atmosphere and very cozy! All the staff was always available and they treated us with much care and professionalism.

PORTUGUÊS
Após o check-in, nós subimos para o nosso quarto e ficamos ainda mais encantados! O quarto e banheiro eram muito amplos e detalhadamente bem decorados! A cama era extremamente confortável e nós tínhamos um menu "à la carte" de travesseiros! Esta seleção de travesseiros é disponibilizada para todos os hóspedes, que podem escolher entre o tradicional, os inovadores de látex, os anti-alergicos, ou os de espuma de memória orto-cervical. Um serviço realmente incrível!
O que me deixou ainda mais encantada, é que eu percebi que o hotel se preocupa com os mínimos detalhes, para fazer com que todos os clientes se sintam especiais! Eles deixaram no nosso quarto uma carinhosa carta de boas-vindas, um delicioso champanhe, e alguns docinhos tradicionais italianos. Todos os dias a noite, quando voltávamos para o quarto nós éramos surpreendidos com chocolates e uma carta que nos informava a previsão do tempo do dia seguinte.
Outro serviço do hotel que eu adorei, é uma ficha em que você preenche tudo o que deseja para o café da manha, depois coloca esta ficha na porta do quarto e no dia seguinte o seu café da manhã já está ali no momento desejado!
---
FRANÇAIS
À notre arrivée, nous sommes montés dans notre chambre et nous avons été encore plus ravis! La chambre et la salle de bain étaient très grandes et joliment décorées! Le lit était extrêmement confortable et nous avions un "à la carte" des oreillers! Cette sélection d'oreillers est disponible pour tous les clients, qui peuvent choisir entre une mousse au latex traditionnelle, innovante, anti-allergique ou ortho-cervicale. Un service vraiment incroyable!
Ce qui m'a rendu encore plus enchanté, c'est que j'ai réalisé que l'hôtel se soucie du moindre détail, pour que tous les clients se sentent spéciaux! Ils ont laissé dans notre chambre une lettre de bienvenue, un délicieux champagne et des bonbons italiens traditionnels. Tous les soirs, quand nous sommes retournés dans la chambre, nous avons été surpris par des chocolats et une lettre qui nous a informés des prévisions météo le lendemain.
Un autre service d'hôtel que j'ai aimé, c'est un papier dans lequel vous remplissez tout ce que vous voulez pour le petit déjeuner, puis mettez ce papier dans la porte de la chambre et le lendemain votre petit déjeuner est déjà là au moment désiré!
---
ENGLISH
Upon check-in, we went up to our room and were even more delighted! The room and bathroom were very large and beautifully decorated! The bed was extremely comfortable and we had an "a la carte" menu of pillows! This selection of pillows is available to all guests, who can choose between traditional, innovative latex, anti-allergy, or ortho-cervical memory foam. A truly amazing service!
What made me more enchanted, is because I realized that the hotel cares about the smallest details, to make every guest feel special! They left in our room a warm welcome letter, a delicious champagne, and some traditional Italian sweets. Every night, when we returned to the room we were surprised by chocolates and a letter that informed us the weather forecast the next day.
Another hotel service that I loved, is a paper sheet in which you fill everything you want for breakfast, then you put this paper sheer at the bedroom door, and on the next day, your breakfast is already there at the desired moment!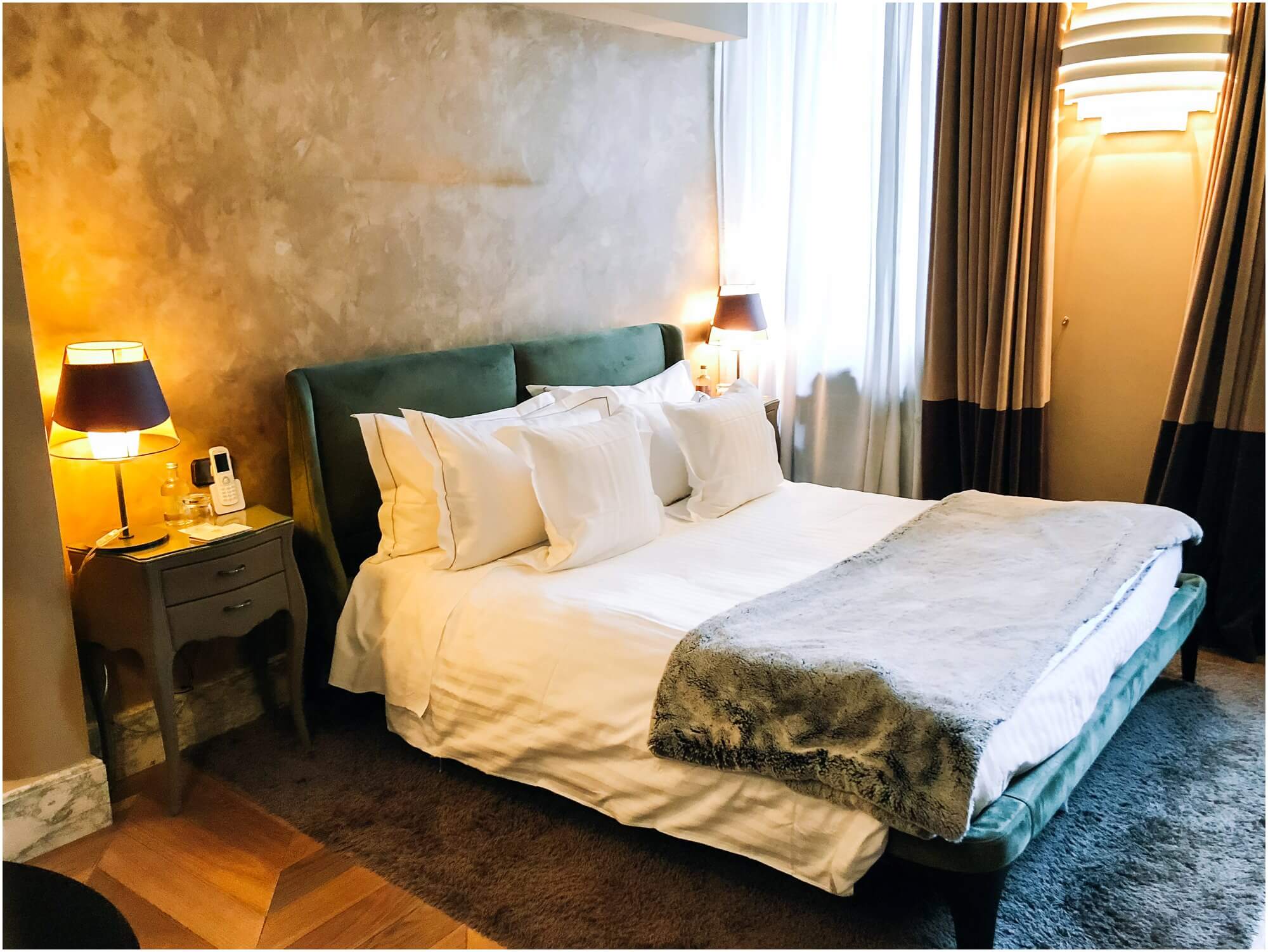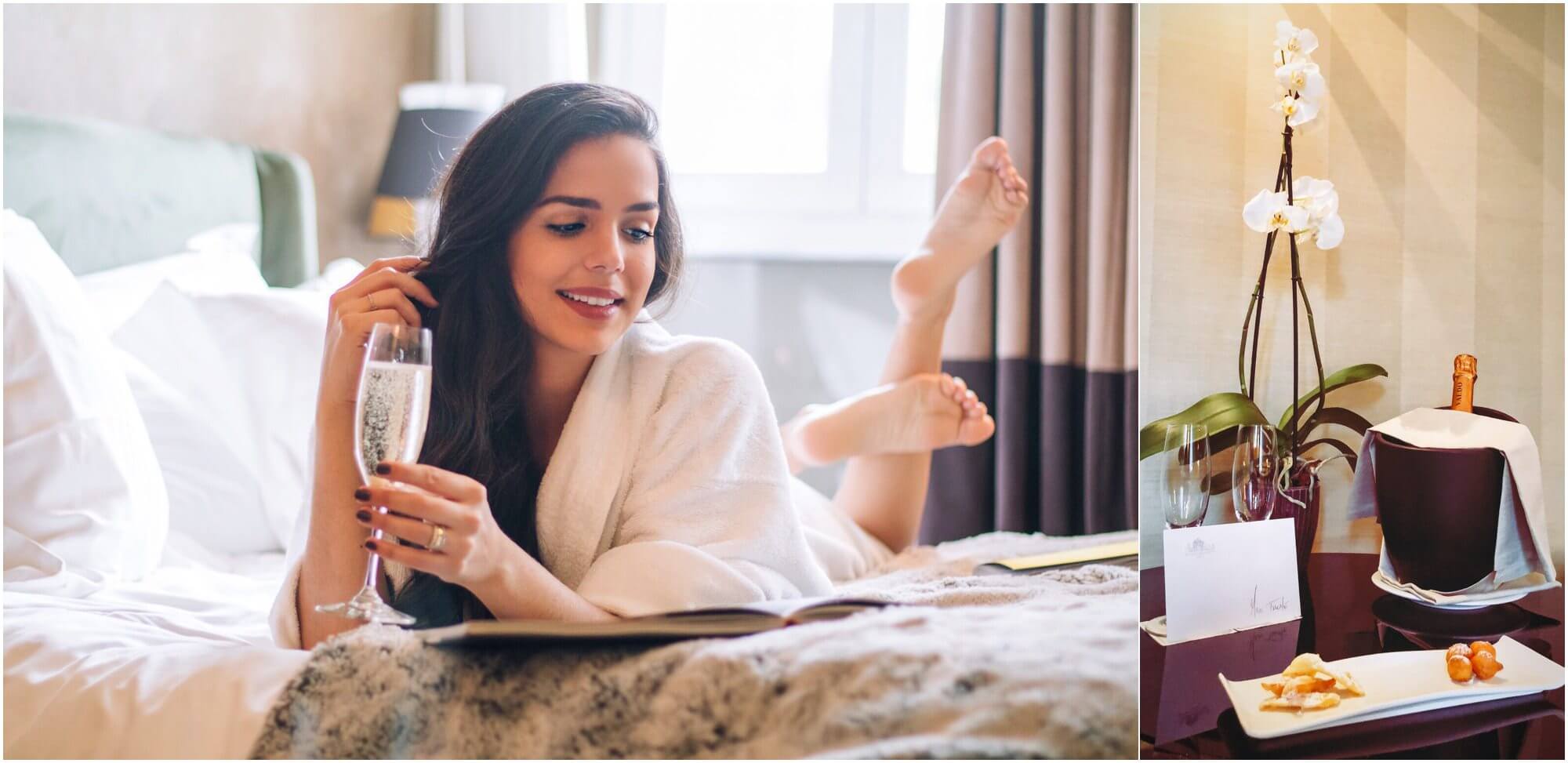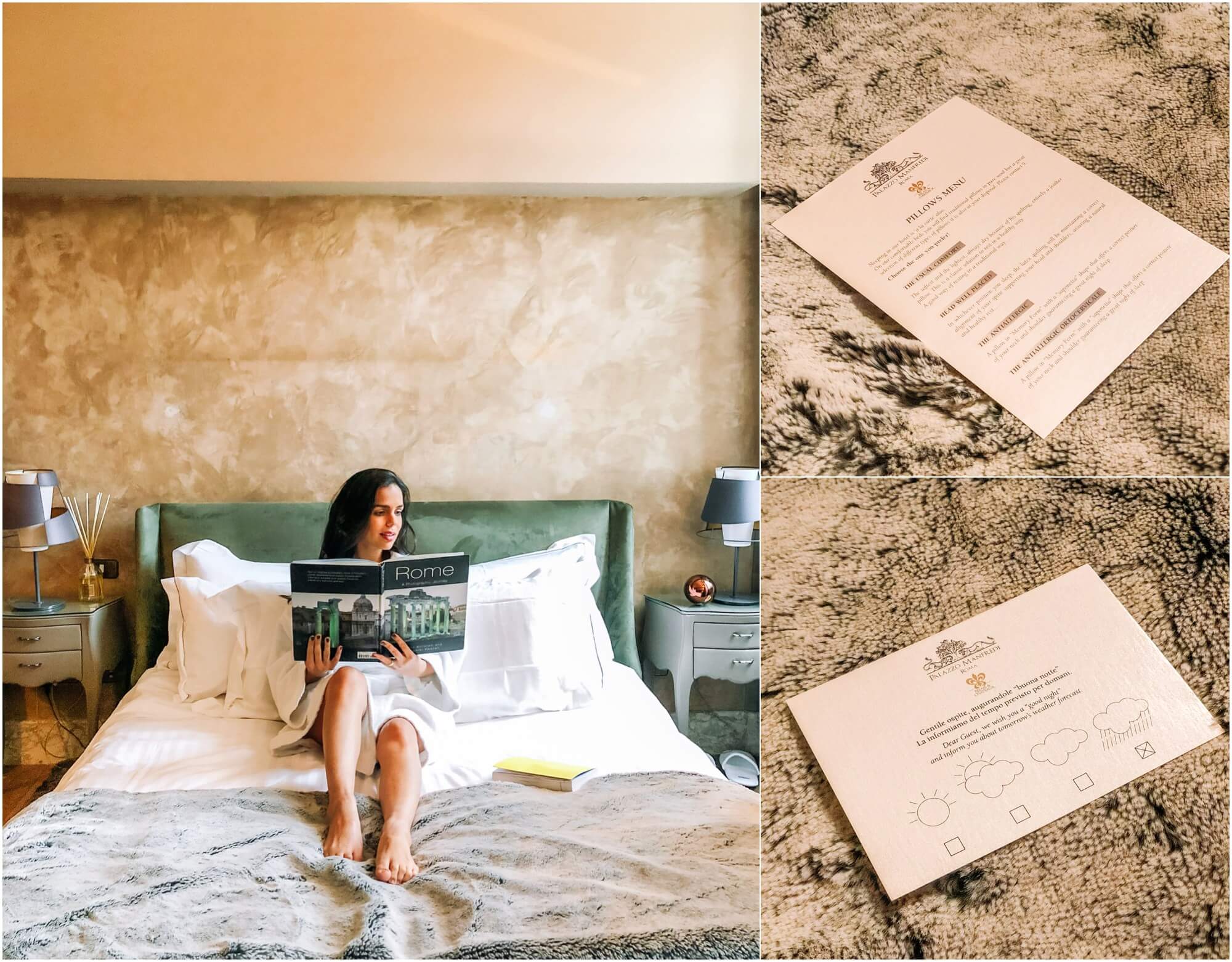 PORTUGUÊS
Um ponto alto do hotel é definitivamente o seu café da manhã, que fica no terraço do restaurante Aroma no último andar do Palazzo Manfredi! Eu recomendo separarem algumas horas do seu dia para aproveitarem este momento incrivelmente agradável! Além do buffet que tem vários tipos de frutas, queijos, iogurtes, pães, sucos e geleias, ainda existe a opção de pedir suco de laranja feito na hora e diferentes tipos de ovos à la carte. Tudo estava muito fresco e saboroso, e a vista para o Coliseu torna ainda mais incrível este momento de café da manha no hotel!
---
FRANÇAIS
L'un des points forts de l'hôtel est sans aucun doute son petit déjeuner, qui se trouve sur la terrasse du restaurant Aroma au dernier étage du Palazzo Manfredi! Je vous recommande, séparez quelques heures de votre journée pour profiter de ce moment incroyablement agréable! En plus du buffet qui a plusieurs types de fruits, fromages, yaourts, pains, jus et gelées, il est toujours possible de commander du jus d'orange fraîchement préparé et différents types d'œufs à la carte. Tout était très frais et savoureux, et la vue sur le Colisée rend encore plus incroyable ce moment de petit-déjeuner à l'hôtel!
---
ENGLISH
One of the high points of the hotel is definitely its breakfast, which is on the terrace of the Aroma restaurant on the top floor of Palazzo Manfredi! I recommend separating a few hours of your day, to enjoy this incredible pleasant moment! In addition to the buffet that has several types of fruits, cheeses, yogurts, bread, juices, and jellies, there is still the option to order freshly made orange juice and different types of eggs à la carte. Everything was very fresh and tasty, and the view of the Colosseum makes it even more amazing this moment of breakfast in the hotel!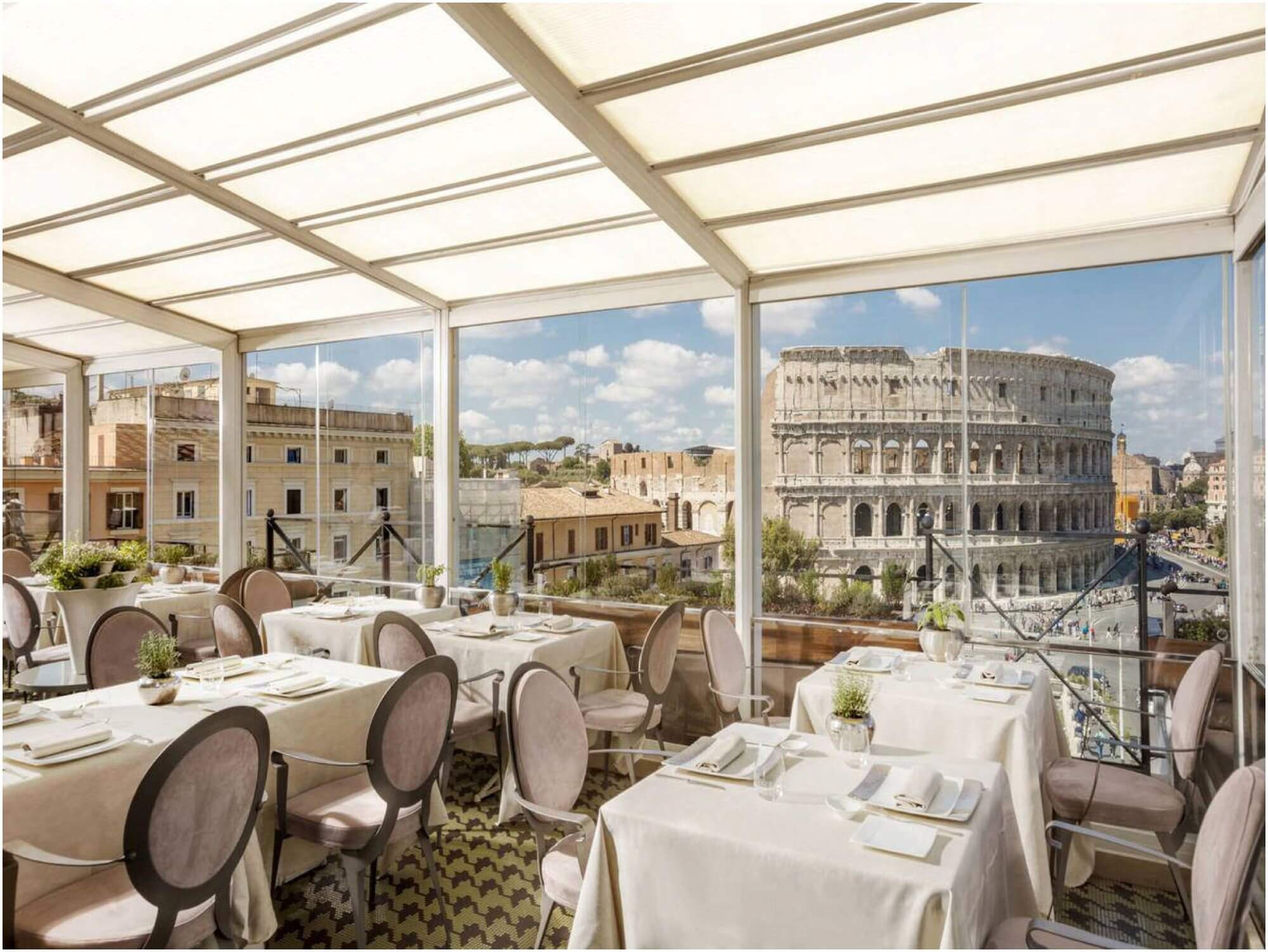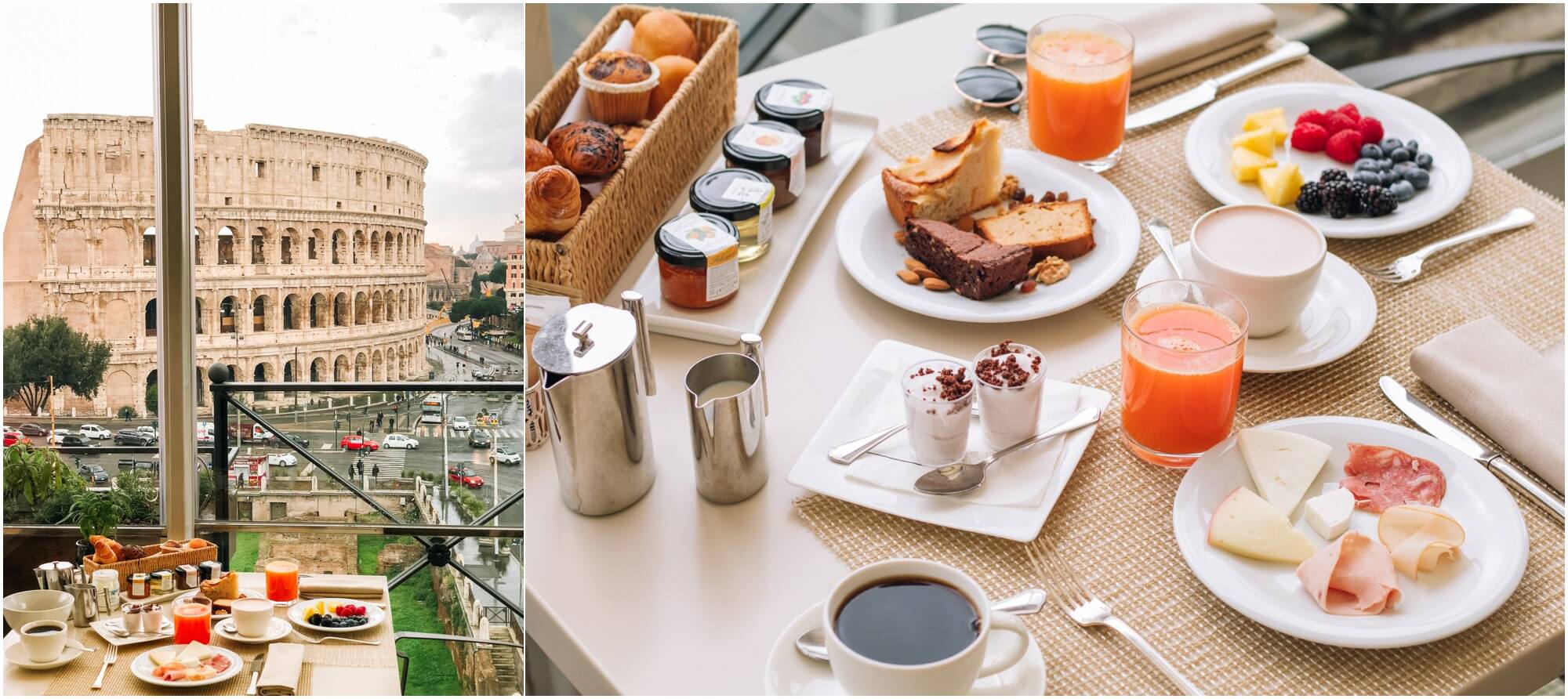 Site: https://www.palazzomanfredi.com/it/
PORTUGUÊS
Neste mesmo local, todas as noites é possível conhecer o icônico restaurante Aroma, 1 Estrela no Guia Michelin, do chefe Giuseppe Di Iorio. Na nossa primeira noite do hotel, nós tivemos o prazer em desfrutar desta incrível experiência gastronômica, que mereceu um artigo exclusivo, que vocês podem ler clicando aqui.
Esta experiência gastronômica do jantar no Aroma fechou com chave de ouro a nossa experiência inesquecível no Palazzo Manfredi! O hotel fez com que o meu sonho de conhecer a Itália, se tornasse ainda mais especial! Um lugar em que posso dizer, que no momento em que eu estava indo embora, eu já estava querendo voltar!
Espero que vocês tenham gostado deste artigo e que assim como eu, possam ter esta incrível experiência!
---
FRANÇAIS
Dans ce même lieu, tous les soirs, il est possible de connaître l'emblématique restaurant Aroma, 1 étoile au Guide Michelin, par le chef Giuseppe Di Iorio. Lors de notre première nuit à l'hôtel, nous avons eu le plaisir de profiter de cette expérience gastronomique incroyable, qui méritait un article exclusif, que vous pouvez lire en cliquant ici.
Cette expérience culinaire gastronomique au restaurant Aroma a fermé avec la clé d'or notre expérience inoubliable au Palazzo Manfredi! L'hôtel a fait de mon rêve de connaître l'Italie encore plus spécial! Un endroit où je peux dire qu'au moment de partir, je voulais déjà revenir!
J'espère que vous avez apprécié cet article, et que, comme moi, vous pouvez avoir cette expérience incroyable!
---
ENGLISH
In this same place, every night you can discover the iconic Aroma restaurant, 1 Star in the Michelin Guide, by the chef Giuseppe Di Iorio. On our first night in the hotel, we had the pleasure of enjoying this incredible gastronomic experience, which deserved an exclusive article, which you can read by clicking here.
This gastronomic dining experience at Aroma closed with a golden key our unforgettable experience at Palazzo Manfredi! The hotel made my dream of going to Italy become even more special! A place where I can say, that by the time I was leaving, I was already wanting to come back!
I hope you have enjoyed this article and that like me, can have this incredible experience!