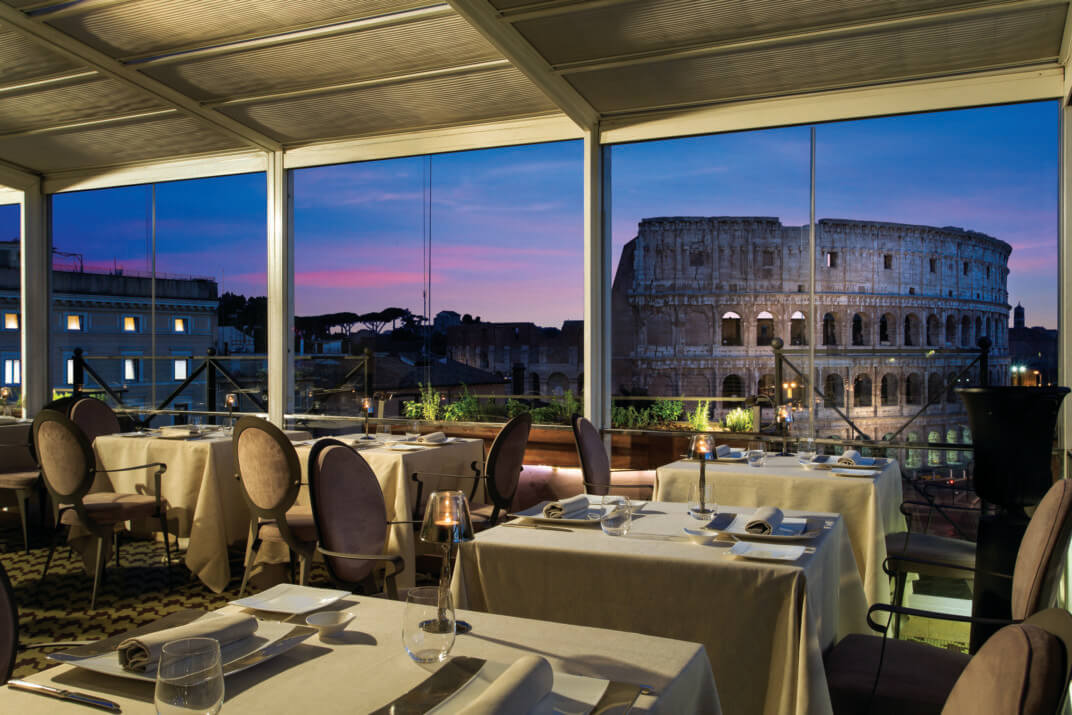 Bonjour,
No primeiro dia da nossa viagem para Roma, nós fomos descobrir o Restaurante Aroma, que tem uma estrela no Guia Michelin e uma vista incrível para o Coliseu!
Ele fica no terraço do Hotel Palazzo Manfredi, um charmoso hotel 5 estrelas, o qual inclusive ficamos hospedados (eu contei a minha experiência sobre ficar hospedada neste hotel, neste artigo aqui).
Os menus são assinados pelo Chef Giuseppe Di Iorio, que é um extraordinário intérprete da cozinha italiana, e é considerado um dos mais jovens e brilhantes talentos da Itália.
Estava tudo impecável, uma experiência gastronômica em grande estilo!
O ambiente é muito aconchegante, com velas em todas as mesas, sem contar a linda vista para o Coliseu. O atendimento foi excepcional, com garçons que falam no mínimo duas línguas, extremamente simpáticos e discretos. A comida estava de altíssima qualidade e muito saborosa, e a finalização dos pratos estava muito bem executada!
Logo que chegamos, nos foi oferecido uma deliciosa taça de champagne e o educadíssimo maître propôs que nós experimentássemos o Menu Degustação, o que achamos uma ótima idéia, pois seria uma oportunidade de experimentar vários pratos e sabores.
Como entrada, veio a "entrada do chef", que além de muito bem apresentada estava deliciosa!
---
FRANÇAIS
Bonjour,
Le premier jour de notre voyage à Rome, nous sommes allés à la découverte du restaurant Aroma qui a une étoile dans le Guide Michelin et une vue incroyable sur le Colisée!
Il est situé sur la terrasse de l'hôtel Palazzo Manfredi, un charmant hôtel 5 étoiles, où nous avons même séjourné (je vous ai parlé de mon séjour dans cet hôtel, dans cet article ici).
Les menus sont signés par le chef Giuseppe Di Iorio, qui est un interprète extraordinaire de la cuisine italienne, et est considéré comme l'un des talents les plus jeunes et les plus brillants en Italie.
Tout était impeccable, une expérience gastronomique avec style!
L'atmosphère est très confortable, avec des bougies sur chaque table, sans parler de la belle vue sur le Colisée. Le service était exceptionnel, avec des serveurs parlant au moins deux langues, extrêmement sympathique et discret. La nourriture était de très bonne qualité et très savoureuse, et la finition des plats était très bien exécutée!
Dès notre arrivée, ils nous ont offert une délicieuse coupe de champagne, et le maître d'hôtel nous a proposé d'essayer le menu dégustation, ce qui nous a semblé une bonne idée car ce serait l'occasion d'essayer différents plats et saveurs.
Pour l'entrée, est venu le "entrée du chef" qui était très joliment présenté et délicieux!
---
ENGLISH
Bonjour,
On the first day of our trip to Rome, we went to discover the Aroma Restaurant which has a star in the Michelin Guide and an incredible view to the Colosseum!
It is located on the terrace of the Palazzo Manfredi Hotel, a charming 5-star hotel, which we even stayed in (I told you about my experience about staying at this hotel, in this article here).
The menus are signed by Chef Giuseppe Di Iorio, who is an extraordinary interpreter of the Italian cuisine and is considered one of the youngest and brightest talents in Italy.
Everything was flawless, a gastronomic experience in style!
The atmosphere is very cozy, with candles on every table, and the beautiful view of the Colosseum. The service was exceptional, with waiters speaking at least two languages, extremely friendly and discreet. The food was very high quality and very tasty, and the finishing of the dishes was very well executed!
As soon as we arrived, we were offered a delicious glass of champagne and the highly educated maître proposed that we try the "Tasting" Menu, which we thought was a great idea as it would be an opportunity to try out various dishes and flavors.
As a starter, came the "chef's starter" which was very nicely presented and delicious!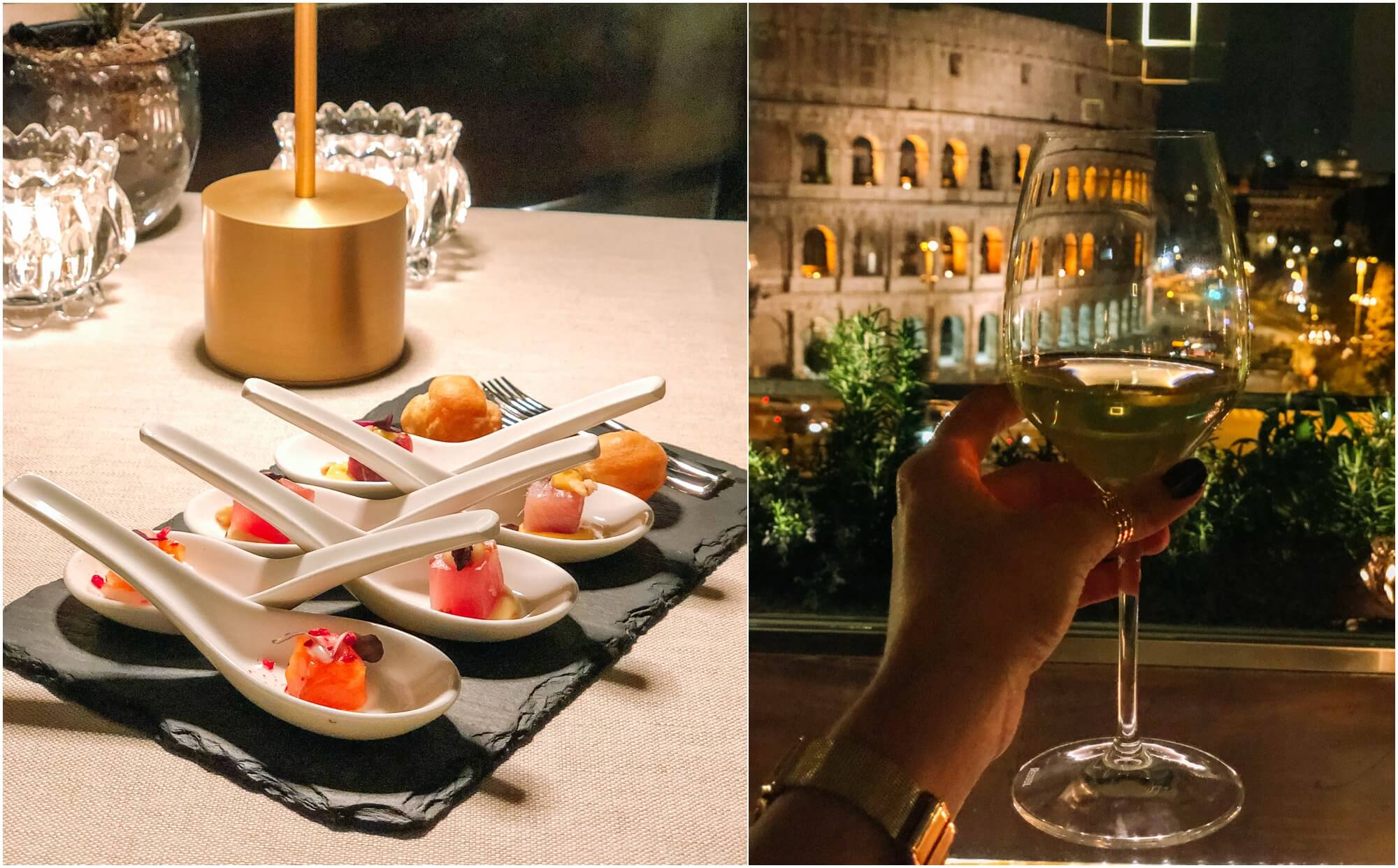 PORTUGUÊS / FRANÇAIS / ENGLISH
Seguem alguns dos incríveis pratos que experimentamos! (P)
Voici quelques-uns des plats incroyables que nous avons essayé! (F)
Here are some of the incredible dishes we tried! (E)
Filé de Porco em uma crosta de pão com camadas de três cores de batatas e molho de cacau amargo (P)/ Filet de porc dans une croûte de pain avec des couches de pommes de terre et une sauce au cacao amer tricolore (F)/ Pork fillet in a bread crust with three-colours layers of potato and bitter cocoa sauce (E).
Taglioni de abóbora e gorgonzola com pérolas de caviar e pão aromatizado com alecrim (P)/ Tagliolini à la citrouille et au gorgonzola avec des perles de caviar et du pain parfumé au romarin (F)/ Pumpkin and Gorgonzola tagliolini with pearls of caviar and rosemary-scented bread (E).
Peixe badejo com tomate, alho e salsa em verduras misturadas ao estilo romano, lançadas com flores de alcaparra e azeitonas de taggiasca (P)/ Loup de mer aux tomates, à l'ail et au persil sur des légumes verts de style romain mélangés à des fleurs de câpres et des olives taggiasca (F)/ Sea bass with tomatoes, garlic and parsley on Roman-style mixed greens tossed with caper flowers and taggiasca olives (E).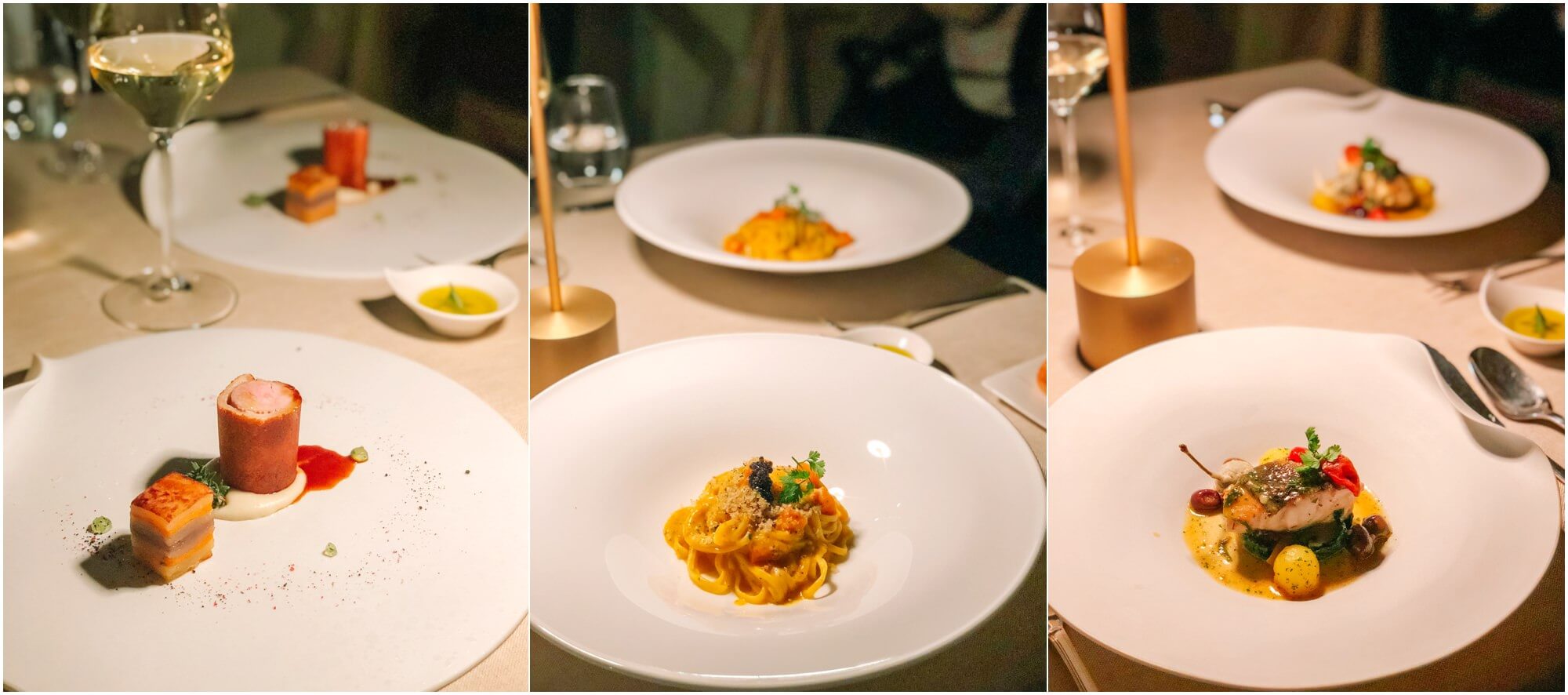 Ravioli com ensopado de rabo em uma fondue de queijo parmesão e maça defumada (P)/ Ravioli au ragoût de queue de bœuf sur une fondue de parmesan et de pomme fumée (F)/ Ravioli with oxtail stew on a fondue of Parmesan cheese and smoked apple (E).
Fricasse de cordeiro com flores de alecrim, gel de elite de abóbora, amaretto e amêndoa (P)/ Fricassée d'agneau aux fleurs de romarin, citrouille, amaretto et gel de lait d'amande (F)/ Fricassée of lamb with rosemary flowers, pumpkin, amaretto and almond milk gel (E).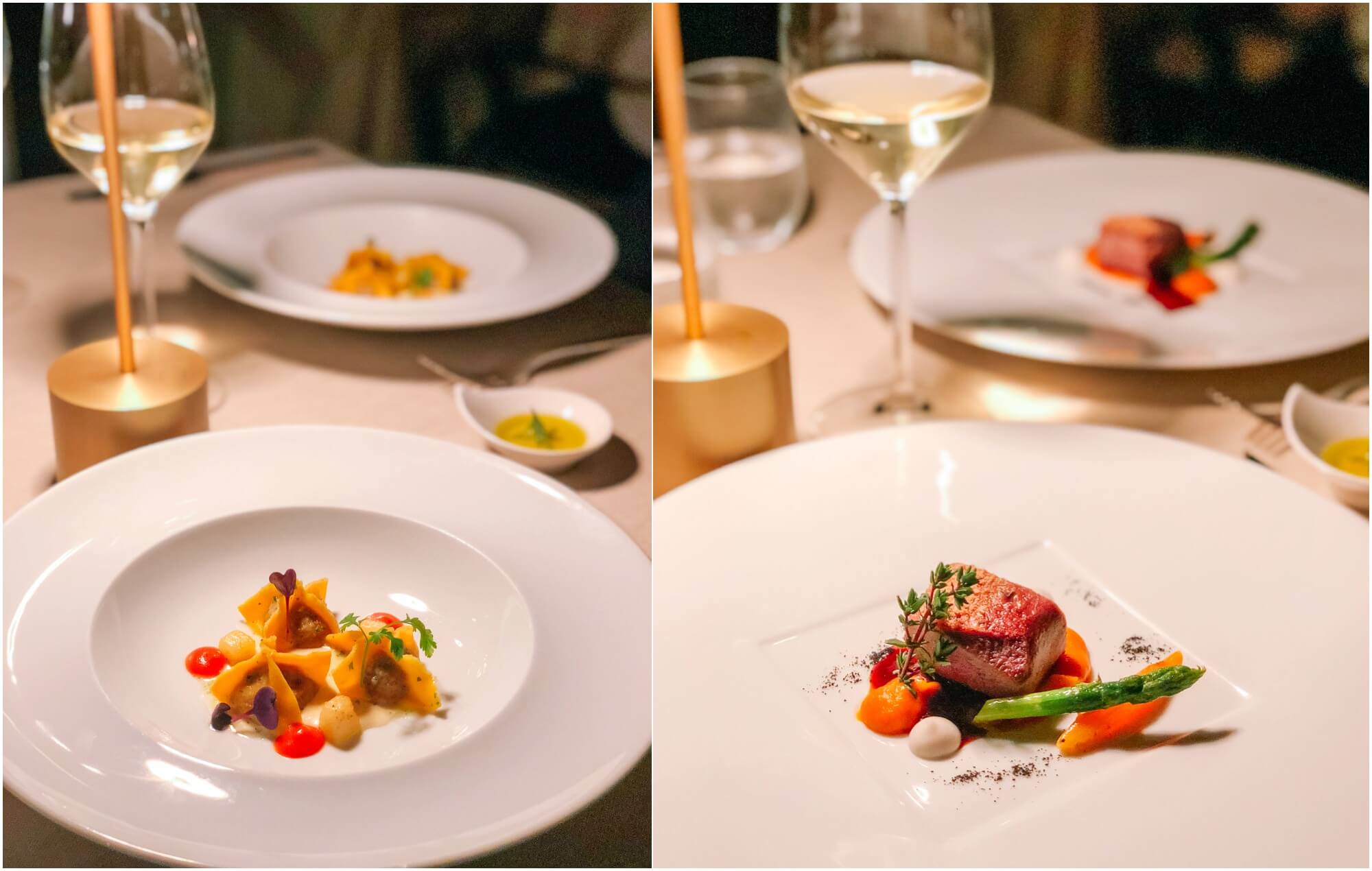 Creme de limão, esponja de azeite, sorvete de caramelo salgado, geleia de laranja amarga e iogurte (P)/ Crème au citron, éponge à l'huile d'olive, crème glacée au caramel salé, gelée d'orange amère et yaourt (F)/ Lemon cream, olive oil sponge, salted caramel ice cream bitter, orange jelly and yoghurt (E).
Site: https://www.aromarestaurant.it/it/
PORTUGUÊS
Logo se vê porque este restaurante é estrelado! Tudo estava impecável até os mínimos detalhes! Uma verdadeira experiência gastronômica!
Eu recomendo vivamente para todos vocês que forem à Roma, irem conhecer o Restaurante Aroma, pois é realmente uma experiência inesquecível!
---
FRANÇAIS
Vous voyez bientôt pourquoi ce restaurant est étoilé! Tout était impeccable dans les moindres détails! Une vraie expérience gastronomique!
Je recommande fortement à tous ceux qui vont à Rome, d'aller essayer le restaurant Aroma, car c'est vraiment une expérience inoubliable!
---
ENGLISH
You soon see why this restaurant is starry! Everything down to the smallest detail was flawless! A real gastronomic experience!
I strongly recommend to all of you who go to Rome, to go and try the Aroma Restaurant, because it is truly an unforgettable experience!