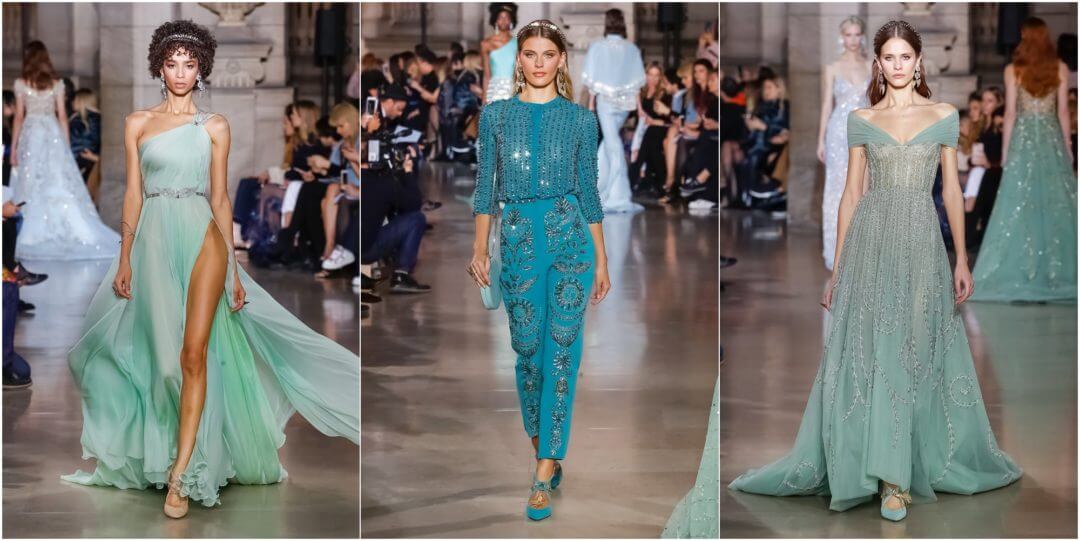 Bonjour,
No primeiro dia da Semana de Alta Costura da Paris Fashion Week eu tive o prazer de ver o maravilhoso desfile Primavera Verão 2018 de Georges Hobeika.
Delicada e refinada, a coleção Primavera Verão 2018 do Maison Georges Hobeika encontra sua inspiração na antiga civilização grega. Esta coleção é uma homenagem à riqueza dessa cultura e à variedade de seu patrimônio, cuja influência continua a exercer suas seduções irresistíveis sobre a humanidade.
As esculturas das colunas iônicas parecem se manifestar nas graciosas dobras de túnicas longas e vaporosas. Bordados cintilantes enfeitam tecidos luxuosos, compõem figuras alegóricas ou motivos evocativos. Os cristais florescem nas asas dos anjos e brilham ao longo de linhas fluidas, evocando alternadamente cenas mitológicas esculpidas em frisos.
Um símbolo de feminilidade genuína e beleza natural, as pérolas suavemente animam a curva de uma manga ou uma silhueta voluptuosa. Os apliques de couro com corte a laser relembram delicadamente os balaústres envoltos de folhagem ou as coroas de louro. A paleta de cores da coleção é uma harmonia de tons sutis que ressuscitam a memória das termas, o brilho do mar Egeu, o charme da cerâmica e os efeitos cromáticos da cerâmica clara, mármore polido ou bronzes dourados.
Acessórios requintados sublimam a silhueta feminina. As asas dos anjos florescem em brincos majestosos e anéis impressionantes. As graciosas linhas de folhas do louro brilham intensamente ao longo de um diadema. As sandálias de laço antigos são evocadas através de pulseiras douradas e tiras de couro que cortam os estiletes finamente trabalhados.
Na finalidade gloriosa, a sensualidade de um cariátide e o mistério de uma deusa antiga se combinam para formar um vestido de noiva que atesta o domínio da Maison. É uma nuvem de renda finamente bordada.
---
FRANÇAIS
Bonjour,
Le premier jour de la semaine de la Haute Couture à Paris Fashion Week, j'ai eu le plaisir de voir le magnifique défilé printemps été 2018 de Georges Hobeika.
Délicate et raffinée, la collection de Couture de la Maison Georges Hobeika printemps eté 2018 tire son inspiration des splendeurs antiques de la civilisation grecque : un hommage à la richesse d'une culture, à la variété d'un patrimoine, à l'équilibre d'un style dont l'influence continue d'exercer ses irrésistibles séductions sur l'humanité.
Les cannelures des colonnes ioniques semblent se développer sur les plis gracieux de longues tuniques vaporeuses. Les broderies scintillantes jaillissent sur les étoffes luxueuses pour composer des figures allégoriques ou des motifs évocateurs: les cristaux prospèrent sur des ailes d'anges, brillent sur des arabesques représentant l'infini, évoquent tour à tour des scènes mythologiques ou des frises sculptées.
Les perles, symboles de féminité et de beauté naturelle, animent de leur douceur nacrée le galbe d'une manche ou la courbe voluptueuse d'une silhouette. Des ornements de cuir découpés au laser rappellent avec délicatesse les feuillages des balustres ou des couronnes de laurier. La palette de couleur décline une harmonie de teintes subtiles qui ressuscitent le souvenir des thermes, le miroitement de la mer, le charme des poteries, l'effet chromatique des céramiques claires, des marbres polis ou des bronzes dorés.
L'élégance des silhouettes est sublimée par des accessoires aux détails recherchés : les ailes d'anges s'épanouissent sur des boucles d'oreilles majestueuses et des bagues éclatantes ; les lignes gracieuses d'une palme de lauriers brillent de tout leur éclat le long d'un diadème ; les antiques sandales à lacets sont évoquées sur des bracelets souples et dorés et sur les bandelettes de cuir qui couronnent les stilettos ouvragés.
Conjuguant la féminité d'une cariatide et le mystère d'une déesse antique, la robe de mariée atteste la maestria des ateliers maisons dans un nuage de dentelles finement brodées.
---
ENGLISH
Bonjour,
The first day of the Haute Couture Paris Fashion Week, I had the pleasure of seeing the beautiful Fashion Show Spring-Summer 2018 by Georges Hobeika.
Delicate and refined, Maison Georges Hobeika's Spring-Summer 2018 Couture collection finds its inspiration in Greek civilization's ancient magnificence. This collection is a tribute to the richness of that culture and to the variety of its heritage, whose influence continues to exercise its irresistible seductions on humanity.
Ionic columns carvings seem to manifest on the graceful folds of long, vaporous tunics. Shimmering embroideries emboss luxurious fabrics, composing allegorical figures or evocative motifs. Crystals flourish on angels' wings and shine along flowing lines, alternately evoking mythological scenes carved on friezes.
A symbol of genuine femininity and natural beauty, pearls softly enliven the curve of a sleeve or a voluptuous silhouette. Laser-cut leather appliqués delicately recall foliage wrapped balusters or laurel wreaths. The collection's color palette is a harmony of subtle shades that resurrect Baths' memory, the Aegean Sea's shimmer, the charm of pottery, and the chromatic effects of earth tone ceramics, polished marble, or gilded bronzes.
Exquisite accessories sublimate the feminine silhouette. Angels' wings flourish on majestic earrings and striking rings. The graceful lines of bay leaves shine brightly along a diadem. Antique lace-up sandals are evoked through gilded bracelets and leather strips that crown finely crafted stilettos.
In glorious finality, the sensuality of a caryatid and the mystery of an ancient goddess combine to form a wedding dress that attests to the Maison's mastery. It is a cloud of finely embroidered lace.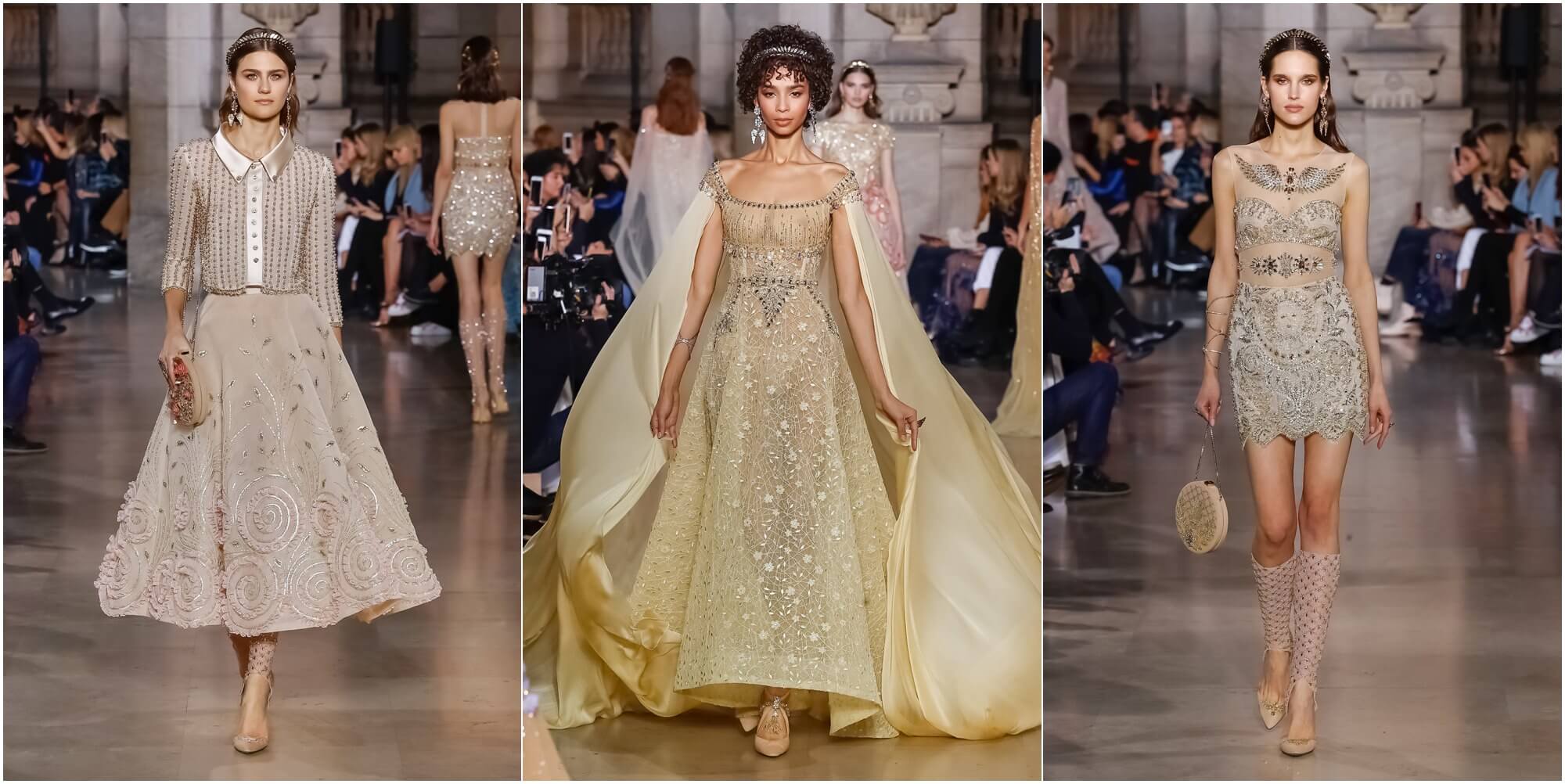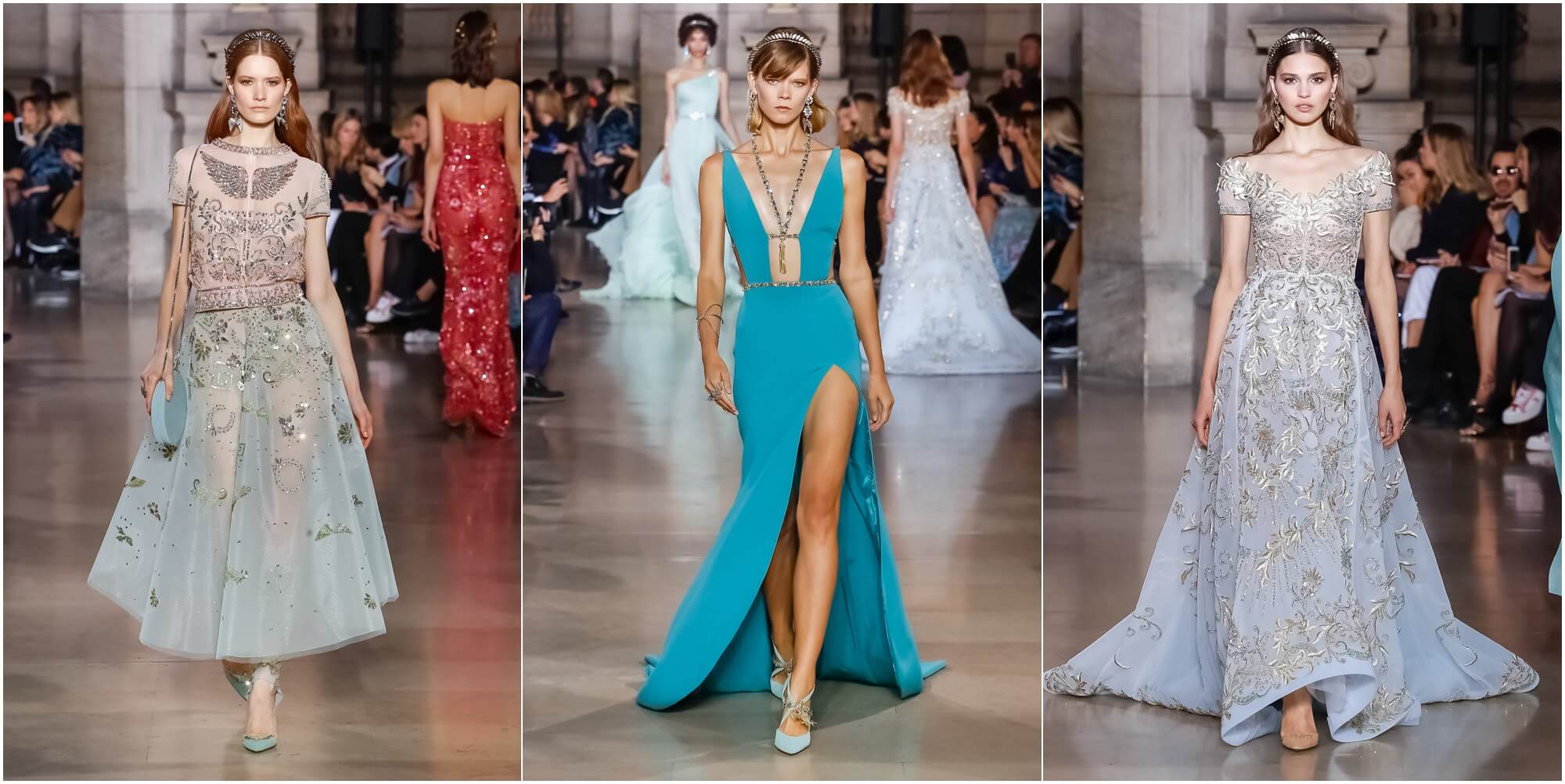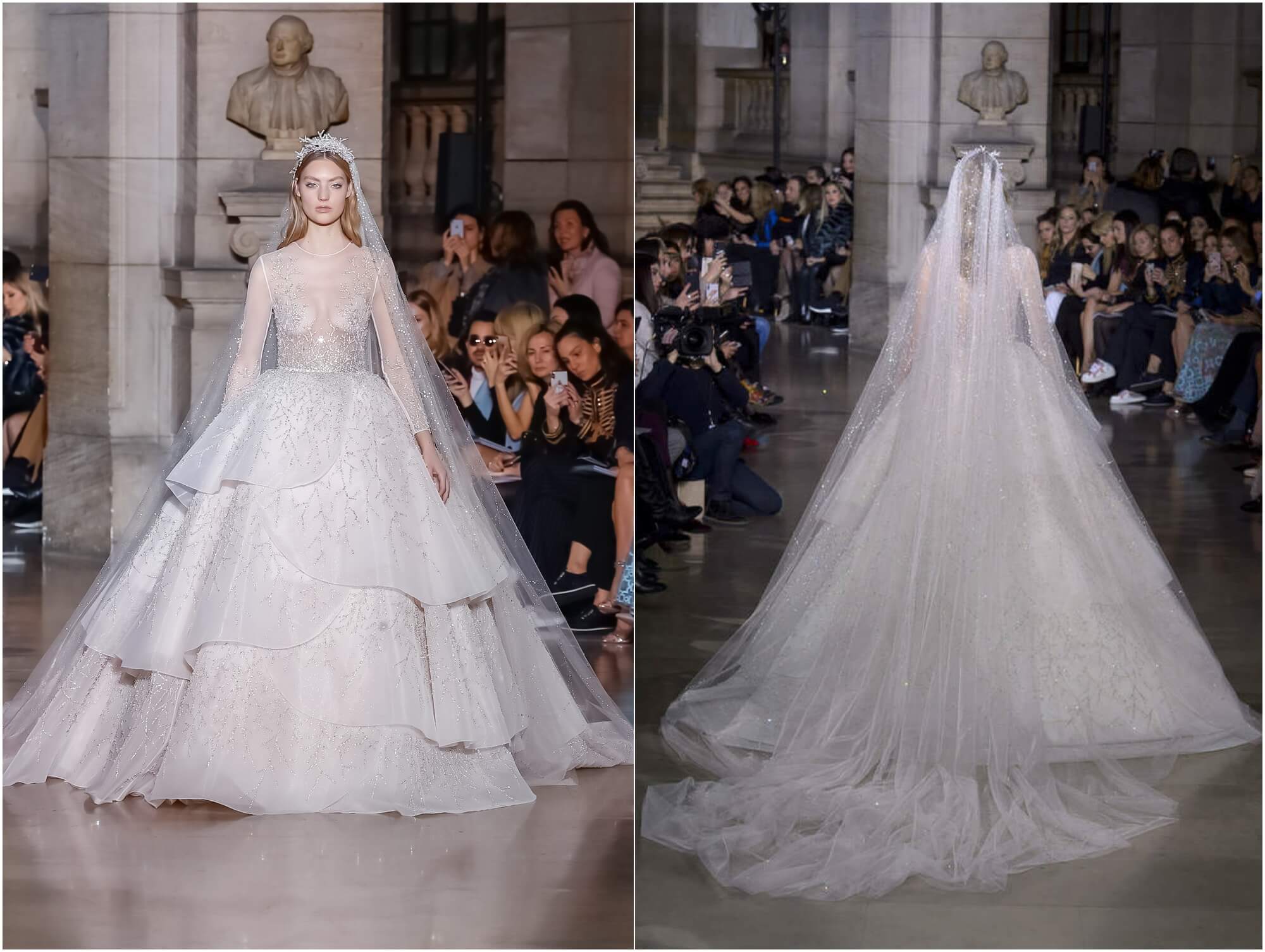 Coleção de Alta Costura George Hobeika Primavera-Verão 2018
George Hobeika Haute Couture Collection Printemps-été 2018
George Hobeika Haute Couture Collection Spring-Summer 2018
Paris Fashion Week
Créditos/Crédits/Credits: GEORGES HOBEIKA