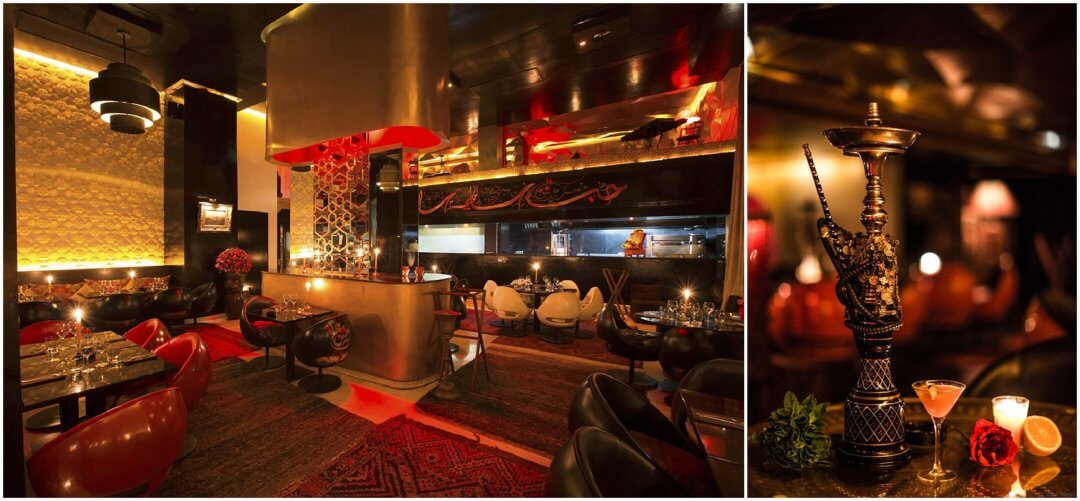 Bonjour,
Uma das minhas comidas preferidas sem duvidas é a libanesa, e assim que decidimos viajar para Marrakech, logo saímos à procura de um restaurante típico de comida libanesa e encontramos o Restaurante Azar, que é um restaurante libanês e marroquino.
O ambiente é muito aconchegante e requintado com uma linda decoração oriental feita pelo talentoso designer Younes Duret. O que fez com que o ambiente ficasse ainda mais agradável foram os espetáculos que o restaurante oferece todas as noite! É realmente incrível! Música ao vivo com instrumentos locais, dançarinas orientais e de quinta a sábado tem um incrível show com a Orquestra Azar, apenas instrumentos de corda para "um pouco de acústica oriental"!
O restaurante Azar oferece uma cozinha oriental e mediterrânea, feita com produtos frescos e com vegetais orgânicos. Os tagines são cozidos lentamente em fogões de barro que proporcionam um sabor único que fez a reputação do restaurante, e os pratos típicos libaneses nos mostrou a verdadeira alta gastronomia libanesa.
A apresentação dos pratos é feita com uma elegância e cuidado sem igual, e o serviço foi conduzido com excelência e muito profissionalismo do começo ao fim.
Para começar nos pedimos 3 drinks diferentes que estavam realmente muito deliciosos!
---
FRANÇAIS
Bonjour,
L'une de mes cuisines préférés est la Libanaise, et dès que nous avons décidé de nous rendre à Marrakech, nous sommes allés à la recherche d'un restaurant typique libanais et nous avons trouvé le restaurant Azar, qui est un restaurant libanais et marocain.
L'ambiance est très cosy et exquise avec une belle décoration orientale réalisée par le talentueux designer Younes Duret. Ce qui rend l'atmosphère encore plus agréable, ce sont les spectacles que le restaurant propose tous les soirs ! C'est vraiment incroyable ! Musique avec des instruments locaux, des danseurs orientaux, et du jeudi au samedi il y a un spectacle incroyable avec l'Azar Orchestra, juste avec des instruments à corde pour un p'tit air d'acoustique oriental'' !
Le restaurant Azar propose une cuisine orientale et méditerranéenne préparée avec des produits frais et des légumes biologiques. Les tajines sont cuits lentement dans des poêles en terre qui apportent une saveur unique qui a fait la réputation du restaurant, et les plats typiquement libanais nous ont montré la vraie haute cuisine libanaise.
La présentation des plats est faite avec élégance et soin sans égal, et le service a été mené avec excellence et professionnalisme du début à la fin.
Pour commencer nous avons commandé 3 cocktails différentes qui étaient vraiment très savoureux !
---
ENGLISH
Bonjour,
One of my favorite foods is the Lebanese one, and as soon as we decided to travel to Marrakech, we then went out looking for a typical Lebanese food restaurant and found Azar Restaurant, which is a Lebanese and Moroccan restaurant.
The ambiance is very cozy and exquisite with a beautiful oriental decoration done by the talented designer Younes Duret. What made the atmosphere even more pleasant were the shows that the restaurant offers every night! It's really amazing! Live music with local instruments, oriental dancers, and from Thursday to Saturday there is an incredible show with the Azar Orchestra. with just string instruments for "a little oriental acoustics"!
Azar Restaurant offers Oriental and Mediterranean cuisine, made with fresh produce and organic vegetables. The tagines are slowly cooked in earthen stoves that provide a unique flavor that has made the restaurant's reputation, and the typical Lebanese dishes have shown us the true high Lebanese cuisine.
The presentation of dishes is done with elegance and care without equal, and the service was conducted with excellence and professionalism from start to finish.
To start we ordered 3 different drinks which were really very tasty!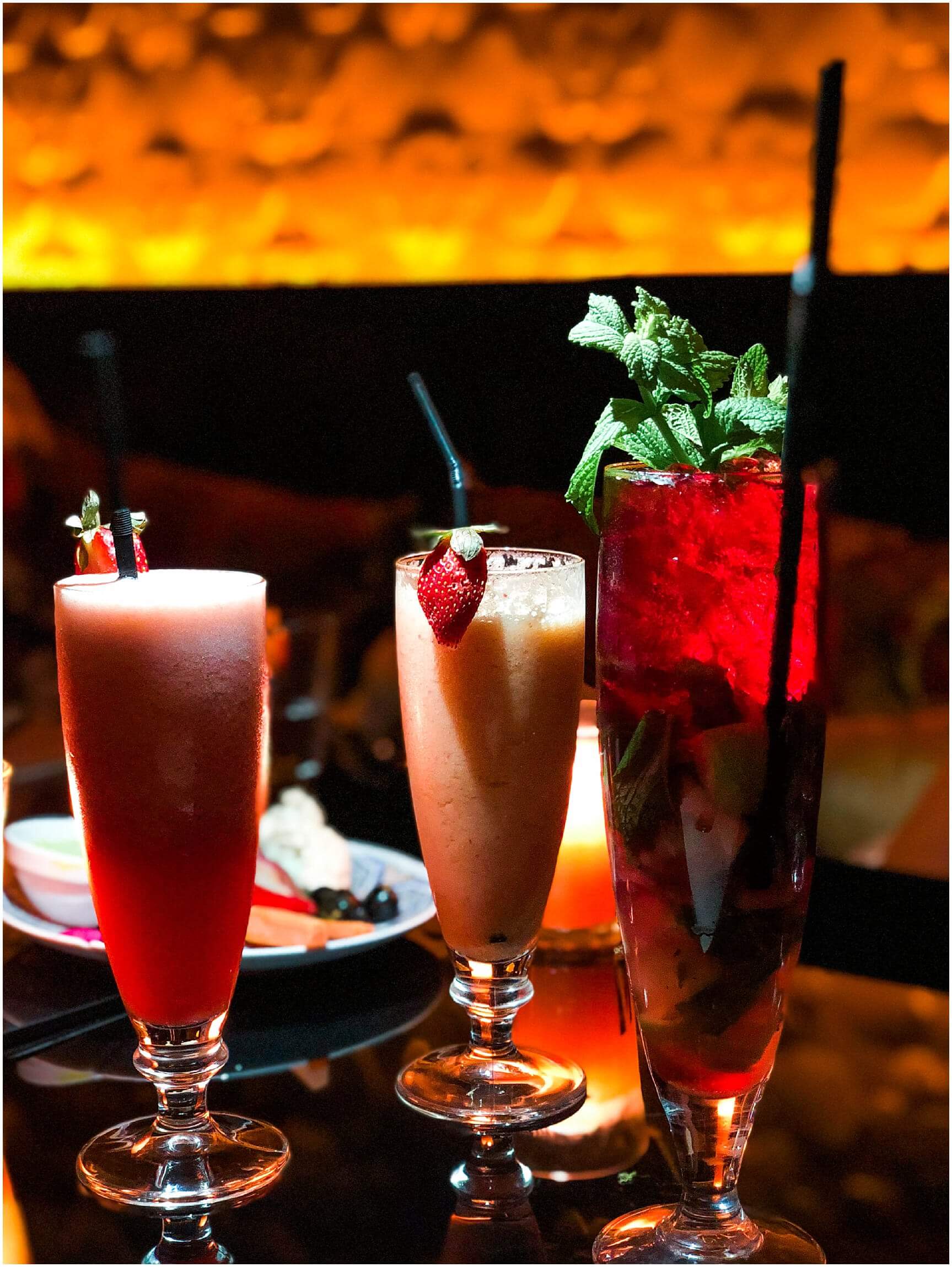 PORTUGUÊS / FRANÇAIS / ENGLISH
Como entradas pedimos:
Comme entrées nous avons commandé/ As starters we have ordered: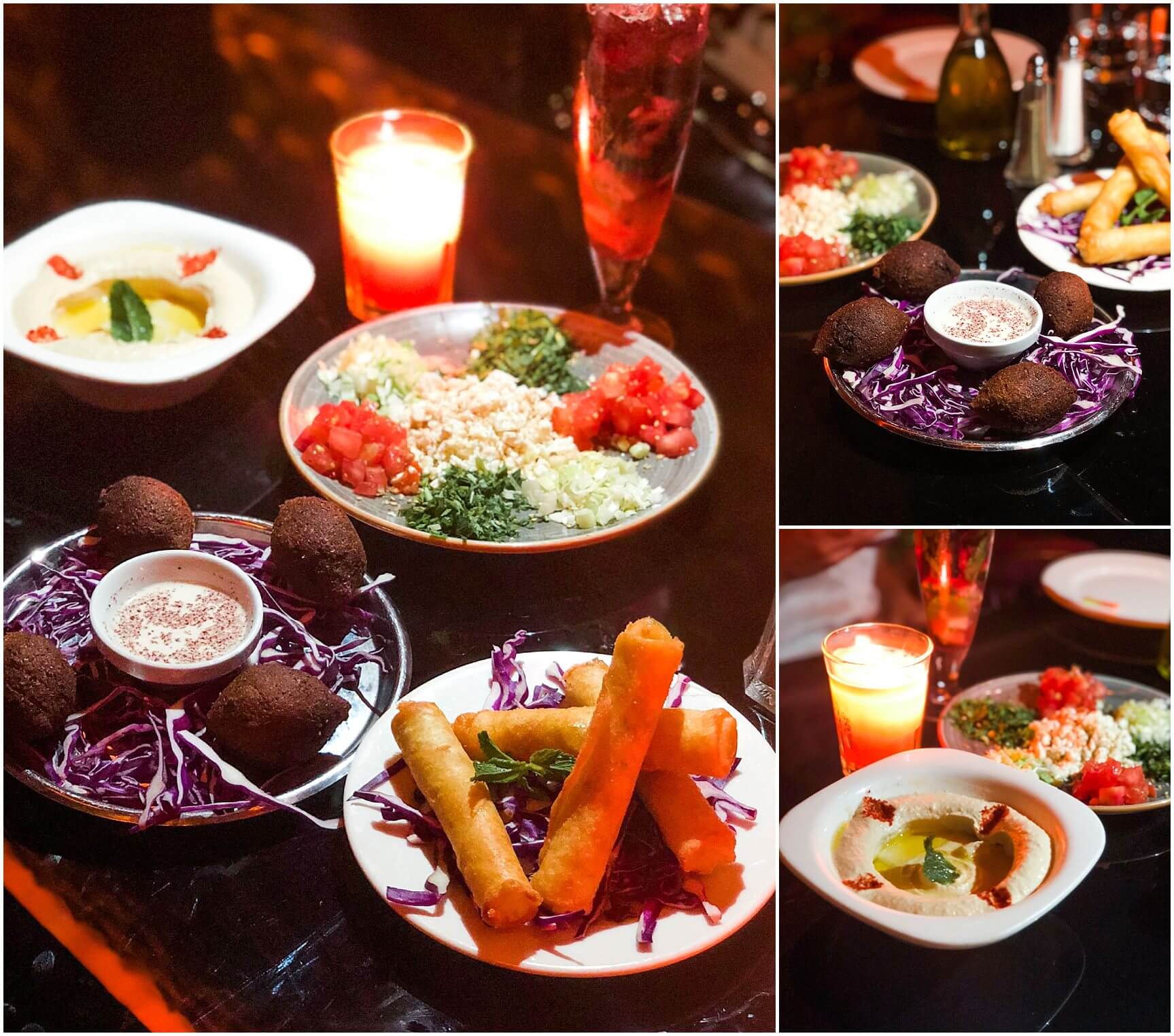 Como prato principal pedimos:
Comme plat principal, nous avons commandé/ As a main dish we have ordered:
CUSCUZ COM VEGETAIS: Caldo de legumes sazonais / cebola e compota de uvas. (P)
COUSCOUS AUX LÉGUMES: Bouillon de légumes du marché / Compoté d'oignons et raisins. (F)

COUSCOUS WITH VEGETABLES: 

Seasonal vegetables bouillon / onion and grapes compote / semolina. (E)
CUSCUZ  REAL: Cordeiro, kafta, frango, salsicha, legumes, cebola caramelizada, semolina. (P)
COUSCOUS ROYAL: Agneau, kefta maison, poulet, merguez, bouillon de légumes du marché, compoté d'oignons et raisins. (F)
COUSCOUS ROYAL: L

amb, kefta, chicken, sausage, vegetables, candied onions, semolina. (E)
CROCANTE DE SALMÃO:

Alho-poró grelhado, espinafres jovens e vinagrete de framboesa. (P)

CROUSTILLANT DE SAUMON: Poireaux grillés et jeunes pousses d'épinard / vinaigrette à la framboise. (F)
SALMON STEACK AND GREEN CABBAGE IN A «PAPILLOTE » WAY: 

Grilled leeks, young spinaches sprouts,raspberry vinaigrette. (E)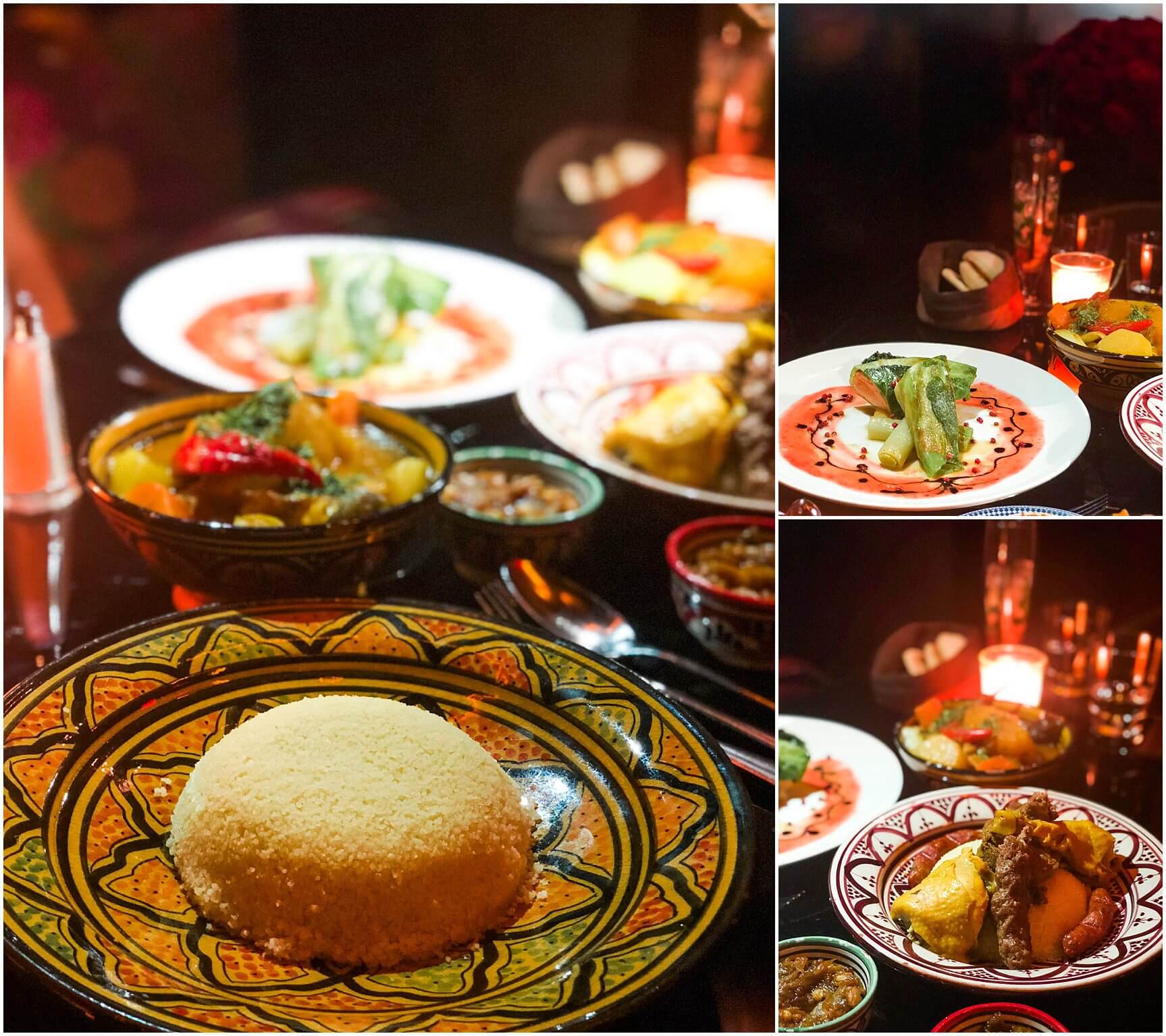 Para a sobremesa pedimos:
Pour le dessert, nous avons commandé / For dessert we have ordered:
Site in English: http://www.azarmarrakech.co.uk
Site en Français: http://www.azarmarrakech.com
PORTUGUÊS
O Restaurante Azar é sem duvidas um dos melhores restaurantes que estivemos em Marrakech! A comida estava simplesmente perfeita! Uma das melhores comidas libanesas que eu ja experimentei na minha vida!  Então, se você estiver em Marrakech, eu aconselho de olhos fechados a conhecer esse agradável endereço, pois tenho certeza não se arrependerão!
---
FRANÇAIS
Le restaurant Azar est sans aucun doute l'un des meilleurs restaurants que nous sommes allées à Marrakech ! La nourriture était juste parfaite ! L'une des meilleures nourritures libanaises que j'ai jamais eu dans ma vie ! Donc, si vous êtes à Marrakech, je vous conseille d'y aller à cette agréable adresse, dont je suis sûr que vous ne pouvez pas vous tromper !
---
ENGLISH
The Azar Restaurant is is without a doubt one of the best restaurants we have been in Marrakech! The food was just perfect! One of the best Lebanese food I've ever had in my life! So, if you are in Marrakech, I advise you to book this nice address, which I'm sure you can not go wrong!