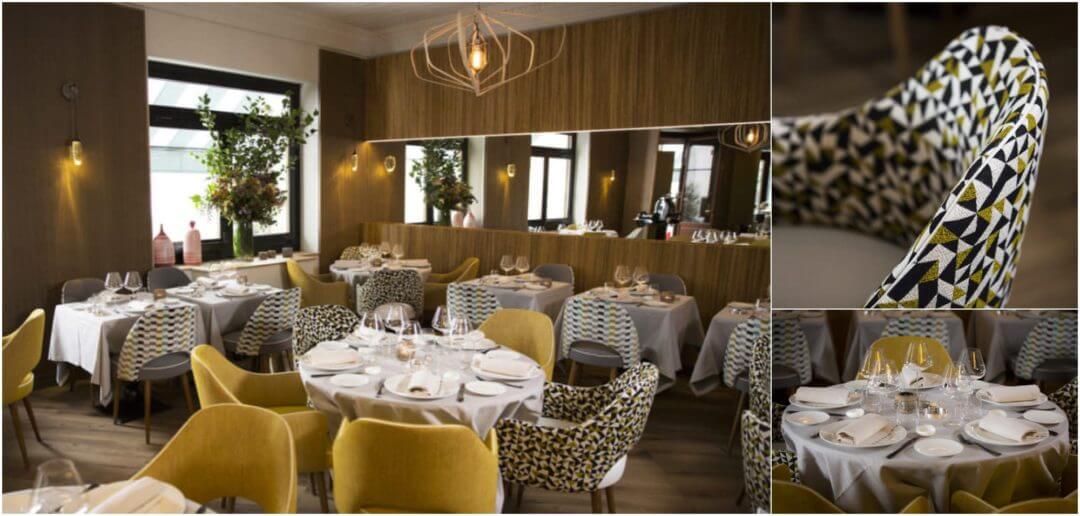 Bonjour,
Na semana passada nós fomos ao restaurante La Famiglia, que fica em Paris, perto de Porte Maillot e foi simplesmente maravilhoso!
Foi fundado em 1991 pelos anciões da família, Michela e Giovanni, e hoje ainda é gerido por Michela com a ajuda da sua filha Rita, que juntas repaginaram todo o restaurante, porém mantendo a qualidade de sempre e as tradições italianas.
Com uma nova decoração, feita pelo escritório de arquitetura Moha, que usou cores de ingredientes italianos como o azeite, farinha, e manjericão, o restaurante tem um ambiente super agradável, elegante e aconchegante!
O chef do restaurante, Massimiliano Poli, é um chef italiano jovem e talentoso, que já passou por diversos restaurantes estrelados e que faz os pratos com maestria! Ele foi muito simpático, vindo na nossa mesa para saber se estávamos satisfeitos com a comida, e depois veio nos explicar a sobremesa de Natal, ocasião em que já aproveitamos para cumprimentá-lo por seu excelente trabalho.
Uma outra coisa interessante no restaurante é que a adega (cave) possui mais de 300 vinhos, um paraíso para os seus apreciadores!
O restaurante oferece duas opções de menu: o menu degustação com 5 pratos por 85 euros por pessoa, e o menu de almoço, com entrada+prato ou prato+sobremesa, por 39 euros. Nós decidimos pedir os pratos à la carte.
Para os pratos e vinho, nós seguimos os conselhos do maître d`hotel, Willy Dipoko, que nos serviu com classe e excelência, sem falar em sua simpatia e educação durante todo o serviço.
---
FRANÇAIS
Bonjour,
La semaine dernière, nous sommes allés au restaurant La Famiglia, situé à Paris dans le XVII arrondissement près de Porte Maillot et était tout simplement merveilleux!
Il a été fondé en 1991 par les anciens de la famille, Michela et Giovanni, et aujourd'hui il est encore géré par Michela avec l'aide de sa fille Rita, qui ensemble elles ont renové le restaurant, mais conservant la qualité et les traditions italiennes.
Avec une nouvelle décoration, réalisée par le bureau d'architecture Moha, qui utilise des couleurs d'ingrédients italiens tels que l'huile d'olive, la farine et le basilic, le restaurant a une atmosphère super sympa, élégante et chaleureuse!
Le chef du restaurant, Massimiliano Poli, est un chef italien jeune et talentueux qui a traversé plusieurs restaurants étoilés, et qui fait son travaille avec maîtrise! Il était très sympathique, il est venu à notre table pour savoir si nous étions contents, puis il est venu nous expliquer le dessert de Noël, à cette occasion nous avons pris le temps de le saluer pour son excellent travail.
Une autre chose intéressante dans le restaurant est que la cave a plus de 300 vins, un paradis pour les amateurs des vins!
Le restaurant propose deux options de menu: le menu dégustation avec 5 plats pour 85 euros par personne, et le menu pour le déjeuner, avec entrée + plat ou plat + dessert, pour 39 euros. Nous avons décidé de commander les plats à la carte.
Pour les plats et le vin, nous avons suivi les conseils du maître d'hôtel, Willy Dipoko, qui nous a servi avec classe et excellence, sans parler de sa gentillesse et de son éducation tout au long du service.
---
ENGLISH
Bonjour,
Last week we went to the La Famiglia restaurant, which is in Paris, near Porte Maillot and was simply wonderful!
It was founded in 1991 by the elders of the family, Michela and Giovanni, and today is still managed by Michela with the help of his daughter Rita, who together have renewed throughout the restaurant while maintaining the usual quality and Italian traditions.
With a new decoration, made by the Moha architecture office, which used colors of Italian ingredients such as olive oil, flour, and basil, the restaurant has a super nice, elegant and cozy atmosphere!
The chef of the restaurant, Massimiliano Poli, is a young and talented Italian chef who has gone through several starred restaurants and who does your job with mastery! He was very friendly, coming to our table to know if we were happy with the food, and then came to explain to us the Christmas dessert, on which occasion we took the time to greet him for his excellent work.
Another interesting thing about the restaurant is that the winery has more than 300 wines, a paradise for wine lovers!
The restaurant offers two menu options: the tasting menu with 5 courses for 85 euros per person, and the lunch menu with starter + dish or dish + dessert for 39 euros. We decided to order the a la carte dishes.
For the dishes and wine, we followed the advice of the maître d'hotel, Willy Dipoko, who served us with class and excellence, not to mention his sympathy and education throughout the service.
---
PORTUGUÊS / FRANÇAIS / ENGLISH
Para beber nós pedimos / Pour boire nous avons commandé / To drink we have ordered:
Taça de Vinho Branco : Gewurztraminer.
Verre de Vin Blanc : Gewurztraminer.
White Wine Glass: Gewurztraminer.
White Wine Glass: Gewurztraminer.
Entradas/Entrées/Entries:
Carpaccio de carne, couve kale, emulsão de bottarga, trufa preta.
Carpaccio de bœuf, choux kale, émulsion de poutargue, truffe noire.
Beef carpaccio, kale cabbage, bottarga emulsion, black truffle.
Saint-Jacques assados (Vieiras), molho de abóbora, Burrata Andria (Apúlia), Caviar Beluga.
Saint-Jacques braisées, coulis de potiron, burrata d'Andria (Pouilles), caviar Beluga.
Braised Saint-Jacques scallops, pumpkin sauce, Andria's burrata (Apulia), Beluga caviar.
Pratos Principais /Plats principaux / Main dishes:
Tortelli de açafrão recheado com queijo ricotta com leite de búfalo, bochecha de boi, pistache siciliano, cebolas brancas caramelizadas com vinagre balsâmico de Modena IGT.
Tortelli* au safran farcis à la ricotta au lait de bufflonne, joue de bœuf, pistache sicilienne, oignons blancs caramélisés au vinaigre balsamique de Modène IGT.
Saffron tortelli * stuffed with ricotta cheese with buffalo milk, beef cheek, Sicilian pistachio, caramelized white onions with balsamic vinegar of Modena IGT.
Bucatini, alho e azeite, molho de cereja de Piennolo do Vesúvio DOP, chuva de burrata Andria (Apúlia).
Bucatini, ail et huile d'olive, coulis de tomate cerise de Piennolo du Vésuve DOP pluie de burrata d'Andria (Pouilles).
Bucatini, garlic and olive oil, cherry tomato sauce from Piennolo of Vesuvius DOP rain of Andria's burrata (Apulia).
Sobremesas/Desserts:
Sobremesa de Natal, com sorvete de baunilha, prosecco , chocolate Valrhona, panetone e flores comestíveis.
Dessert de Noël, avec glace à la vanille, prosecco, chocolat Valrhona, panettone et fleurs comestibles.
Christmas Dessert,  with vanilla ice cream, prosecco, Valrhona chocolate, panettone and edible flowers.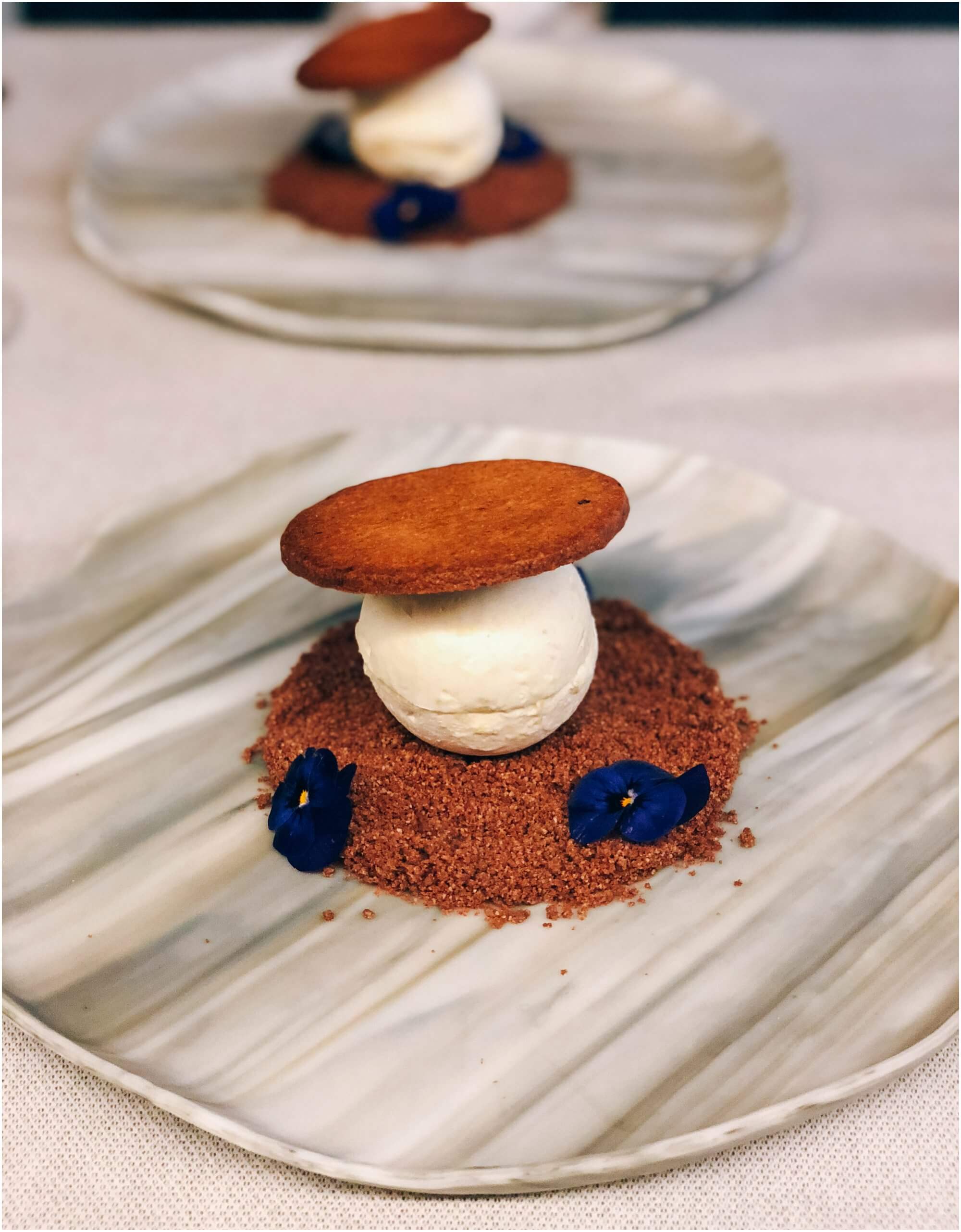 PORTUGUÊS
Este restaurante na minha opinião é um dos melhores restaurantes italianos de Paris, e digno de ganhar estrelas Michelin! Se você está procurando uma experiência inesquecível, eu recomendo sem dúvidas o restaurante La Famiglia.
O restaurante fica próximo ao "Palais des Congrès", um local onde sempre tem lindos ballets e espetáculos renomados! Então, se assim como eu, você também gosta de espetáculos,vale a pena conciliar um dia para almoçar ou jantar no La Famiglia e aproveitar para ver por exemplo, um lindo ballet russo!
---
FRANÇAIS
Ce restaurant à mon avis est l'un des meilleurs restaurants italiens de Paris, et digne des étoiles Michelin! Si vous cherchez une expérience inoubliable, je recommande vivement le restaurant La Famiglia.
Le restaurant est proche du Palais des Congrès, un endroit où il y a toujours de beaux ballets et des spectacles de renom! Donc, si comme moi, vous aimez aussi les spectacles, cela vaut la peine de concilier une journée de déjeuner ou de dîner à La Famiglia et de voir, par exemple, un beau ballet russe!
---
ENGLISH
This restaurant in my opinion is one of the best Italian restaurants in Paris, and worthy of Michelin stars! If you are looking for an unforgettable experience, I highly recommend the La Famiglia restaurant.
The restaurant is closer to the "Palais des Congrès", a place where there are always beautiful ballets and renowned shows! So if you, like me, also like spectacles, it is worth to reconcile a day for lunch or dinner at La Famiglia and enjoy to see, for example, a beautiful Russian ballet!